DATELINE: JULY 2021
The country is ecstatic. Hidilyn Diaz wins the gold medal in the Japan Olympics! She earns it in weightlifing, where she breaks the record at 127 kilograms for the clean and jerk, for a total of 244 kilos, an Olympic record. She wins over world champion and Olympic favorite Liao Qiuyun of China. It has been a 97-year-long wait.
DATELINE: OCTOBER 2016
Beaming faces greet Hidilyn Diaz as she walks around the expansive compound of the Philippine Sports Commission (PSC), the government agency tasked to oversee amateur sports development.
The compound in the bustling Malate district of Manila is where national athletes, like Hidilyn, from the provinces live while training for future competitions.
It's a warm but windy midafternoon on the last day of August. Looking cool and comfy in a red Philippine national team jacket over a blue Rio 2016 Olympics commemorative T-shirt, paired with charcoal skinny jeans and gray sneakers, Hidilyn is gving YES! an impromptu tour of the PSC compound,
The beaming faces in the compound voice out their greetings. "Hidilyn, congrats!" one woman exclaims.
Another woman shrieks: "Congrats, ha! Ang galing-galing!"
More people greet Hidilyn, and some of them ask for a photo op with her.
The decorated Olympian acknowledges her fans with an amiable smile, even if some of them mispronounce her first name. Some say it as Hee-dilyn, and others as Hai-dilyn. (Hai here rhymes with Hi!, not with Hey!—and Hi! is the correct pronunciation.)
This is our second time to be with Hidilyn.
We first met her two weeks earlier at a press conference arranged by an independent power producer in Mindanao, the Alsons Power Group (APG), which is a supporter of the national weightlifting team.
At the APG presscon, the athlete had said that she's not particular about the pronunciation of her name. On her Facebook account, she indicates that her nickname is Haidie.
After the presscon proper, we had a short one-on-one interview with Hidilyn.
It's been three weeks since the then 25-year-old Zamboanga City native won the silver medal in the women's 53-kg weightlifting event at the 2016 Olympic Games, a.k.a. Rio 2016, held in the city of Rio de Janeiro, Brazil.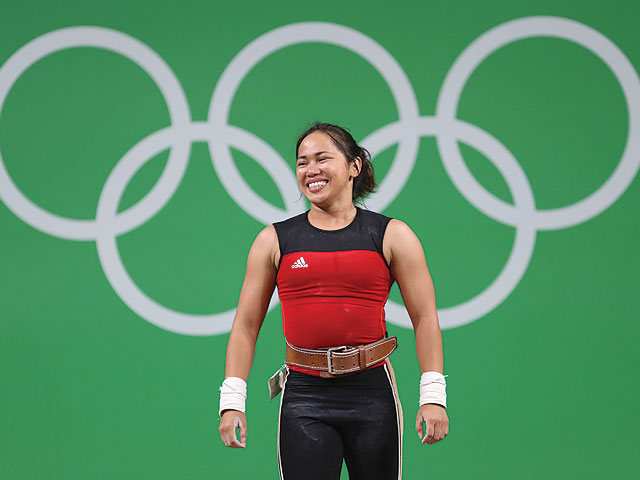 On the evening of August 7 (morning of August 8, Manila time), she lifted a total of 200 kilograms to become the first-ever Filipina Olympic medalist.
Hidilyn's triumphant feat also ended the Philippines' 20-year medal drought since the silver-medal finish of Mansueto "Onyok" Velasco in the men's 48-kg boxing event at the Atlanta 1996 Olympics.
As an Olympic silver medalist, Hidilyn earned PHP5 million in cash incentives, as prescribed by Republic Act No. 10699, or the "National Athletes and Coaches Benefits and Incentives Act."
Plus, she got additional financial rewards—PHP2 million from President Rodrigo Duterte, PHP500,000 from the Philippine Senate, another PHP500,000 from the Zamboanga City government, and an undisclosed amount from Senator Manny Pacquiao, who's also a world boxing champion.
Hidilyn also received a house-and-lot package from Deca Homes, the housing project of 8990 Housing Development Corporation, and free plane tickets for five years from the low-cost airline AirAsia.
As we walk with her around the PSC compound, Haidie stops a man riding a bike and reminds him about picking up her laundry.
"Kumusta na?" the man excitedly asks. "Nakita kita marami na beses sa TV. Sunod niyan, artista ka na!"
"Wow!" she responds, a wide grin forming on her bespectacled face.
She remarks to us good-naturedly, "Hayaan mo siya," when the man adds, "Parang si Onyok!"
He was referring to the boxer, who, after his Olympic triumph, took on acting jobs in several TV sitcoms, including Idol Ko si Kap and Toda Max.
Hidilyn herself has appeared on TV, but only as an interview subject in the news and sports programs of major networks and cable channels, as well as in the ABS-CBN talk shows Magandang Buhay and Tonight with Boy Abunda. She has also made a guest appearance on the GMA variety noontime show Eat Bulaga!
On the day of the YES! visit, she mentions an interview in another ABS -CBN talk show,The Bottomline with Boy Abunda, and the planned dramatization of her life story in the Kapamilya network's tearjerker series, Maalaala Mo Kaya.
She expresses neither an inclination for nor an aversion to TV acting, but one thing's for sure: she has gone back to her pre-Rio 2016 routine.
"Pero hindi pa gano'n ka-hard," she points out. "Light lang. Para lang makagalaw-galaw, para pagdating ko sa training ulit, hindi siya gano'n kasakit sa katawan."
She gives us a rundown of her regular schedule, and the devoted athlete's description of "light lang" turns out to be an ordinary person's extreme workout.
She wakes up at 5:45 in the morning. At 6 a.m., she starts jogging. "Saglit lang kami mag-jogging, nasa 30 to 45 minutes. Para magising lang." Then she eats breakfast and takes a rest.
At 9 a.m., she does her weightlifting training at the weightlifting department's gym. The session lasts from one hour to one- and-a-half hours.
At 3 p.m., she goes to another gym in the compound, the one at the Philippine Center for Sports Medicine (PCSM), a department of the Philippine Sports Commission, for her thrice-a-week program on strength conditioning. At night, she sometimes opts for another weightlifting session.
During our tour of the compound, we run into two young women who ask Hidilyn if she has found a new place. The weightlifter shyly nods in assent—and consequently gets teased that she has already made it big. She shoots back: "Ay, ano ba iyan! Hindi, a!"
Hidilyn explains to YES! that while she has recently moved into a condo unit just across the street from where the PSC compound is located, she has not let go of her old place. She takes us to this old place, which is a room in one of the dormitories in the compound and which she shares with nine other female athletes.
There are five double-deck beds in the room. The one nearest the door has paper printouts arranged and displayed to make two announcements: "CONGRATS HAIDIE" and "WELCOME BACK."
She turns to the double-decker on the left side of the room.
"Eto ang kama ko," she says, gesturing to the lower bunk. "Kaso, magulo nga lang. Dito ako mag-i-stay pag hapon. Kasi, after training, pahinga ako. Kasi, paakyat-akyat ako dalawang beses sa isang araw, nakakapagod...
"Ang dami ko pang gamit," she continues, dryly commenting on the myriad of objects scattered on and under her bed, including an open suitcase. "Iyong iba, iuuwi ko sa amin."
At the end of the day, she takes a full rest: "Then sa gabi, doon ako sa condo."
HIDILYN'S STARTING POINT
Hidilyn Diaz hails from a poor Zamboanga barangay called Mampang, which is six kilometers away from the city proper, in the Zamboanga Peninsula Region in Mindanao.
She is the fifth in the brood of six of Eduardo Diaz, a tricyle driver, and Emelita, a fulltime housewife.
The weightlifter doesn't talk much about her family, though she says she's "close na close talaga" to her mother and "okey lang" with her father. She has three elder brothers, one elder sister, and one younger brother. Her kuyas, in their youth, tried playing their father's sport, softball. The bunso has, like Hidilyn, taken to weightlifting.
"Bago lang kaming nagka-bonding,"
Hidilyn says of her improving relationship with her family. The last time they got together, they went on vacation to the seaside village of Moalboal in Cebu. On September 3, in her Instagram account, @haidie20, she posted a few photos taken from that trip.
As a child, Hidilyn recalls being interested not in sports but in academics. "Hindi lang ako mahilig magsalita," she says, her voice soft and carrying a slight hint of the Chabacano language that is largely spoken in her region.
"Mahiyain kasi ako, e. Kung mag-aral, puwede. Pero kung may recitation, nasa mababa lang ako. Sa exams, mataas ang nakukuha kong grades."
She proudly reports that she was always in the Top 10 of her class both in her elementary and high school years. Her academic standing was not affected even when she got into weightlifting at age 11, when she was in Grade 6.
The young Haidie discovered the sport through her male cousins, who served as her initial inspiration and first coaches. "Na-curious lang ako, 'tapos 'yon, naging interesado lang ako," she relates.
"Enjoy siya. Nakaka-challenge ang weightlifting. Once kasi na may na-lift ka na, gusto mo na dagdagan pa. Hanggang sa hindi mo namalayan, nae-enjoy mo na pala iyong process."
She adds with a laugh that she started lifting improvised barbells in their backyard, "Kahoy lang una. 'Tapos, iyong uncle ko kasi, may parang semento siya, so doon kami, iyong ano binubuhat—iyong lata, 'tapos may semento...
"'Tapos upgrade na naman. May yanta na kaming ginagamit. Yanta—pang-jeep na malaki. Iyon din ang ginagamit namin."
(Yanta, or yantas, or liyantas, from the Spanish word llanta, is the metal rim of
a wheel.)
She also remembers getting teased by her classmates, who called her "tomboy" because of her preference for a conventionally male-oriented sport.
Hidilyn flashes a shy smile when asked if the boys in her school got intimidated by her.
"Siguro din, natatakot sila," she nods. "'Tapos, masyado din akong... Alam mo iyon? Tahimik kasi ako sa school."
But nothing could stop the future Olympic silver medalist because "na-in-love ako sa weightlifting, sobra!"
Her family has always been supportive of her endeavors. Her mother, for instance, never fails to give her practical feminine advice, such as wearing a girdle, citing as reason: "Baka hindi ka magbuntis."
Hidilyn started competing in their barangay and in other barangays, in their city and in other cities, in their region and in other regions, until she made it to the national team in 2004 at age 13. By that time, the emerging champ had been training in a real gym with decent equipment.
She then started representing the country in competitions abroad, starting with the 2004 Asian Youth Championship in Thailand and then the 2007 Southeast Asian Games (SEA Games), also in Thailand, where she won a bronze medal—her first-ever in an international competition.
The following year, in 2008, the then 17-year-old emerging champion made her first trip to the Olympics, held in the Chinese city of Beijing. The experience proved to be an eye-opener to her and her coach then, Antonio Agustin Jr.
"Hindi ko alam na may Olympics pala," she says, shaking her head. "Hindi ko alam na iyon pala iyong biggest competition. Hindi ko alam."
Until that time, the small-town girl tells us, weightlifting was just something that she enjoyed doing. "Laro lang, enjoy lang," she recalls. "Hanggang sa parang kinuha lang ako sa 2008 Olympics.
"Nagti-training kasi kami sa China, so kinuha lang nila [Philippine Weightlifting Association officials] ako. 'Punta ka sa ano, Beijing, mag-wild card ka.'
"Sabi ko, 'Sige, sige.' So gano'n, exciting lang. Siyempre, hindi mo naman alam kung ano iyon."
(In sports, a wild card is "a player or team that has not qualified for a competition but is allowed to take part, at the organizers' discretion, after all the regular places have been taken," according to the Collins English Dictionary.)
Hidilyn made history by being the country's first female weightlifter to be sent to the Olympics, but she was simply too young and inexperienced for the quadrennial games where only the best and the brightest compete.
She finished 11th in the field of 12 lifters. Still, she wasn't the bottom-dweller, and she made quite an impression by breaking the record she had previously set at the 2007 SEA Games.
Local weightlifting officials pinned their hopes on Hidilyn, and she and her coach drew a game plan for her next competitions.
LONG ROAD TO RIO
The first time Hidilyn came to the PSC compound for a longer stay was in 2010. She was then preparing for the Asian Games that would take place from November 12 to 27 that year in the city of Guangzhou, China.
She was 19, and had dropped out of college after two years of taking up B.S. Computer Science at the Universidad de Zamboanga.
She looks back to that time as "okey naman, masaya, kasi may mga kasama." She didn't feel homesick because she was with her coach, Antonio Agustin Jr., and some kababayans who were also in the weightlifting team.
Hidilyn had a not-too-lackluster performance at the Asian Games, finishing up in the upper half—sixth in a field of 15 lifters.
She would subsequently acquit herself at the 2011 SEA Games in Jakarta, Indonesia, by winning a silver medal and consequently securing a spot in the 2012 Olympics in London, England.
She was also tapped to serve as flag bearer—a first for a Filipina since the Philippines joined the Olympics in Paris in 1924.
But, alas, she again failed in her second attempt at the Olympics, ranking 17th out of the 19 entries that meted a "did not finish" mark on her score sheet: she was unable to lift 118 kg in three attempts.
"Naging pangit iyong kinalabasan, kasi na-zero ako," she casually says of that bad experience.
"Dahil siguro sa pressure. Kasi talagang pressured don. Malaki talaga iyong expectations sa iyo ng mga tao, kasi flag bearer ako. iYong expectation kasi high, so ayun, nadismaya...
"Pero lumalaban pa rin ako," she adds, showing her never-say-die attitude. She proved it when she won a silver medal at the 2013 SEA Games in Naypyidaw, Myanmar.
But in her heart, she knew she could have done better. "Malapit na mag-gold, kaya lang naba-back-down ako," she recalls with regret.
"Nagkakaroon ako iyong trauma noong nangyari sa [2012 London] Olympics. Parang pinipigilan ko iyong sarili ko. Parang sabi ko, 'Hindi ko ito deserve.' So hanggang sa 2014, natanggal iyong coach ko."
Hidilyn doesn't go into the details of her longtime coach's unceremonious ouster. She only says that a series of setbacks came after that: she sustained a serious injury, and she was unable to compete in the 2014 Asian Games in Incheon, South Korea, and in the 2014 World Weightlifting Championships in Almaty, Kazakhstan.
"Sabi ko, ayoko na," she says of that low point in her athletic life.
She remembers being on the verge of quitting and leaving the country to work in the U.S.
But then she resolved to get back on her feet with renewed hope and faith. It all started with this thought: "Bakit hindi ako mag-open sa iba?"
She mulled it over, and came up with a decisive move: "So, nag-open ako. Inopen ko iyong sarili ko sa strength conditioning. Pumunta ako sa strength conditioning coach, sa nutritionist, 'tapos sa sports psychologist din."
Everything is just a memory now, but she still likes looking back to that time if only to appreciate how she was able to pull herself out of misery and despair,
By stepping out of her comfort zone, Hidilyn discovered there were other aspects of athletic training that could help her become a better weightlifter, and that there were many sports-related professionals who could give her sound advice and a morale boost.
"Iyon po iyong nag-inspire sa akin," she says with a big smile. "'Tapos, I was surrounded with positive people—iyong team ko. Positive sila, so kahit puro sakit ng katawan, may injury... lumalaban. Kasi may mga taong naniniwala sa iyo."
One of those positive people advised her to drop her body weight from 58 kilograms (127.868 pounds) to 53 kilograms (116.845 pounds) or lower, because she had better chances of winning in the 53-kg division.
At first, she took a nutritional supplement that promises weight loss, but it proved to be ineffective for her. So she sought the help of the nutritionist at the Philippine Sports Commission, who designed her diet program.
"Para talagang tama iyong pagkain ko," she points out. "Hindi iyong mababawas iyong lakas ko. Hindi ako manghihina, 'tapos nasa timing iyong pagre-reduce ko."
She also decided to avail herself of the strength-conditioning service given by the Philippine Center for Sports Medicine through strength-conditioning coach Jay Futalan.
Hidilyn takes YES! to the PCSM's gym and introduces us to Coach Jay, who graciously explains the role that he played in Hidilyn's Olympic silver medal finish.
"Ang trabaho ko po kasi is, I develop and provide the athletes with scientifically based programs in terms of strength conditioning," Coach Jay tells YES! "Ako rin ang nag-i-implement."
Coach Jay recalls his first meeting with Hidilyn: "Ang una niyang reklamo, ang injuries niya sa tuhod. At that point in time, she was contemplating retirement.
"Hindi niya ma-handle ang injuries niya. Parating masakit. So hindi niya alam kung paano mawawala iyon. So parang inisip niya na since parang ang nangyayari sa performance niya is nagiging stagnant or bumababa, sabi niya, 'Baka mag-retire na lang ako kung hindi masolusyunan ito.'
"So sabi ko, 'Let's take it one step at a time para makita natin kung mag-i-improve o hindi.' Ang ginawa namin, inayos muna namin ang injuries niya. So sa mga areas kung saan siya mahina, nagko-cause ng injury niya, inayos namin iyon. Pinalakas namin.
"After noon, nakita niya na nagkaroon ng improvement. So sabi ko, 'Sige, kaya mo pang ituloy iyan.' Ang ginawa namin is nag-start din kami from scratch."
He designed a program made up of various exercises that the weightlifter faithfully followed. After two to three months, they saw a marked improvement not only in her problematic body parts but also in her lift.
"Naging pain-free siya," he explains. "Nagkaroon siya ng six kilos increase sa buhat niya, which is very significant since, for a time, hindi na siya nagkakaroon ng progress. So positive kami na mao-overcome niya ang slump niya."
And she did.
In June 2015, Hidilyn won a gold medal in the 1st Southeast Asian Weightlifting Championship in Bangkok, Thailand.
Five months later, she won three bronze medals at the 2015 International Weightlifting Federation (IWF) World Weightlifting Championship in the Texan city of Houston in the U.S. She became the first Filipina to win a medal in that Houston competition, making her a shoo-in for the 2016 Olympics in Rio de Janeiro.
By the time Hidilyn was to leave for Rio, she had already acquired the confidence that she never had since she began weightlifting at age 11.
"Na-feel ko na. Iba iyong aura ko. Kasi, pagdating ko galing ng China [para sa training], lahat ng problema ko sa China, nasosolusyunan isa-isa: nati-treat na iyong injuries ko, naaayos ko iyong technique ko, gano'n. So sabi ko, 'Wow, Lord, kakaiba ka!'
"May proseso talaga. Although noong pag-uwi ng China, nagkasakit ako, nagkasipon ako, pero naging okey naman. Kasi, sabi ko, wala na akong magawa, e. Ilang weeks na lang, so surrender ko na lang kay God. Bahala na iyan. Tiwala lang."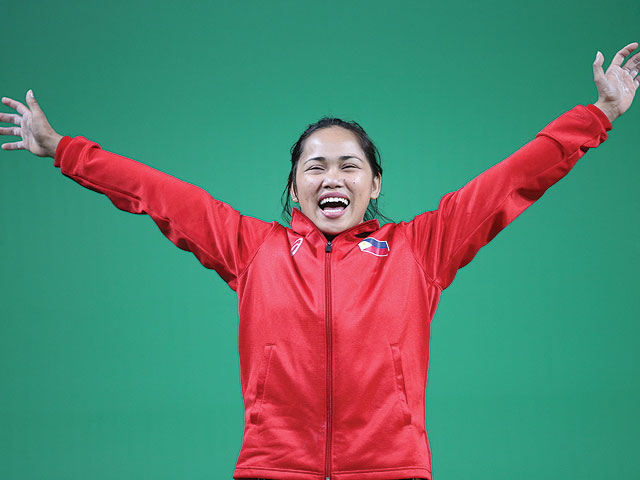 When she at last won the silver medal that she proudly wore at the podium in Rio and that gave every Filipino pride, Hidilyn had only joy and gratitude in her heart. "Sobrang saya, kasi mas masaya pala kung unexpected iyong gift na ibinigay sa iyo."
Her mother Emelita, who still lives in their old place in Mampang, Zamboanga, was the first person Hidilyn sent a text message to. She then got in touch, via online chat service, with Coach Jay, "kasi siya talagang may alam ng lahat ng nangyari, iyong buong journey ko."
GOING FOR THE GOLD
Hidilyn has now set aside Rio to focus on what are next on her plate: the 2017 SEA Games in Kuala Lumpur, Malaysia; the 2018 Asian Games in Jakarta, Indonesia; the 2019 SEA Games here in Manila; and finally, the 2020 Olympics in Tokyo, Japan.
Coach Jay is upbeat about the prized weighlifter's chances in Tokyo: "I'm very positive that she will win the gold. We've seen the competition and the participants. Wala namang malaking reason for us not to win it, kasi right now, if we continue the pace or the path that we're taking, hindi malabong mangyari iyon.
"Kasi no'ng World Championships [in France, 2011], ang buhat niya is 213 kilos. Ang nag-gold sa Olympics is 212 kilos. Kung nabuhat niya iyon, over siya ng one kilo. So it's not impossible. So we're very hopeful. We're just praying that she stays healthy."
By all indications, she is in top form.
Fast forward to July 26, 2021, Hidilyn makes history as the first Filipino to win an Olympic gold medal.
At 30, she conquers the women's 55 kilograms weightlifting competition at the Tokyo Olympics.
And what Coach Jay said was somewhat prophetic.
Her total lift of 224kg set an Olympic record, beating China's world-record holder Liao Quiyun, who finished with the silver medal at 223kg.
ORIGINALLY PUBLISHED YES! OCTOBER 2016
Writer: Jocelyn T. Valle
Editor In Chief: Jo-Ann Q. Maglipon
Executive Editor: Jose F. Lacaba