It has been 15 years since Fernando Poe Jr. passed away, but his legacy lives on.
ABS-CBN is still airing the four-year-old primetime series FPJ's Ang Probinsyano starring Coco Martin. The Kapamilya network also airs FPJ's movies every Sunday.
The late action star's movies continue to resonate with Filipinos who value love for family, fighting for justice, and the greater good.
While he was idolized by the poor and highly respected by the elites, do people really know who FPJ was beyond those three iconic letters?
Here are seven outstanding facts about Fernando Poe Jr. that you might not know:
Fernando Poe Jr. joined showbiz because of a tragedy
FPJ's father, Fernando Poe Sr., was a popular actor in the early days of Filipino cinema. He was cast opposite Mona Lisa in movies such as Giliw Ko (1939) and Princess Urduja (1942). He also directed the first Darna film in 1951.
In October 1951, Poe Sr. died of rabies at the age of 34. Eight doctors tried to save him but it was too late. Thousands attended his funeral.
For this reason, Fernando Poe Jr. joined showbiz early to support himself. He dropped out of college and worked as a messenger boy in movie studios, then as a stuntman for Everlasting Pictures.
FPJ's first movie started a trend
FPJ's first starring role was Anak ni Palaris in 1955, a sequel to Awit ni Palaris (1946), one of his father's top-grossing films. FPJ made this movie when he was 15 years old, and he was disappointed because it did not make money.
He didn't become a major movie star until Lo Waist Gang in 1956. He was 17 at that time.
National Artist Nick Joaquin thought the movie defined the barkada youth of the 1950s. Writing for the Philippine Free Press, Joaquin thought Lo Waist Gang was a landmark film that marked FPJ's transition from making escapist fantasy flicks like Anak ni Palaris to more topical themes that made him more relatable to the audience.
Lo Waist Gang was such a hit that it catapulted Poe, along with his co-stars, to stardom. They also produced several sequels that were box office winners as well.
Such was the popularity of the Lo Waist Gang that the youth of 1950s wore their pants like their heroes on-screen: low-waist, a fashion fad that still exists today.
Here's why FPJ is the king of Philippine movies
Why is Fernando Poe Jr. considered as "Da King" of Philippine movies?
This is because he had starred in nearly 300 movies during his 50-year career in showbiz. Many of these movies did not only have him as a lead actor, but also as a writer, producer, and director. As a filmmaker, he used the pseudonym Ronwaldo Reyes, which originated from the surname of his paternal grandmother named Martha. He also chose to use the name D'Lanor in the credits of some of his directorial projects.
A lot of these movies are considered to be classic Filipino films, because they capture relevant Filipino experiences. They include the following:
The Ravagers (1965), an influential Filipino film about guerillas battling Japanese invaders during World War II.
Asedillo (1971), where he played Teodoro, a former school teacher who became a champion for the poor and the oppressed.
Aguila (1980), where he portrayed Daniel, the patriarch of a family whose members played a part in some of most tumultous events in Philippine history.
Roman Rapido (1983), which featured the story of a Filipino hero during the Japanese invasion.
Isang Bala Ka Lang (1983), where FPJ played a former police officer who was pushed to break the law due to the prevalence of criminals in his community.
Ang Probinsyano (1997), the basis of the long-running Kapamilya prime-time drama of the same name starring Coco Martin.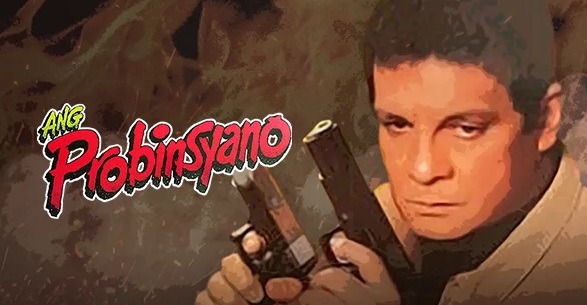 Batas ng Lansangan (2002), where he played an army officer who had to fight against drug kingpins.
The most popular of his movies was Ang Panday (1980), which tells the story of a blacksmith named Flavio who uses a magical sword to ward off evil.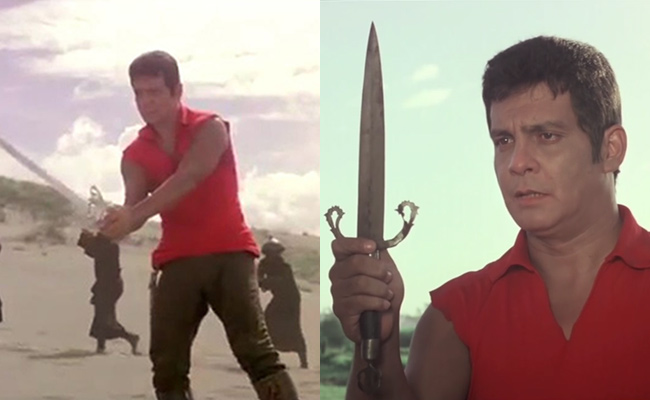 FPJ shot Ang Panday at the sand dunes of Paoay, Ilocos Norte
Leading actresses wanted to work with him
Starring in almost 500 movies throughout his 50-year career meant that FPJ had also worked with the most number of leading ladies in Philippine cinema. His first leading lady was Rosita Noble for Anak ng Palaris in 1955. Then he got paired with Corazon Rivas for Lo Waist Gang.
The list of FPJ's leading ladies also includes familiar names like Helen Gamboa for Baril sa Aking Kamay (1966), Pilar Pilapil for Ang Alamat (1972), Gloria Diaz for Andalucia (1976), Elizabeth Oropesa for Bontoc (1979), Charo Santos for Aguila (1980), Coney Reyes for Ang Padrino (1984), and Rio Locsin for Kapag Lumaban ang Api (1987).
There's also Nora Aunor for Little Christmas Tree (1977), Dawn Zulueta for One Day, Isang Araw (1988), Sharon Cuneta for Kahit Konting Pagtingin (1990), Alice Dixson for Walang Matigas na Tinapay sa Mainit na Kape (1994), Vilma Santos for Ikaw ang Mahal Ko (1996), Charlene Gonzalez for Epimaco Velasco: NBI (1997), Dina Bonnevie for Batas ng Lansangan (2002), and Ina Raymundo for Ang Alamat ng Lawin (2002).
Even Judy Ann Santos worked with FPJ, but not as a love interest. The Kapamilya actress played the action king's daughter in 1999's Isusumbong Kita sa Tatay Ko.
FPJ'S DEATH IN MOVIES CAUSED CHAOS IN REAL LIFE
FPJ was very popular with the common moviegoer during his time because the characters he played in his movies represented their day-to-day struggles. It has been said that his movie screenings in the provinces were packed with audiences that became quite rowdy with their cheering.
According to an urban legend, a male moviegoer once pulled out a gun during one part of a movie where FPJ's character was being defeated by the villain on screen. He wanted to help his hero with his firearm.
There is also a story about how a theater in Mindanao was destroyed because of an FPJ movie. When fans watched the movie that ended with the death of their idol's character, they threw the chairs, destroyed the screen, and broke out into fights. After this incident, theater owners made it a rule to ask the movie producer how the FPJ flick will end before allowing it to be screened in their theaters.
FPJ could have been President
FPJ announced that he was running for President in the 2004 National Elections. He was a very popular candidate, particularly among the poor, who viewed him as a sum of the righteous characters that he played in the movies.
FPJ's nationwide campaign was filled with momentous events for his fans, who listened to his stories about his secret charitable endeavors, and further promises to help them rise up from poverty.
But the campaign was not easy, as his opponents tried to tarnish his image. They alleged that because FPJ was an illegitimate child, he should take on the American citizenship of his mother. This would have meant that FPJ was not a natural-born Filipino, making him ineligible to run for the highest office of the land. His detractors tried to make their case stronger by saying that his late father was actually of Spanish descent.
Thankfully, these allegations were junked by the Supreme Court, which upheld that FPJ was a natural-born Filipino and should be able to continue his run for President.
Despite surpassing this challenge and his gargantuan popularity, FPJ still lost the elections to Gloria Macapagal-Arroyo. But did he really lose?
Many Filipino voters still believe that this particular elections was fraudulent, and there was evidence, like the Hello Garci scandal, that could prove that assumption.
FPJ could have been the 15th President of the Philippines.
Millions were affected by his death
On December 11, 2004, FPJ was rushed to St. Luke's Medical Center in Quezon after he became dizzy during the Christmas party of his movie studio. Within hours, he suffered a stroke then fell into a coma. He died three days later, at the age of 65.
Sorrow spread across the country upon the news of his death. An estimated two million people paid respects to the legendary action star during his nine-day wake at the Sto. Domingo Church in Quezon City.
Tens of thousands also crowded the streets during his funeral procession. He was buried at the Manila North Cemetery.
FPJ has been gone from the world for almost 15 years now, but his impact continues to be felt in showbiz. Many young actors look up to him and wish to emulate his influential career. That's no wonder, because FPJ was an outstanding character, not just in the movies but also in real life.