GMA-7's Unang Hirit has distinguished itself as the longest-running morning show in the Philippines, turning two decades since it began airing on December 6, 1999.
Fondly called UH, it has become the Filipino household's early morning television companion, delivering the day's freshest news from Mondays to Fridays.
"Unang Balita," the newscast within Unang Hirit, delivers news alongside in-depth and sensible discussions with newsmakers and experts on the latest issues. Over the years, it has been anchored by multi-awarded news personalities Arnold "Igan" Clavio, Rhea Santos, Ivan Mayrina, Connie Sison, and Susan Enriquez.
The show has also become a hot source for the latest trends, watchable personalities, and must-go places.
Throughout its run, the show has seen a roster of 50 hosts in various capacities as field reporters, segment hosts, or studio anchors. According to program manager Mon Torres III, the hosts are the core strength of UH and the show's edge over the competition.
He says, "Ang mayroon kami na wala sila, number one, yung hosts.
"Hindi lang sila magkakatrabaho, they are family, friends, mag kumare, mag ninang.
"They grew up together. Off-cam, kwentuhan sila ng totoong kwentuhan. Nagsimula bata, dito nag-asawa, dito nagkaanak, dito naging lolo."
Executive producer Amy Sy-Guevarra adds, "Ang nakikitang totoo yung samahan sila, kasi totoo lahat ng ginagawa at sinasabi nila."
By the end of 2019, only three of the original hosts remain: Arnold Clavio, Suzi Entrata-Abrera, and Lhar Santiago. Rhea was the last OG host to leave the show as she moved to Canada with her family in mid-2019 .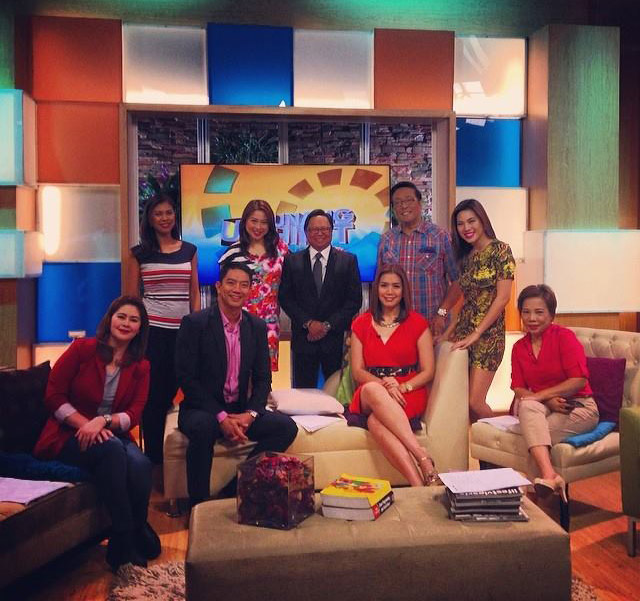 ADVERTISEMENT - CONTINUE READING BELOW ↓
Arnold still remembers like it was yesterday how he and Suzi were asked to become part of Unang Hirit more than 20 years ago.
He recalls, "Sa unang meeting... tinanong kung kaya ba naming gumising sa umaga ng umagang-umaga?"
He says it takes commitment and dedication "na gumising nang tulog pa..."
He adds they have to let go of their social life and be virtually on-call and on the fly to craft special coverages of disasters and crisis incidents.
Arnold and Suzi, who provide the bulk of materials for special coverages, both say they are in love with their job and it shows.
Sy-Guevarra, who has been there from the start of Unang Hirit, remarks, "Ang UH, mabilis mag-react kung anong nangyayari sa surroundings namin, kung ano important, inuuna namin.
"Hindi kami nagse-settle kung ano mayroon kami, kung ano kailangan at hinahanap, 'yan ang binibigay namin, kaya andito pa rin kami."
Torres III expounds that although Unang Hirit started as a simple morning show, it has evolved into a public service program.
He says, "May puso, embodying yung Serbisyong Totoo of GMA-7, we extend the news, what else is happening with this news item, and we look for a solution."
PEP.ph (Philippine Entertainment Portal) takes a look at the significance of Unang Hirit's staying power and its impact on Philippine society and television.
UNANG HIRIT EQUALS PUBLIC SERVICE
Unang Hirit's long-held practice is to put public service at the forefront of many issues through the years.
For instance, as the show reports breaking news and maintains its objectivity, it is also mobilizing off-camera to provide immediate aid such as food, clothes and other necessities to the affected families.
This is one facet of UH that demonstrates public service in action.
When the water crisis worsened in Manila, UH sent water trucks to residents in various communities.
A practice UH started 10 years ago and continues until today is to provide water and other services at the Manila North Cemetery during All Souls Day and All Saints Day.
It was the first news reporting body to set up at the cemetery a booth with free water, free tagging for easy tracking of children (children getting lost is a perennial problem), free candles, free flowers, and even free phone charging.
Arnold recalls how people would seek their booth out to provide a service so basic but often overlooked. Later, this Unang Hirit initiative would be followed by government agencies, other entities, and other shows.
Torres III, who has observed that people see public service as boring, remarks, "We put color into it, nagkaroon siya ng kulay, ng hugis, ng puso.
"Kung dati, may information booth ang city government, e, ang only service offered is asan ang puntod, what we did is create a creative booth, yung we provided services na wala sa kanila.
"Kaya nag-stand out ang public service ng UH. Ten years in, we are still doing it sa two cemeteries now."
Sy-Guevarra says their thought in any crisis and disaster, next to accurate reporting, is to lend a helping hand.
When covering floods, the Unang Hirit teams are deployed to deliver news onsite and provide public service as well.
During the 2019 earthquakes in Mindanao, Connie Sison and UH set up lugaw stations for the traumatized and hungry survivors.
Vaccination and other medical interventions, especially during summer months, have also become part of UH's public service-public affairs endeavors.
Arnold reiterates, "Yung pag reach out namin, ibig sabihin lumalabas talaga ang UH.
"Kami dito sa team bahay, we announce nasaan kaming UH sa field so if fire, bring clothes, etc."
UH's traffic segment, which shows blocked roads or bottlenecks, has the immediate effect of having the situation resolved at once by the concerned agency. At one time, a footbridge with loose screws and an unfinished one were both resolved posthaste following the UH reports.
MILESTONES OF UNANG HIRIT
In 2018, Unang Hirit made broadcasting history when it aired in real time the team's Holy Land tour and reported a deeper and more detailed story.
It was the first time on Philippine television as previous coverages of the Holy Land tended to be limited only to places of interest.
The tour was initially intended for Christmas time but due to the Israeli-US political tension at the time, the safety of the crew could not be compromised.
Torres III remembers they had to cancel a morning trip because of Trump's declaration that angered Palestine. Eventually, they secured a slot for Holy Week, the perfect and most appropriate time to show the Holy Land to Unang Hirit viewers.
Arnold exclaims, "Dinala namin ang viewers sa mga lugar mismo sa Holy Land, dinala namin sila doon kasi si Rhea nakita mo doon sa pinaniniwalaan birthplace ni Christ, na kung wala kang budget pang-trip, nakita mo, at live yun.
"Yung the way of the Cross, yung dinaanan ni Kristo, pag nakita mo yun, lalakas ang pananampalataya mo dahil nilapit mo ang Holy Land sa kanila.
"And this wasn't one day, pero a series of features, na may bantering--kita mo na ginaw na ginaw sila Susan.
"O, minsan si Rhea may time umattend ng mass live at kahit kami, dito sa studio, may spiritual growth din, like the viewers!"
UH extended the experience to overseas Filipino workers (OFW) in Tel Aviv by mobilizing events and tours they could join. The OFWs and the UH team traveled from Bethlehem to Jerusalem to Jordan River for a once-in-a-lifetime Christian pilgrimage.
SPECIAL COVERAGES OF UNANG HIRIT
Their reports on Typhoons Ondoy and Yolanda proved the tenacity and professionalism of the UH team. They extended their working hours to air special coverages, pre-empting many other shows for the day.
The tropical storm Ondoy made a landfall on September 25, 2009, hitting Metro Manila hard where 241 died, some from drowning in their own homes, and thousands of buildings were completely destroyed.
On 8 November 2013, Typhoon Yolanda brought widespread devastation in Tacloban, Leyte, whose recovery and restoration are continuing until today.
The team knew it was a big one, but no one expected the enormity of the disaster.
Arnold remembers, "Although nakaprepara tayo, di natin ine-expect na ganoon kalakas yung Yolanda... so yung Unang Hirit naging biglang Special Coverage that day at natiyempo naman na ang mga teams namin nakahanda na."
According to Torres III, "It got to the point na, stranded sila doon, for five days! Walang pagkain, anything. Unprepared for that, pero ready to bring the news still."
Arnold says, "You can prepare all you want but once a special coverage comes around, you have to let it all go."
UH also became the first and only news show from the Philippines to have earned a Monte-Carlo TV Festival nomination in the Breaking News Category for its outstanding special coverage of the attack on Resorts World Manila in 2017.
At midnight of June 2nd, a lone gunman set fire on the furniture of the hotel's casino, killing 36 people from suffucation and injuring 70 others.
Connie attended the red carpet for Unang Hirit at the show's Golden Nymph Awards, graced by no less than the Prince of Monaco, Rainier III. UH won in the category against BBC News, Sky News, RT from Russia, and Al Jazeera English from Qatar.
FIESTA IS SYNONYMOUS WITH UNANG HIRIT
Did you know that Unang Hirit was the first years ago to highlight a hitherto unknown fiesta and has since inspired countless fiesta celebrations after it was aired?
A YouTube search of UH episodes featuring fiestas brings up a treasure trove.
Arnold explains, "First kami sa fiesta, and not just for the food! Kami ang naging authority 'pag dating ng fiesta, siguro lahat ng fiesta napuntahan namin.
"Ang mga city or municipality, nagcre-create ng sariling fiesta, kasi pag tiningnan mo coverage ng fiesta kapag sinabing limang taon, kaka-create lang nila dahil sa Unang Hirit yan."
One of these new fiestas can be found in Malolos, where the Fiesta Republica celebrates the institution of the First Philippine Republic in 1899, making it the first democratic institution in Asia.
Now on its ninth year, this fiesta focuses on lessons in history by revisiting myths and legends, and kwentong bayan.
Other new fiestas include the 1st Banga Barrio Fiesta in Meycuayan, Bulacan, which highlights local delicacies prepared by mom-and-pop vendors and enjoyed for many years; and the 2013 Batangas Festival also dubbed Ala Eh Festival, which is an informative, experiential, and relatable fiesta.
Arnold points out, "Fiesta, usually pasasalamat sa magandang ani, blessings ganyan.
"Pero yung mga 5 years, ten years, Unang Hirit yan kasi iimbitahan si Eagle--Mayor namin at kilala siya ng mayor talaga, kasi nga fiesta, Unang Hirit yan.
"Kaya rin kami siniswerte, kasi pyesta naman is pasasalamat sa taas at umaga palang, ayan na kami, nasa piyesta."
Although each one seems to be an Unang Hirit festival, it is still a community initiative and UH is there not just to cover the fiesta, but also to celebrate with the residents.
And because UH feature fiestas far and wide, many communities have started coming up with new reasons to hold celebrations.
ON TACKLING LIFESTYLE TOPICS
Helping moms with their daily needs through cooking tips and life hacks is part and parcel of Unang Hirit, another reason the show has endeared itself to its viewers.
The hosts are often shown cooking or eating food cooked by a guest chef, about which Arnold says, "Food sa amin, yung mabilisan, ano maituturo sa parents, pagpasok ng bata.
"At the same time yung mga hosts, parents rin sila, e, so minsan based on their experience kaya yung mga nanonood na nanay, nakaka-relate.
"At halos kami lahat dito magkakumpare, kumare, akala mo kasama kami sa family tree kapag nanood ka ng UH!"
In fact, Arnold is not shy to reveal that during the GMA Kapuso Fan's Day, "Ang hinahanap nila, kami kasi 20 years, kasama mo na kami sa bahay."
As the show has evolved, people have left, come back, and left again. Suzi says, despite these changes, "While tough, we have grown up together as a family, at ganoon talaga, nag-e-evolve kasi araw-araw kasama mo then the next day wala na siya.
"Kami ang naging alarm clock so dapat may regularity na maaasahan ng mga tao na when they turn on the TV, it should be the same segment, if they see this other segment coming up, they know their kids will be late, and we have to maintain that regularity but at the same time, may bago rin kaming binibigay.
"Di pwede baguhin na sobrang different kasi mawawala ang familiarity and this is the reason it has been working for so long so even if people have come and gone, other people stayed so may anchor ang viewers when they watch us."
MEMORABLE SEGMENTS OF UNANG HIRIT
Puppets, usually seen in shows to provide instructional aid to kids, became a foil to deal with heavy issues of its time.
Arn-arn, the alter ego that Arnold had a hand in creating along with UH producers and creatives, became a format-breaking puppet. He also knew how to have fun, becoming a main fixture in many fiesta celebrations and being teased for 'eating' a lot!
Arn-arn's first iteration looked like a scary victim of an execution in a box, a gift that Arnold had given to co-host Mickey Ferriols.
When Arnold was asked if he likes a puppet that exists not merely to do ABCs, he recalls, "Sabi ko kailangan yung puppet na socially aware kasi kapag ako, masyado direct at pwede taken against me so dito kapag may puna ka, pasabi mo sa puppet na hindi siya mademanda! Si Arn-arn naging kalikot siya ng utak ko at magandang ka-banter."
Their segment "Good News, Bad News" is so memorable for Arnold because it served its purpose: political satire and social commentary. When the segment became too matapang, Arn-arn retired, and looking slightly faded in color now, but Arnold reveals, "Andiyan lang yan, tingnan natin kailan babalik."
As someone who could be considered Unang Hirit's showrunner, Torres III explains, "Arn-arn as an alter ego and character, may mga time or season na binabagayan siya, may panahon na kailangan na kailangan siya. He was the first puppet to interview a sitting president, Gloria Macapagal-Arroyo. It was easier for her, no problems kasi andoon si Igan, yes, pero it was Arn-arn interviewing her, so no protocol issues."
Suzi has personal attachments to Arn-arn as well and can't wait for him to make a comeback.
For her, what also stands out is a defunct segment called "Teatrong Bulilit," a fairy tale and storytelling led by Arnold as narrator and voiceover for all the characters. While it told the usual stories, "Teatrong Bulilit" became a break for the hosts as well and allowed them to play and enjoy while telling a good story in a serialized format per week.
Long before Ellen deGeneres had her guests do this, the Unang Hirit hosts were doing theater and improv.
Suzi remembers, "People would tell me na inaabangan eto, kasi di daw nila alam anong mangyayari, at fairy tales yan ha!"
Arnold, holding the big book while everyone else was in costume, voicing everyone's voices, would often times change up the lines which the hosts then had to act out.
Ultimately, while they were playing on-air, there was always a takeaway lesson for the kids. The fun they had was palpable and translated to the viewers in a contagious manner.
One time, Suzi finally landed a princess role, having played the villain role many times already.
Suzi recalls that as she had her eyes closed, lying down and waiting for her prince, James Blanco, Arnold withheld the line that would say the prince kissed her while she had her lips puckered, worrying also if the actor would actually kiss her.
Another segment that ran from 2008 to 2014 was "One on One with Igan," hosted by Arnold and Lala Roque. It tackled issues of the day and guested a prominent news personality, but as Arnold says, "We could not keep it because it can't be one side only."
"SUGATAN"—culled from the names of Susan, Arnold, and Mang Tani Cruz—was a fun debate segment that debuted in 2015. This became a hit because of the way it handled personal advice to problems about love, life, and everything in between. Susan and Arnold provided two opposing opinions while Mang Tani remained in the middle, and the three hosts had hugot lines every day.
"Boses ng Masa" used Facebook as a way for Unang Hirit to connect to its viewers by giving the question the night before and allowing people to respond on the social media platform.
The morning show also allowed talents to be discovered whenever they would feature singing acts, dance crazes, or talents from the province, giving them the proverbial 15 minutes of fame. Arnold adds, "Sumikat man o hindi, may chance sila makita sa TV."
TRAINING GROUND FOR NEW GMA-7 ARTISTS
Unang Hirit likewise became a training ground, as Arnold calls it, for fledgling GMA-7 artists to practice or discover their hosting and reporting skills.
Joyce Pring had already been on the show but when Juancho Trivino came in, their eventual chemistry on-screen also unintentionally birthed the real-life couple tandem of Juancho and Joyce. Both under GMA's Artist Center, the two personalities are now lovingly know by their ship name, #Juanchoyce.
UH helped Juancho develop his news and feature hosting chops even as he got to work with his long-time crush, Joyce. They are now officially a couple.
Counting the years isn't their thing but they have markers.
Arnold confesses, "Kami, every day na andito kami kapag nakita namin nila Suzi yung batuhan ng kamatis, ay malapit na Pasko, yearly yan or yung karera ng asawang buhat buhat, naku malapit na Pasko."
Suzi chimes in, "Or yung ginugulong ang cheese sa gilid, ayan mga standard na natatandaan so ang bilis ng taon, Pasko na ulit."
In this way, the hosts just kept turning a year older on the show without really feeling that they had aged.
UNANG HIRIT AS AN EARLY DIGITAL ADAPTER
The Kapuso morning show adapted to digital by embracing the best that the platform has to offer.
Torres III says they have teams monitoring trends and staying on the lookout for everything new and fresh.
Unang Hirit does this by being mindful of trends, keeping the show interactive, even reading out horoscopes, including touchscreens for the hosts, and inviting comments to be read on air.
Suzi believes their close connection with Facebook viewers has allowed UH to uphold its first and foremost mandate of public service. She says, "We know many keep us in the background because you can't constantly be tuned in as you prepare in the morning. By posting our highlights in our socials online, you can now see online any news or feature if you missed it as it was aired. We also include the announcements on the side of the screen or the bottom to reinforce their importance."
Arnold is confident that because of UH's early adaption to digital, "Because of the relationship with the viewer and the role we play, we, TV will be around for a long time, even if there is a fear that everybody is switching online, andito pa rin tayo."
Torres III agrees, "The entry of digital, it challenged us to innovate, they reminded us, keep us young, so before if our language was more formal or newsy, now we adapt and speak, even the millennial linggo."
NEW BROADCAST PRACTICES
In a hostage situation in Pasay that involved a young child, Unang Hirit was doing live interaction between reporter and police, and the other stakeholders on the scene.
Arnold, who was controlling the reporting from the studio remembers, "Yung nandito ka, ikaw magdi-direk nun... you try to manage the storytelling from the studio."
Because of that incident though, which ended unfavorably in the death of the hostage, UH had to enact new policies when it comes to hostage situations. They no longer cover hostage situations and suicide attempts the way they used to.
Arnold acknowledges how hard it is to report in such situations, "Sa live, mahirap talaga kapag live, mayroon kaming prepared segments, e, kapag may pumutok diyan, wala lahat yun, 'yan ang challenging sa amin lahat both sa on-cam personalities at yung nasa likod, direktor, nagsisigawan kami rito. Sa mga biglaan, kalamidad, doon kami nate-test, e."
UNANG HIRIT MOVING FORWARD
The core of the show remains the same even 20 years later: news and public service with a heart. Their features of food, sometimes a simple kakanin or a one-off restaurant have also yielded fruit—the business owners gained free publicity, grew, and expanded. This is a story repeated many times in the past 20 years.
Arn-arn had his time and purpose but for political reasons had to take a rest. Who knows if, when, and how he makes a comeback.
Despite senior citizens not being their primary market, UH now has a Senior Citizen segment. Arnold says, "Nagulat kami na may interesado pala. Usually kasi, kami alarm clock ng estudyante. Kasi di na lang signal kasi may storm surge, habagat na, or minsan when certain cities don't declare so mayors end up calling us after seeing Facebook responses from the viewers."
For their team in UH, Torres III expounds, "The real essence of bringing the news is being in the news site, mismo, we are not news readers. We are reporters where the news happens. We have done that for 20 years, and we will continue doing that as much as kaya namin. Yung interaction, andito kami, kasama niyo, kaya niyo kami abutin. Ramdam ng tao andoon kami."
Torres III, whose personal dream was to visit the Holy Land, wanted to share the experience with UH viewers, which prompted that first live broadcast from the Holy Land. "We were setting standards, leveling up, so we wanted to show everybody na kaya natin mag-broadcast live."
That move spells the future, Torres III reveals, "Gusto namin gawin global ang Unang Hirit, panalo at kilala na siya sa Luzon, Visayas, Mindanao. We want to create a global name for it. Yung Holy Land started it."