Palibhasa Lalake is an iconic sitcom that paved the way for cast members like Richard Gomez, Joey Marquez, John Estrada, and Carmina Villarroel to make their indelible mark on television.
This small-screen collaboration between director Johnny Manahan and scriptwriter Joey Reyes was a consistent top-rater during its run on ABS-CBN from 1987 to 1998.
The story takes place in Singalong, Manila, where Minerva Chavez (Gloria Romero) lives with her two daughters, Cynthia (Cynthia Patag) and Amy (Amy Perez), and rents out rooms in her home.
Initially, Minerva's borders are two attractive young men: Miggy (Miguel Rodriguez) and Joey (Joey Marquez). They are later joined by hunky Ricky (Richard Gomez), and his younger sister Cathy (Carmina Villarroel) follows soon afterward.
Miguel, who was known as the Christopher Reeve of the Philippines because of his resemblance to the American star of Superman fame, left the show in 1991 to focus on making movies of various genres. He met his untimely death in 1997.
Following his departure from the show, more male characters were added to the cast.
For instance, a short-lived character of a mestizo nerd was played by Apa Ongpin, then a TV reporter/producer and now a corporate manager.
The Gwapings trio of Mark Anthony Fernandez, Jomari Yllana, and Eric Fructuoso also came aboard with their fellow teen star Jao Mapa.
They were followed by John Estrada and Anjo Yllana, along with several actresses in the supporting cast.
The sitcom was known for ending each episode with the cast, led by the male leads, dousing their guests with water and getting themselves wet in the process.
One of the most memorable "basaan" scenes involved guest Sharon Cuneta.
She was introduced as Luningning, the new maid of Minerva. Check out some pics of Sharon being doused with muddy water!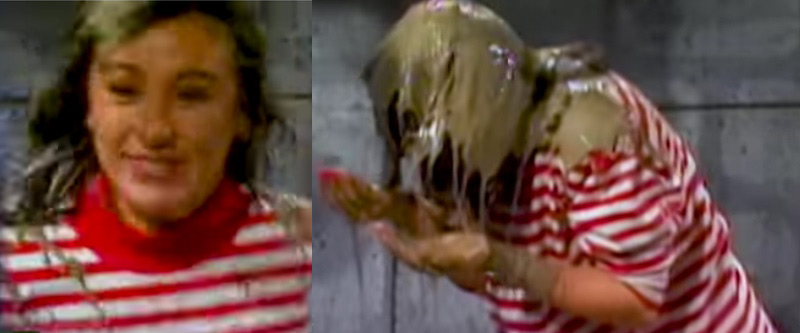 Here's an update on the main cast of Palibhasa Lalake:
RICHARD GOMEZ
Richard Gomez had been playing leading man roles in Regal Films productions when he was cast as Ricky, a responsible guy whose first jobs included working at a burger joint and a donut shop.
After the show folded up, Richard stayed on top of his game as a movie and TV star while dabbling in different sports and other pursuits.
He starred in a string of box-office hits and copped several best actor awards, including three from Gawad Urian (for Hihintayin Kita sa Langit, 1992; Saan Ka Man Naroroon, 1994; and Wating, 1995).
Richard, who's also known by his nickname Goma, returned to doing sitcoms via Richard Loves Lucy, just after his April 1998 fairy tale wedding with beauteous Southern belle Lucy Torres.
The couple played husband and wife in the ABS-CBN comedy show that concluded in March 2001.
Richard made teleseryes on Channels 2, 5, and 7, the notable ones being Walang Hanggan, Mga Nagbabagang Bulaklak, and Ang Iibigin Ay Ikaw, respectively.
He also hosted the showbiz-oriented program S-Files (2002 to 2007) and the game show franchise Family Feud (2008 to 2010), both on the Kapuso network.
Outside of showbiz, Richard made several attempts to win an elected position in government. In 2016, he was elected Mayor of Ormoc City in Leyte province, the hometown of wife Lucy.
Lucy herself was voted as the legislative representative of Leyte's Fourth District in 2013 and has been on her second term since 2016.
The power couple's only child, Juliana, is now 19 years old and studies at their alma mater, the University of the Philippines.
Richard last appeared in the 2018 movie Three Words to Forever, opposite his past leading lady and ex-girlfriend, Sharon Cuneta.
JOEY MARQUEZ
Former professional basketball player Joey Marquez took on the role of Joey, a bum who served as a foil to his neat freak roommate Miggy.
Through Palibhasa Lalake, Joey found his niche as a comedian, thus he went on starring in comedy movies and providing comic relief even in horror flicks.
When ABS-CBN pulled the plug on the sitcom in 1998, Joey joined its rival sitcom, GMA-7's Kool Ka Lang, that same year.
He reunited with his buddy Richard Gomez on Kool Ka Lang's replacement, Lagot Ka… Isusumbong Kita! and on S-Files, with both shows airing on the Kapuso network from 2003 to 2007.
His Tsong character in Lagot Ka clicked with viewers and "Tsong" became his nickname in and out of showbiz.
Joey went into politics by serving as mayor of Paranaque City, a position he held for three terms that spanned from 1995 to 2004.
Afterwards, he returned to acting fulltime, this time as a versatile character actor.
In 2014, he won Best Supporting Actor at the Star Awards for Movies for On The Job and at the Metro Manila Film Festival (MMFF) for Kubot: The Aswang Chronicles.
He also played key roles in several episodes of the Kapamilya network's drama anthology Maalaala Mo Kaya and in its string of teleseryes, such as Forevermore, FPJ's Ang Probinsyano, and La Luna Sangre.
Currently, he is part of the main cast of the early prime-time soap Pamilya Ko, along with Sylvia Sanchez, Rosanna Roces, Arci Munoz, and JM de Guzman.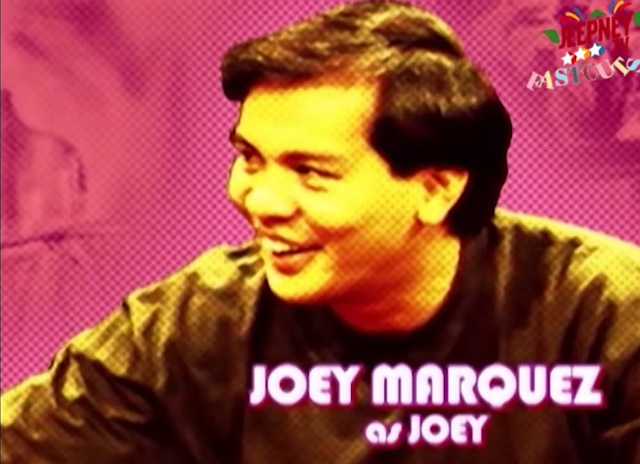 John Estrada
John Estrada crossed over from fashion modelling to TV acting with Palibhasa Lalake.
He played Johnny, which was one of the roles introduced in the show when original cast member Miguel Rodriguez left in 1991.
Unlike the other short-lived roles, Johnny became a permanent character and John stayed on as a mainstay.
Johnny, a probinsyano, joined Ricky and Joey as borders in the Singalong house.
The actor, who grew up speaking Chavacano in the island-province of Basilan, charmed viewers with his bulol way of talking in Filipino.
Over the years, his speech improved as he branched out to drama acting and TV hosting.
He was one of the main hosts of ABS-CBN's noontime show, Magandang Tanghali, Bayan (1998 to 2003), and its reboot, Masayang Tanghali, Bayan (2003 to 2004).
He also honed his craft by appearing in a wide array of movies, from comedies to drama, action, and horror.
In 2004, he played a lead role in the teleserye Hiram, which then led to bigger projects (Minsan Lang Kita Iibigin, Ikaw Lamang) that solidified his status as a serious actor.
After being a Kapamilya for nearly three decades, John moved to the Kapuso network in 2018.
He appeared as a guest star in a few GMA-7 shows before he was cast in the primetime drama-action series Victor Magtanggol, and then in the fantasy-drama series Kara Mia.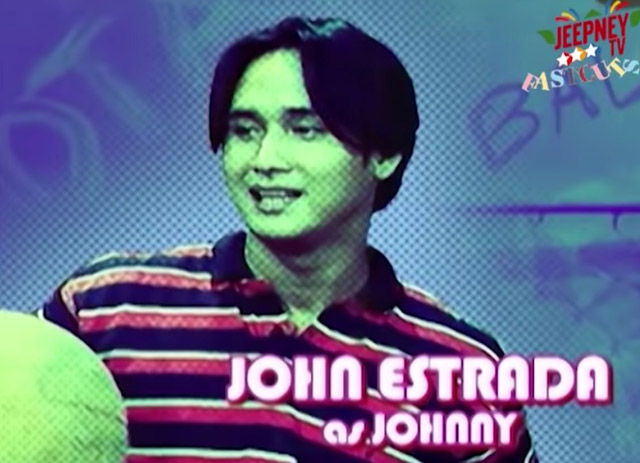 Gloria Romero
Gloria Romero reigned as a movie queen in the 1950s and had evolved into a versatile actress, but Palibhasa Lalake marked the first time she took on an offbeat role.
In her role as Minerva Chavez, Gloria portrayed a drunkard yet lovable mother of two grownup daughters and landlady to three male borders.
The mere thought of seeing the prim and proper film icon have her nightly ritual with liquor on the show entertained the viewers.
Gloria continued acting in various movies while on Palibhasa Lalake, and picked up many citations, including 1989 Famas Best Supporting Actress for Nagbabagang Luha and 1955 Famas Best Actress for Dalagang Ilokana.
She was also awarded the Gawad Urian for Best Actress in Tanging Yaman (2001) and Best Supporting Actress in Magnifico (2004).
After the ABS-CBN sitcom ended, she remained a Kapamilya by appearing in teleseryes like I Heart Betty La Fea (2008) and Kung Tayo'y Magkakalayo (2010).
In 2011, she moved to GMA-7 to lead the cast of the drama series Munting Heredera. She is still with the Kapuso network today, starring in the fantasy-drama anthology Daig Kayo ng Lola Ko.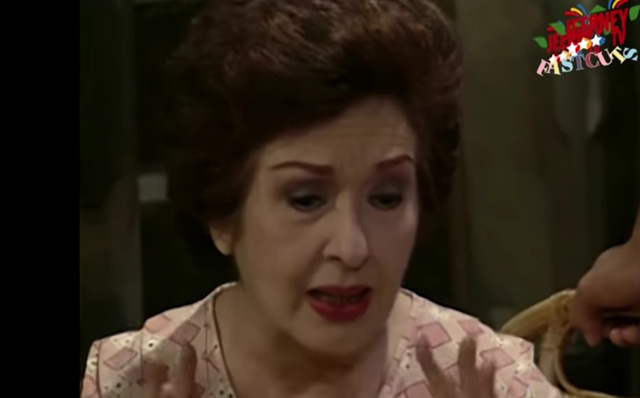 Cynthia Patag
Singer and comedienne Cynthia Patag supplied the laughs in the show with her portrayal of Cynthia Chavez, the elder of the two daughters of landlady Minerva.
Her antics involved shamelessly running after the boys, which was in contrast to her childlike fondness for colorful hair clips and stuffed toys, and her colegiala lingo spoken in a soft voice.
When the sitcom folded up, the actress slowly stepped out of showbiz circles and eventually retired completely. She is now based in her hometown, Iloilo City.
Despite her retirement, Cynthia remains vocal about her political beliefs and advocacies.
On her Facebook page, she has posts that are critical of the Rodrigo Duterte government and supportive of the opposition.
Amy Perez
Amy Perez was a showbiz newbie when she was cast as the younger Chavez sister, also named Amy.
Just like the actress's comely face and calm demeanor, the character was all sugar and spice and everything nice.
Because she was too demure, conservative, and tweetums compared to her Ate Cynthia, the boys treated her more like a sister and friend.
While Amy continued acting after Palibhasa Lalake, she built a more solid and lasting career as a TV host.
She hosted a string of noontime shows, from Family Kuwarta o Kahon in the late 1980s to Eat Bulaga! during its time in ABS-CBN in the early 1990s.
From there, she became the go-to female host in a series of Kapamilya noontime shows, such as Sa Linggo nAPO Sila; 'Sang Linggo nAPO Sila, and Magandang Tanghali, Bayan.
She also hosted lifestyle and public affairs programs, as well as radio programs, both on the FM and AM bands.
From 2010 to 2013, Amy earned the moniker Tiyang Amy as host of the tabloid talk show Face to Face on TV5. She also appeared in other shows during her stay in the Kapatid network.
Today, she is a mainstay host on two ABS-CBN shows: Umagang Kay Ganda and It's Showtime.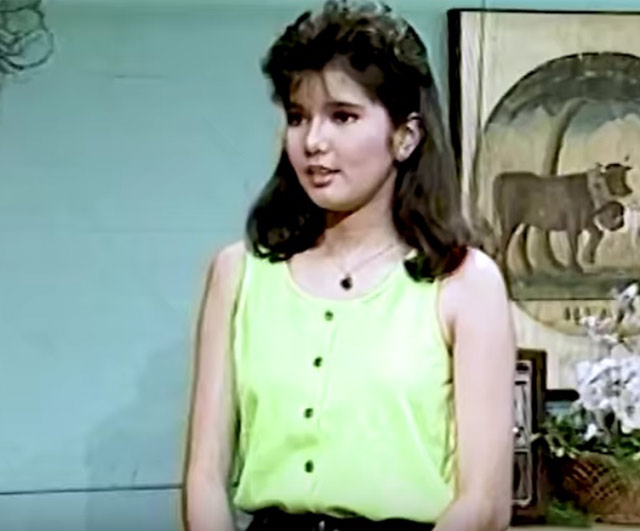 Carmina Villarroel
After appearing in the 1986 Jollibee TVC and in a few Regal Films projects, Carmina Villarroel joined the cast of Palibhasa Lalake as the first addition to the original cast.
She played Cathy, who followed her older brother Ricky from their province to Manila, and stayed in the same boarding house.
Carmina practically grew up on the show, but decided to leave in 1993. Her departure was reportedly because of the escalating tension on the set between her and her male co-stars over her boyfriend at that time, Rustom Padilla.
She and Rustom got married in 1994 and separated two years later. Their marriage was annulled in 2002.
(Rustom came out in the reality TV show Pinoy Big Brother in 2006, and soon left for the U.S. After three years, he came home as a transwoman named BB Gandanghari.)
Carmina returned to Palibhasa Lalake in one of its final episodes in 1998, and buried the hatchet with her former castmates.
By then, she had found a new love in fellow actor Zoren Legaspi. In 2001, she gave birth to their twins Mavy and Cassy in the U.S.
The couple came home with their babies to resume their showbiz careers. In 2012, Zoren proposed to Carmina through a flash mob, which was immediately followed by an impromptu wedding.
The family of four became sought-after product endorsers over the years, and the twins eventually followed in the footsteps of their famous parents.
The twins are Carmina's co-hosts in GMA-7's cooking show Sarap, 'Di Ba? and appear as performers in the musical-variety program All-Out Sunday.
For her part, Carmina continues to act in movies, most recently in the horror flick Sunod, which was an entry to the Metro Manila Film Festival (MMFF) in 2019.
She also played a key role in the digital flick, Wild Little Love, which is available on ABS-CBN's streaming service, iWant.
Coming from her comedy roots in Palibhasa Lalake, Carmina has since delved into more drama roles in her time as a Kapamilya (Recuerdo de Amor, Doble Kara) and now as a Kapuso (Majika, Kara Mia).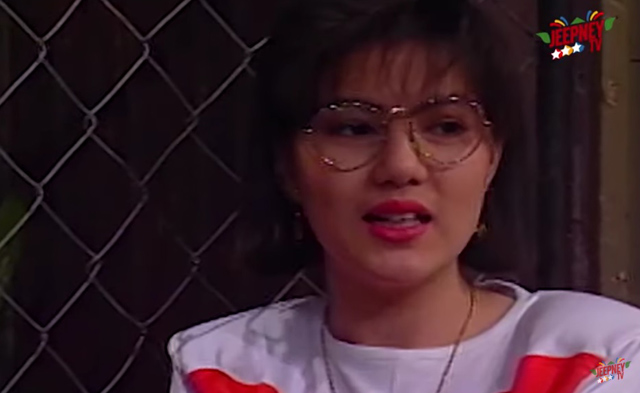 Mark Anthony Fernandez
In 1992, a newly formed group of three good-looking teen newbies called Gwapings joined Palibhasa Lalake to spice up the sitcom with youthful kulit and kilig.
One of them was Mark Anthony Fernandez, the only son of showbiz icons Rudy Fernandez (now deceased) and Alma Moreno. His character was also named Mark.
After his stint in Palibhasa Lalake, Mark Anthony became known as an intense leading man in film (Mangarap Ka, Biyaheng Langit) and on TV (Impostora, Ako Si Kim Samsoon). He showcased his versatility in indie gems Hesus Rebolusyonaryo (2002) and Ma'Rosa (2016).
Periodically, Mark would face difficulties brought by illegal drugs, but he would always bounce back.
His most recent projects included a stint in the action-drama series FPJ's Ang Probinsyano and a part in the MMFF 2019 top-grosser Miracle in Cell No. 7.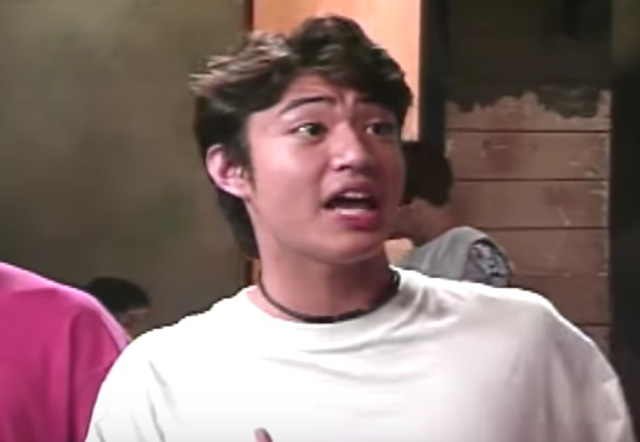 Jomari Yllana
Likewise a Gwapings member, Jomari Yllana had his character named after him.
He was groomed to be a brooding leading man, much like Spanish actor Antonio Banderas in the 1990s, and he proved to be one in the movies Pare Ko, Diliryo, and Warat.
He returned to the sitcom genre with GMA-7's Kiss Muna and Kool Ka Lang, while doing one teleserye after another for both the Kapuso (Rosalinda, The Half Sisters) and Kapamilya (Palos, E-Boy) networks.
Jomari is currently on his first term as councilor of Paranaque City's first district.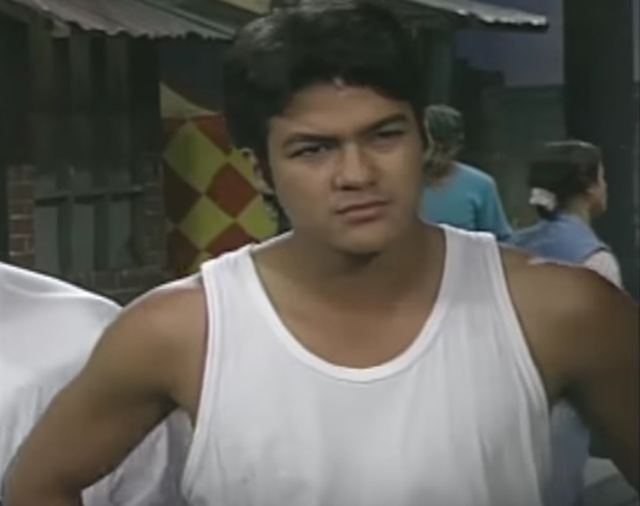 Eric Fructuoso
Rounding out the Gwapings was Eric Fructuoso, whose character was also named Eric.
He also pursued a solo acting career when the trio disbanded and the sitcom concluded, putting his strong mestizo features to good use in antagonistic roles.
At the same time, he continued doing comedy on TV, such as the gag shows Tropang Trumpo on ABC-5 (now TV5) and Bubble Gang on GMA-7.
His teleserye credits included Angelito: Ang Bagong Yugto, Apoy sa Dagat, and Kadenang Ginto, plus guest appearances in various drama anthologies.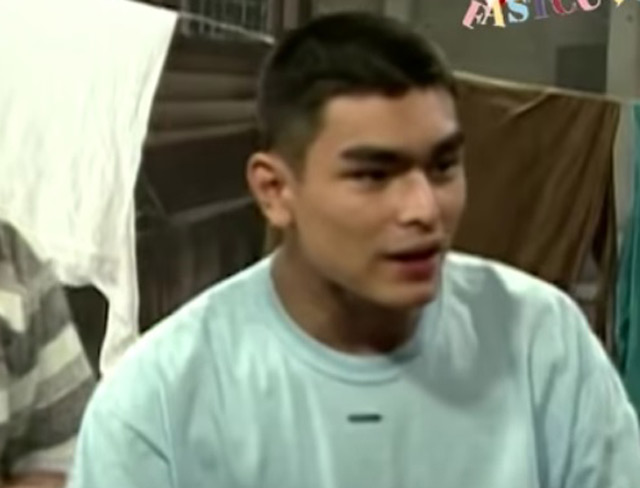 Jao Mapa
Though not a member of the Gwapings, Jao Mapa—also Jao in the sitcom—was closely associated with the trio, and he had projects either with all or some of them.
He was part of the trio's musical-variety show Gwapings Live!, and joined Jomari and Mark in the cast of Pare Ko.
Eventually, Jao put his career in the backseat to focus on his studies at the University of Santo Tomas, where he graduated with a degree in Fine Arts in 2003.
He has since gone back to acting in various movies, as well as TV shows in ABS-CBN, GMA-7, and TV5.
He was last seen in the GMA-7 teleserye Inday Will Always Love You (2018) and the 2019 indie film G, which was top-billed by McCoy De Leon and Jameson Blake.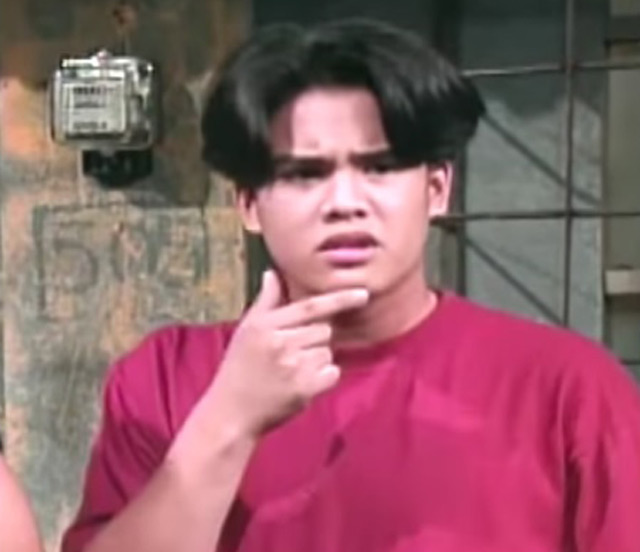 Anjo Yllana
Anjo Yllana was among the last to join the main cast of Palibhasa Lalake, as he was also in another ABS-CBN sitcom, the politically charged Abangan ang Susunod na Kabanata (1991 to 1997).
His stint in Palibhasa Lalake began with guest starring roles, until he became a permanent cast member as Tikboy, who went along with another boarder, Johnny.
At the same time, he was busy with other TV projects either as a main cast member (Ober Da Bakod, Takeshi's Castle, Beh Bote Nga) or a guest star in drama anthologies and game shows.
After Joey Marquez, Anjo was the next among the cast members to enter the political arena.
He was a member of the Paranaque City's second district council from 1998 to 2004, before serving as vice mayor of the same city from 2004 to 2007.
In 2013, he ran and won as councilor in Quezon City's fifth district, and stayed on the job until his first term ended in 2019.