Beauty Gonzalez already lived an interesting life prior to her stint in the Pinoy Big Brother (PBB) house in 2008.
True to her name, the then 16-year-old Dumaguete lass was already a young beauty queen. She was once chosen as one of Cebu's 12 Prettiest Teens, and she was crowned the Miss Teen Philippines - Central Visayas in 2006.
But Beauty's teen life is far from glamorous. She was feisty and a bit of a tomboy. She also had to fight a controversy during her senior year in high school. Rumor spread around the campus that she was pregnant, and this prevented her from attending the graduation ceremonies.
These events were the reason why Beauty had been dubbed the "Rebellious Beauty" when she entered Pinoy Big Brother: Teen Edition Plus. Sure, she had a naturally pretty face, but she has an edge to her that everyone should watch for.
And this is the edge that allowed Beauty to be loved by viewers in PBB. She got into some fights while she was in the house, but her endless charm prevented her from being seen as malicious. In the end, her fans were able to carry her up to the PBB Big Night, where she placed fourth behind Nicole Uysiuseng, Robi Domingo and Ejay Falcon.
BEAUTY'S SHOWBIZ CAREER
It only took Beauty one week to land a role in a teleserye after her PBB stint.
In an interview with ABS-CBN News, the reality show graduate admitted that she was shocked that she was immediately considered to be a part of a soap opera. She did not expect to get a role faster than her PBB cast-mates who placed further than her.
She felt a lot of anxiety because she had no prior experience in acting before she was cast. She also worried that her strong regional accent can affect her performance.
"Na-shock ako kasi sabi ko bakit ako lang, akala ko marami kami, yun parang hindi ako nakatulog. Iniisip ko paano yung pagtagalog ko hirap ako magsalita ng Tagalog," she said.
The teleserye was Iisa Pa Lamang, the 2008 Kapamilya heavy drama that starred Claudine Barretto, Gabby Concepcion, Diether Ocampo, and Angelica Panganiban.
Beauty played a supporting character named Jenna, the best friend of a daughter of one of the main characters in the story.
Beauty cried on her first taping day because she felt underprepared. But her castmates were supportive, so she persevered and grew to love acting.
After Iisa Pa Lamang, Beauty continued to get supporting roles in more teleseryes. She was typecasted as a friend of the main character for her next two roles.
In 2009, she appeared in Tayong Dalawa as Dolores, a friend of the main character played by Kim Chiu.
In 2010, she portrayed Liza Abadilla, the best friend of Shaina Magdayao's character in Precious Hearts Romances: Alyna.
ABS-CBN gave Beauty a riskier role in 2011. This time, she portrayed a female escort who was attracted to the character of JM de Guzman in Mula Sa Puso.
She donned this provocative image for the next three supporting roles. In 2011, she played a character aptly named Ms. Sexy in Angelito: Batang Ama. She then reprised the same character for this show's sequel, Angelito: Ang Bagong Yugto, in 2012. Then in 2014, she played the frank, funny but still sexy Matilda in Moon of Desire.
It was only in the last quarter of 2014 when Beauty hit the big leagues. Six years after PBB, the aspiring actress finally landed her first lead role in Dream Dad, where she had to shed off her sexy image to play an office girl who falls in love with her boss.
Her character's name was Alex, the devoted executive assistant to Baste, played by Zanjoe Marudo, who was the new President of a dairy company. Viewers of the primetime series loved Beauty and Zanjoe's tandem so much that they gave them a loveteam name: BaLex, a portmanteau of their character's names.
Viewers also loved Beauty's interactions with Baby, played by Jana Agoncillo, who is a child that Baste adopted. Beauty was seen as a young but motherly figure, a far cry from her previous sexy jokester roles.
This was why Beauty was given the role of a mother in her next series, Ningning, which aired in July 2015. The pre-noontime drama had her play Lovely, a mother who had to embark on a journey to the city with her young child after their seaside that was ravaged by a typhoon.
LOVE AND MOTHERHOOD
Beauty's second leading role, however, was short-lived. In September 2015, viewers were shocked when Beauty's character fell from a window and died.
Beauty was mum about the reason for her exit from the show, but many speculated that she was pregnant with her first child from her non-showbiz boyfriend Norman Crisologo, a prominent art curator and 15 years her senior.
Beauty and Norman's love story is one for the books. Norman first saw her face while reading a magazine, and he became curious.
"I saw her in a magazine that tended toward the sexy, but she was different. I could tell she was shy. I wanted to meet up and see if she really looked as good as I saw her," Norman said in an interview with the Tribune.
His industry connections allowed him to get Beauty's number. He then sent her an SMS invite to the 2014 Esquire Ball. But the pretty girl initially rejected him.
"She thought I was trying to sell her a condo," Norman said.
Besides, Beauty does not go to a lot of events. It took some cajoling from one of their mutual friends, the actress and model Ellen Adarna, for Beauty to doll up and go to the ball.
Norman was immediately smitten when he saw Beauty in person. "From that evening onwards, we were more or less together. We really got along," he said.
Beauty also felt attraction, but she decided to be cautious. "When I met him, I told myself I was going to make things right. So, nagpaka-Cinderella ako. I left early—I left at 12 o'clock. When I left, I was nervous because I thought he would not call me then," she also told the Tribune.
Norman then gave her a challenge. He had a scheduled trip to Europe days after the event, so he coyly told the Cebuana girl to meet him in Paris. Beauty agreed to meet him in the City of Love, and they officially became a couple. The date: September 4, 2014. They had become inseparable ever since.
This relationship was the reason why Beauty's fans understood her exit from Ningning. When she officially revealed her pregnancy on October 2015, her fans wished her well and prayed for her journey to motherhood.
Beauty gave birth to Olivia, a healthy baby girl, on February 2016.
More than a year later, Beauty married Norman in an unforgettable ceremony in Tagaytay City. The couple's family and friends, plus a few showbiz luminaries, attended the May 2017 wedding.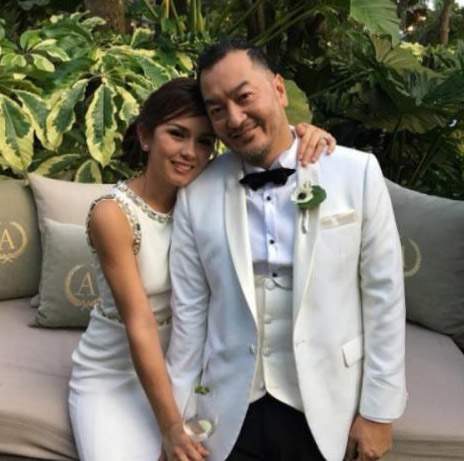 SECOND WIND FOR BEAUTY GONZALEZ
Beauty's new life as a mother and a married woman did not dampen her showbiz career.
She returned to teleseryes in April 2017 via Pusong Ligaw, where she played the leading character, Teresa Magbanua, a seamstress who worked hard to become a top fashion designer.
This Kapamilya afternoon series was a hit. It aired 189 episodes before airing its finale in January 2018.
Beauty's next show was even bigger. Kadenang Ginto is such a hit that it had already aired more than 300 episodes, ever since it started airing in October 2018.
In Kadenang Ginto, Beauty is playing Romina Mondragon, a secretary turned business tycoon of a food empire.
Kadenang Ginto ended this week on ABS-CBN, but we are sure Beauty will go on and star in another bigger show soon.