Maine Mendoza's phenomenal stardom is arguably a product of perfect timing and her deeply rooted desire to become famous one day.
Born on March 3, 1995, Maine was christened as Nicomaine Dei Capili Mendoza.
She hails from Santa Maria, Bulacan.
Her mother Mary Ann is an accountant, while her father is an engineer who owns a construction firm.
Maine is the fourth among a brood of five. Nicolette Ann is the eldest, followed by Nicolas Dynnn, Nicoleen Dyann, and Nicodeim Dean, the youngest.
Their family owns several gas stations, including Oro and Maryana's Shell, in Bulacan.
She is currently in a relationship with Arjo Atayde. They officially became a couple on December 21, 2018.
EDUCATION
Maine finished high school at the St. Paul's College in Bocaue, Bulacan.
She took up Hotel Restaurant and Institution Management specializing in Culinary Arts at the College of St. Benilde in Manila.
It was a deviation from her original plan as she explained, without pausing, in her August 2015 blog.
She wrote, "Back then, I already had a plan on being a flight attendant/cabin crew when I graduate BUT when I knew that airlines does not necessarily pick applicants who are Tourism graduates, I've thought maybe it would be better if I take other track instead (of Tourism), just for me to acquire different knowledge and skills about other Hospitality-related stuff."
Willy-nilly, she chose Culinary Art as an alternative. And Maine, being Maine—she is driven to excel in whatever she decides to do—she gave it her best shot.
Knowing she wasn't really into cooking, she pushed herself to learn more by taking an internship as a cook at a restaurant in the tourist town of Bolton in New York, United States.
She was put in charge of the omelette and pantry section, which meant she had the "earliest call time" among the staff.
Her kitchen duties, she related in her May 2015 blog, included preparing "six containers of onions, tomatoes, mushrooms, green peppers, scallions, ham and (leftover) bacon and sausage."
She was also tasked to scrub the whole hot line—where a large number of hot entrees were prepared—before finishing her shift at 12 noon.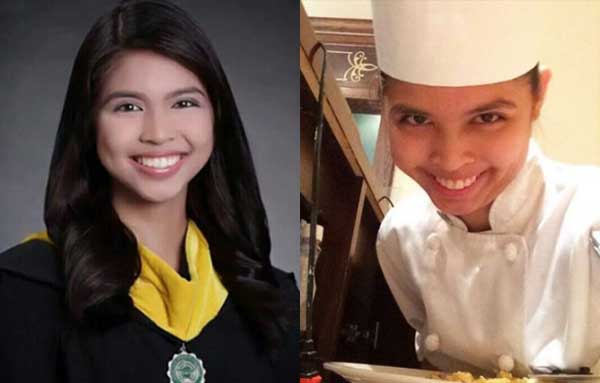 Maine also wrote in her August 2015 vlog entry that working in New York as a cook was not entirely a bad idea since she enjoyed her six-month internship.
But her parents didn't want her to be based abroad.
Back home, she thought of pursuing her original plan to become a flight attendant.
With time to kill before the hiring period of airlines, Maine opted to do some office work in their family-owned business.
Her part-time job, however, gave her a lot of free time and often she found herself "scrolling through different social media sites."
This was when she tried her hand at creating Dubsmash videos using an app that was the Internet trend at the time.
SHOWBIZ CAREER
She wasn't dubbed the Dubsmash Queen for nothing.
Dubsmash is a social-media app where users can create video content by recording or dubbing their own voice with their choice of audio recording or sound bite from movies, music, or whatever is trending online.
In 2015, Maine went viral for her funny parody videos of the TV host-actress Kris Aquino, who was often impersonated because of her candid and witty comments on air.
She also dubbed the famous movie quotes of Sarah Geronimo from It Takes A Man and A Woman, Anne Curtis from No Other Woman, and Maricel Soriano from Separada. She also dubbed the famous line of Angelica Panganiban from the defunct ABS-CBN teleserye Pangako Sa 'Yo.
Her I-don't-care-if-I-Iook-ugly wacky faces were so hilarious that even her dubsmash of sound bites she picked up from netizens grabbed attention.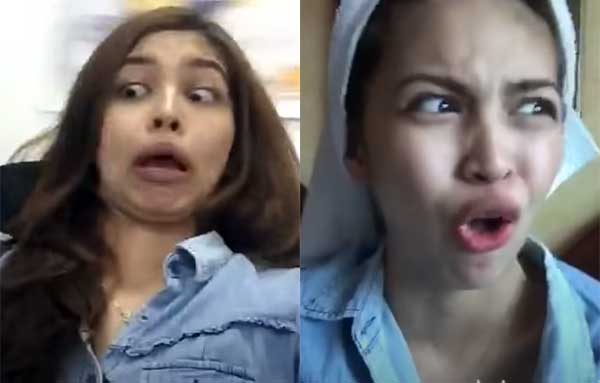 MAINE'S FAILED AUDITION FOR PBB
Months before joining Eat Bulaga!, Maine auditioned first for ABS-CBN's reality show Pinoy Big Brother.
Director Laurenti Dyogi, the man behind PBB, was the audition master when Maine tried out for PBB: 737, the 2015 edition where Miho Nishida and Jimboy Martin were declared as winners.
Maine's audition tape was shown in an episode of StarHunt, a talent search for ABS-CBN back in June 2018.
Her personal introduction went like this: "Hi, I'm Maine Mendoza. I'm 20 years old. I took up Culinary Arts at La Salle College of St. Benilde. I'm working at our family business."
Direk Lauren asked what her family's business was, she answered they own a number of gas stations.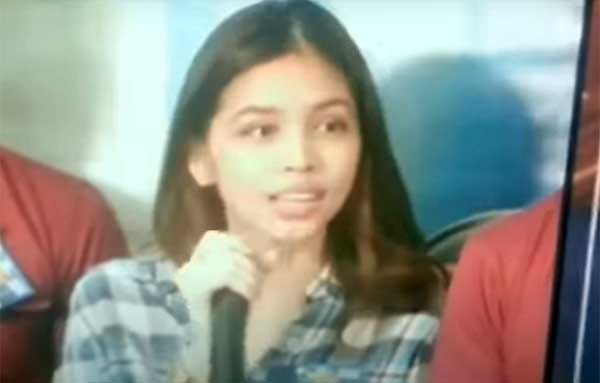 Direk Lauren was not impressed, admitting too late that letting Maine slip away was a big mistake.
He said in hindsight, "So that's a bad call on my part. But then again ganun talaga.
"Siguro, hindi ako ang kanilang kapalaran. Hindi lang naman ako ang paraan para sumikat sa show business."
EAT BULAGA! AUDITION
Maine recalled in a Facebook Live session on July 4, 2020, her fifth anniversary in showbiz, how she got in in Eat Bulaga!
One day, she got an Instagram direct message asking if she could be interviewed for the Kapuso noontime show.
She said yes, thinking it was just going to be an "interview."
She got the surprise of her life when it turned out to be a full-blown audition with several aspiring TV hosts trying out to be part of the iconic noontime show.
Her audition happened on June 19, 2015, with Eat Bulaga! creative manager Jenny Ferre as the audition master.
Maine related, "So pagdating ko doon, nakita ko may mga familiar faces since Dubmash and Vine era iyon, iyong mga gumagawa rin ng videos before, sila rin nakita ko.
"'Tapos lahat sila prepared! Meron pang may dalang gitara. 'Tapos noong nagpunta ako doon sa standby area, alam mo iyong nagpa-practice sila?
"Grabe, naaalala ko pa rin hanggang ngayon! Lokang-loka ako kasi lahat sila nagpa-practice ng dance performance nila 'tapos ako, anong gagawin ko?
"Wala ako, hindi ako prepared! Hindi ko kayang bigla na lang sumayaw or kumanta, wala talaga kasi hindi rin naman ako nasabihan.
"So parang ayun, chika-chika ko rin iyong mga mag-o-audition, and mababait din naman sila, naalala ko pa silang lahat."
That she was the last person to be called on stage made the experience all the more nerve-wracking for Maine.
She quipped, "Siguro binase sa, 'Sino dito iyong mukhang walang talent, siya iyong ihuli natin para hindi siya mapahiya.' So ako iyon!"
When Jenny Ferre asked if she could sing or dance, Maine answered "hindi po."
Dubsmash was all she could do on the spot.
Jenny asked her to reenact a scene from Jose Rizal's classic novel Noli Me Tangere where Sisa goes mad looking for her missing sons Crispin and Basilio.
Unsure and totally unprepared, Maine meekly responded, "Totoo po?"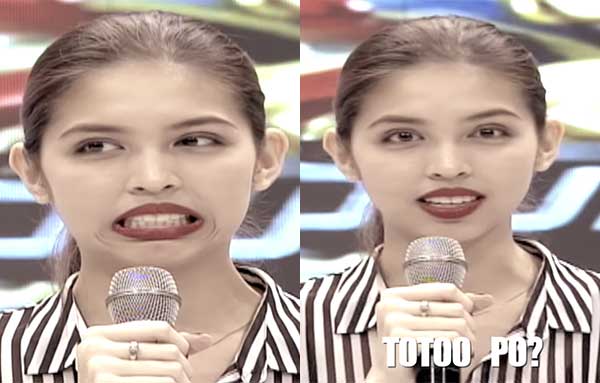 And again, Maine being Maine, she went ahead to give her best improvisation of "Crispin... Basilio..."
But she stopped in the middle of her performance, laughed nervously, and then said, "Nahihiya po ako... kasi first time ko."
Maine was so sure her audition bombed.
She wrote in an Instagram post on June 19, 2016 about her audition:
"I mustered an ounce of confidence to act like a crazy woman when I was asked to, thinking that would be the only way to get a chance to pass the audition.
"I was able to do it, but I knew I did it horribly. I was discouraged and I already knew right there and then that I lost my chance.
"Still, I was holding onto this little possibility that they'd call me back, also thinking that even if they don't, I am glad and proud that I did not let this opportunity pass me by.
"I went home with a smile on my face, gave myself a pat on the back and told myself, 'At least you tried.'"
To this day, Maine can not get herself to watch her audition tape.
She said in her Facebook Live session in July 2020, "Di ko talaga kayang panoorin yun hanggang ngayon, kaya huwag mong ipe-play.
"Hindi ko talaga kaya, grabe! Hindi ko kaya, hiyang-hiya ako sa sarili ko."
THE CALLBACK & THE PRE-YAYA DUB TASK
As fate would have it, Maine got a callback from Eat Bulaga! a few days after her audition.
The following day, on July 2, 2015, she was asked to watch seasoned TV hosts Jose Manalo, Wally Bayola, and Paolo Ballesteros—collectively known as JoWaPao—go through their stints in remote locations for the segment "Juan For All, All For Juan."
Maine was told she would be joining the dynamic trio if she was to be chosen to be part of the show.
Recalling that day on a June 2016 interview on Eat Bulaga!, Maine elaborated, "So pinag-observe ako.
"Tinignan ko yung environment kung kakayanin ko ba. Yung inet, yung tao. Sa tingin ko naman kaya ko.
"Kahit na hindi naman ako sanay na lumabas-labas... Ang ano lang naman sa akin, mag-reach out sa mga tao. Hindi naman probema yun. Yung init, keri lang din.
"So ayun, um-okay naman ako. Tinanong ako, 'Sigurado ka ba?' Kasi Sabado na raw ako ilalabas.
"So mga dalawang araw, hindi ako prepared! Akala ko isang linggo pa o kaya isang month mag-prepare.
"Dalawang araw lang, ilalabas na nila ako! So ayun, July 4—and the rest is history."
MAINE'S FIRST DAY AS YAYA DUB
Her first day as Yaya Dub fell on a Saturday, July 4, 2015.
Maine remembered waking up at 5 a.m. and leaving her family home in Bulacan at 6 or 7 a.m. as she didn't want to be late for the shooting of "Juan For All, All For Juan" in San Juan, Cainta, Rizal.
She recalled being so nervous while getting instructions on what was expected of her for her first appearance on air.
Interviewed in Eat Bulaga! last July, Maine said, "Parang hindi pumasok sa isip ko mag-show off or magpakitang gilas or whatnot.
"Parang gusto ko lang talagang maka-survive, na makayanan ko iyong moment, na malagpasan ko iyon, magawa ko nang tama iyong pinapagawa sa akin."
What made her feel at ease was the warm welcome of JoWaPao—Jose Manalo, Wally Bayola, and Paolo Ballesteros—and the rest of the staff on the set.
She continued, "Masaya kasi noong dumating ako doon, sobrang warm noong mga tao.
"Like, doon agad ako sa table nila Kuya Jose, ng JoWaPao, 'tapos chini-chika na nila ako agad.
"Siyempre, hindi ko in-expect iyon, e. Dapat doon lang ako sa may CR, char! Doon lang ako sa gilid-gilid.
"Pero sobrang babait ng mga tao, walang negative impression iyong first day ko talaga."
Maine and Wally made a grand arrival at the venue in a white limousine, no less.
Wearing a pair of ballet flats and a nurse outfit, Maine was the first to step out of the car.
Her apron established she was playing the role of an "alalay" to Wally, who alighted the car all high and mighty and proceeded to walk the red carpet leading to the entrance of the covered court.
Much to his co-hosts' laughter, Wally introduced his female character as Donya Nidora Esperanza Zobeyala Biyuda de Explorer or Lola Nidora for short.
Then he introduced Maine as Divina Ursula Bokbokoba Smash, aka Yaya Dub—a word play on her talent for making dubsmash videos.
Yaya Dub's persona seemed aloof and snobbish just like Lola Nidora. She refrained from speaking except when delivering a dubsmash act.
Describing her first few days as Yaya Dub, Maine wrote in her August 2015 blog:
"I was excited and nervous at the same time. It was my first time to be on live TV, and I had no idea on how the show would go.
"Even so, I think I did fine on my first day. (just fine) Well I tried my best to keep/look calm and poised.
"It's already my seventh week at Juan For All and I must say I am really having a good time at the set! Nakakaride na ako.
"And the staff, gee, love 'em. I love how in a short time I feel like I already belong."
THE BIRTH OF ALDUB
On July 16, 2015, the phenomenal teamup of Alden Richards and Yaya Dub happened by accident.
Jenny Ferre learned that Maine had a crush on Alden, so the Eat Bulaga! creative manager asked the actor to sit with the audience for the "Juan For All" segment.
Alden, known as Pambansang Bae, had just finished his hosting duties for "That's My Bae" segment at the Broadway Centrum studio.
He delayed his supposed lunch break and gamely agreed to see how the newest addition to Eat Bulaga!'s mainstay was faring on her first 12 days on the show.
Alden recalled in a July 2016 Eat Bulaga! TV special to promote the AlDub movie, Imagine You And Me, "Kasi before, si Maine pinapanood ko na sa Dubsmash videos niya since nauso yung Dubsmash videos sa atin"
"Kumbaga, nakakatuwa nung nakita ko siya sa Eat Bulaga! It's just a regular day.
"They told me, 'Alden, upo ka lang sa 'Juan for All.' Nood ka lang sa studio.'"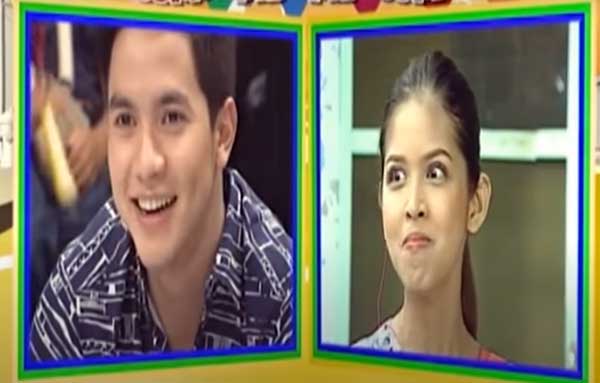 The "Juan For All" segment often uses split-screen shots to show the reaction of the Dabarkads at the studio while JoWaPao are interviewing the contestants in remote locations.
In that episode with Alden, Maine was seen in the split screen doing her usual "alalay" duties with Lola Nidora at Barangay Kabebe, Olongapo City.
Meanwhile, Alden was shown on the other half of the screen just as Maine was doing her dubsmash parts.
Maine broke character the instant she espied Alden watching her from the studio.
Her eyes grew wide, suddenly becoming self-conscious.
That didn't escape the Dabarkads' notice.
They said it was the first time they saw her smile from her first day as Yaya Dub.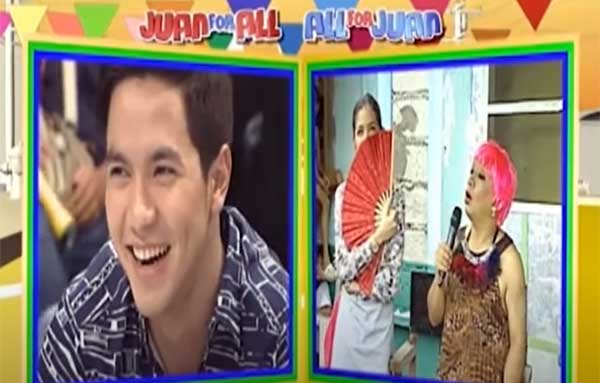 Maine tried to cover her smile with the huge fan that she carried around for the ever-meticulous Lola Nidora when it got hot on the set.

In the same 2016 TV special, Maine recalled that unforgettable first onscreen meeting with Alden.
Maine candidly admitted, "Cute si Alden. I find him cute. Crush. Opo, nakakahiya aminin. Ay. oh my god!
"Hindi ko pa ito inaamin, pero opo, meron akong crush kay Alden na very, very light kaya naging ganun ang reaction ko nung July 16.
"Kasi kung wala naman po, e, di dedma lang sana sa paglabas niya sa screen. Pero meron. Cute niya kasi."
THE PHENOMENAL "KALYESERYE"
The accidental birth of Alden and Maine's teamup, best known as AlDub, paved the way for the phenomenal success of the "Kalyeserye" segment.
It was a fictional comedy-romance series that highlighted the live-drama acts of Alden and Yaya Dub.
Lola Nidora kept the two apart, insisting that the two must follow the traditional Pinoy courtship of waiting for "Tamang Panahon" to be together.
Both Maine and Alden communicate by either miming or lip-synching songs to convey whatever they wanted to say via split screen.
Wally, who played Lola Nidora, was later joined by Jose as Lola Tinidora and Paolo as Lola Tidora. They were triplets.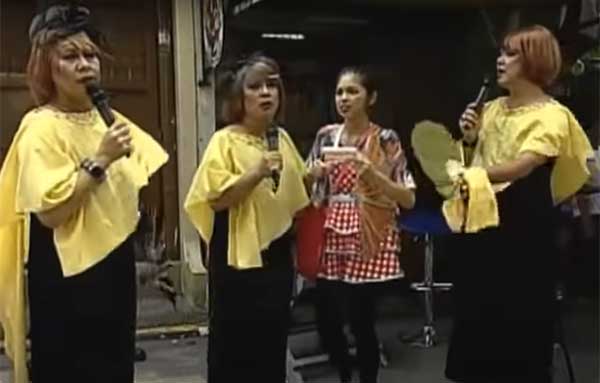 But while Lola Nidora was very strict and overprotective toward Yaya Dub, Lola Tinidora and Lola Tidora favored Alden and Yaya Dub's growing feelings for each other.
The two lolas would often persuade Lola Nidora to be lenient to the young lovebirds, all to no avail.
Meanwhile, the unconventional series made Eat Bulaga! a consistent top-rater for most of the segment's run from July 16, 2015 to September 13, 2016. The series took a break for a month before resuming on October 15, 2016 up to December 17, 2016.
According to a May 2020 PEP.ph report, Eat Bulaga! registered record-breaking ratings during the first year of "Kalyeserye."
On September 19, 2015, Eat Bulaga! got a whopping 43.1 percent, while its rival ABS-CBN noontime show It's Showtime registered 10.7 percent share of ratings.
This was Kalyeserye's #AlDubMostAwaitedDate, where Alden and Yaya Dub were allowed to see each other across a very long table with flowers and candles to complete the romantic feels of their first date.
The second date of Alden and Yaya Dub on September 26, 2015 earned Eat Bulaga! 47.5 percent versus It's Showtime's 11.9 percent share on the TV ratings.
"Kalyserye" reached its peak when the Tamang Panahon live concert was mounted at the Philippine Arena in Santa Maria, Bulacan on October 24, 2015.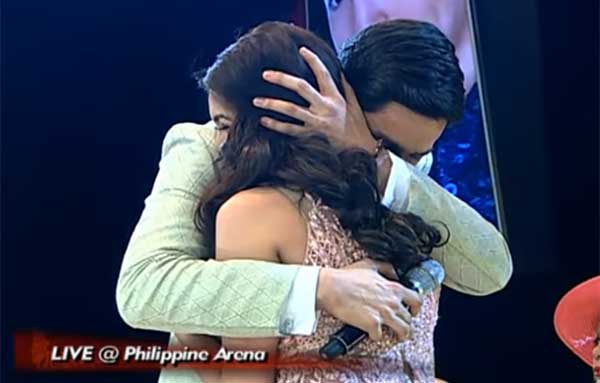 AlDub Nation filled the 55,000-seat venue as they waited for the highly-anticipated meet-up of Alden and Yaya Dub.
Eat Bulaga! registered a record-breaking 50.8 percent versus It's Showtime's measly 5.4 percent share in the TV ratings.
The live telecast's hashtag #AlDubEBTamangPanahon was even recognized by Guiness World Record as the most used hashtag.
It was used 40,706,392 times within 24 hours, from October 24 to October 25, 2015.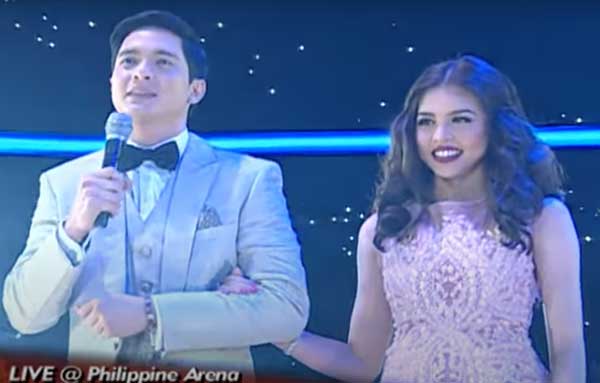 MAINE'S PROPHETIC TWEETS
Becoming a star had always been Maine's not-so-secret dream, a desire that had been planted in her heart since she was a kid.
She expressed it on her random tweets many years before she joined show business.
On September 8, 2020, a huge fan of Maine reposted her old tweets dating as far back as 2010 to 2013.
A self-confessed pessimist, she used to think she had neither the looks nor the talent to become a big star.
Maine would often joke about becoming a "superstar" one day and making her parents proud with her achievements.
But when finally she achieved instant stardom at the age of 20, it all felt surreal for her.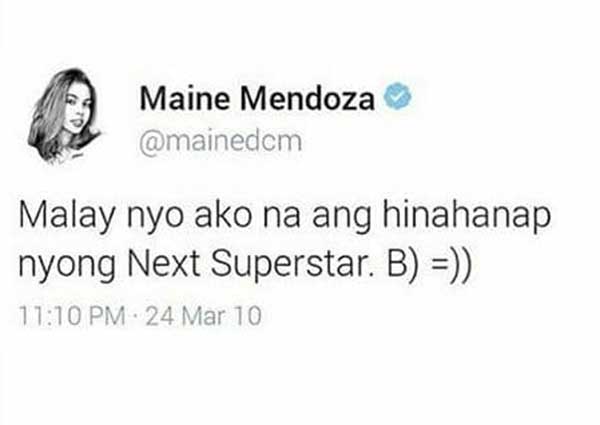 On July 1, 2011, she retweeted a friend's wish saying, "God, please give me a July to remember. Thank you!"
The fan observed that Maine's tweet came true—her entry on Eat Bulaga! as Yaya Dub and the birth of Aldub happened in the same month in 2015.
One of AlDub's popular theme song during the "Kalyserye" was Bryan White's "God Gave Me You."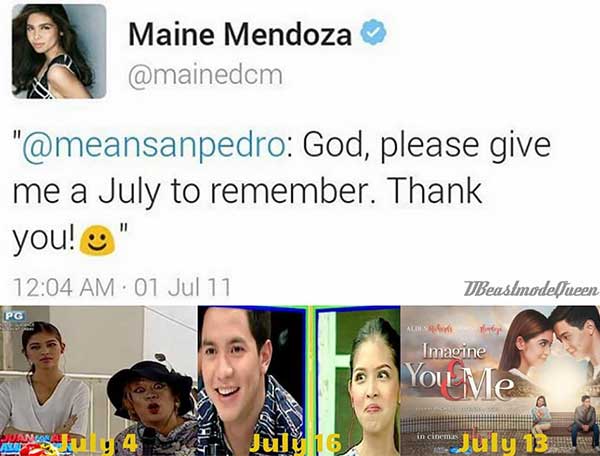 Maine saw her fans' viral Facebook thread with her old tweets.
Reflecting on her fulfilled dreams, Maine pointed to her strong belief in the law of attraction, saying it was all a matter of waiting for stars to align in her favor.
She tweeted on September 9, 2020: "Minsan gusto natin andyan agad-agad, pero talagang may tamang panahon para sa lahat ng bagay, kaya dapat matuto tayong maghintay.
"Minsan medyo matagal pero pagdating ng panahon baka ikaw rin at ako cheret makakamit mo din yan.
"Nakakapagod man (at nakakainip) minsan pero huwag mo bitawan."
Attesting her belief that a Higher Power has been at work in her life, she wrote in a blog entry dated September 12, 2020, "I think I've said some important truths about life; through my totally random tweets that unexpectedly manifested years later."
Maine reiterated, "There is a right timing for everything; trust the universe and more importantly, trust Our Lord.
"We may be uncertain of the future but we must believe that He has a plan for all of us.
"Sometimes even better than the plans we have for ourselves."
SHOWBIZ ROMANCE
Her old tweets also showed that she fangirls over her celebrity crushes—including Jake Cuenca and Arjo Atayde, whom she mentioned in her tweets in 2011 and 2013, respectively.
Jake became her leading man in the 2019 Metro Manila Film Festival (MMFF) entry Mission Unstapabol: The Don Identity, top-billed by Vic Sotto.
Similarly, Maine got to work with Arjo in the 2018 MMFF entry Jack Em Popoy: The Pulis Credibles, which she co-headlined with Vic and Coco Martin.
Off screen, Maine and Arjo have become a real-life couple.
Arjo announced their "exclusively dating" status in January 2019.
In September of that year, while promoting Isa Pa With Feelings, her movie with Carlo Aquino, Maine admitted having a "slight" crush on her leading man while watching Meet Me at St. Gallen, Carlo's movie with Bela Padilla.
Smiling, she added, "Pero pagkalabas ng sinehan, nawala rin naman..."
Briefly, Maine was also linked to Juancho Trivino after they were spotted watching the concert of American rock band Lany at Mall of Asia Arena in April 2018.
They were also together at the engagement party of Sheena Halili in August 2018.
But two months later, Juancho said he and Maine were just friends.
At that time, there were already sightings of Arjo and Maine.
YUP, I AM THAT GIRL
Aside from being an TV host-actress, Maine is also a published author of her autobiographical book Yup, I am That Girl, released by Summit Books in October 2016.
It was a fulfillment of a long-time dream for Maine who loves to express herself by writing in her personal blog way before she entered show business.
In her Instagram post dated October 26, 2017, Maine wrote: "I have been writing since 2011, and while some of you may think that I am 'just' a blogger, you must know that bloggers—writers in general—put so much of themselves into what they do. Writing is a passion.
"And I may not be a good writer but I enjoy and love expressing myself through the written word.
"I want to share my experiences and ideas with people; in the hope that I can make a difference in someone's life through my words."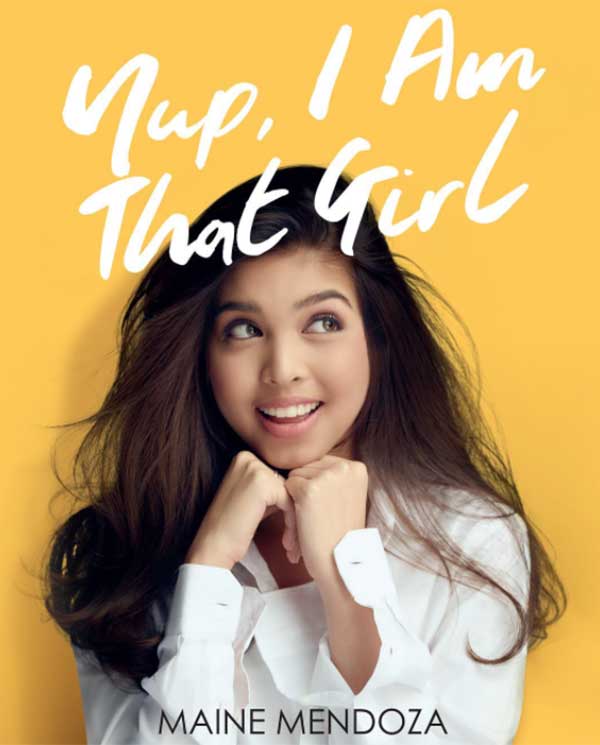 Adding another feather to her cap, Maine is also a recording artist whose song "Parang Kailan Lang" has already gained one million streams on Spotify as of September 30, 2020.
She certainly has come a long way from when she was an Internet sensation because of her Dubsmash videos.
MOVIES
Maine made six movies in the last five years that she's in showbiz.
My Bebe Love: #Kilig Pa More (2015) as Anna
Imagine You and Me (2016) as Gara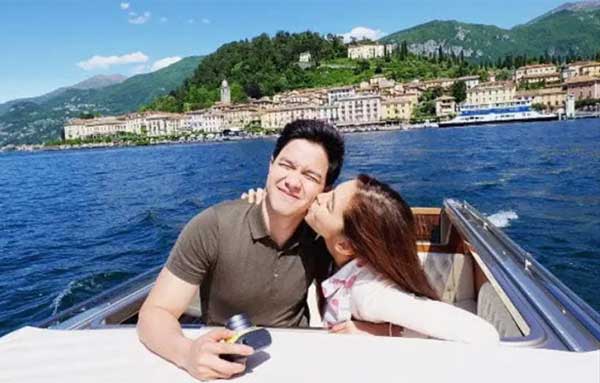 Meant To Beh (2017) as a Gruber passenger
Jack Em Popoy: The Pulis Credibles (2018) as

PO3 Emily Fernandez

Mission Unstapabol: The Don Identity (2019) as Claire
Isa Pa With Feelings (2019) as Mara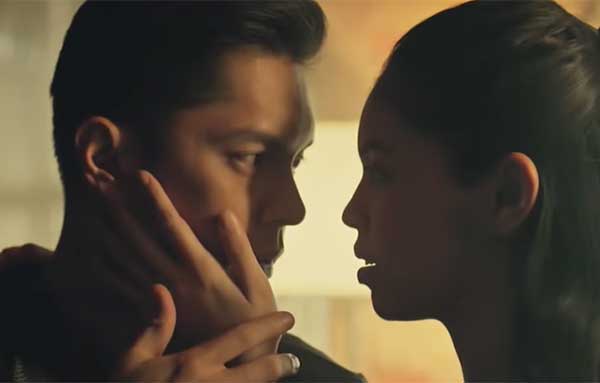 TELEVISION
Destined To Be Yours (2017) as DJ Madam Dam
Daddy's Gurl (2018-present) as

Visitacion "Stacy" Otogan
AWARDS & ACCOMPLISHMENTS
Maine has earned a number of awards through the years.
She and Alden both won PEPsters' Choice Newsmaker of the Year for Philippine Entertainment Portal's The PEP List Awards for 2017. They were also hailed as the Celebrity Pair of The Year.
Alden and Maine were also named PEPsters' Choice of Newsmakers of the Year and Celebrity Pair of the Year at The PEP List Year 3 Awards Night, held at Crowne Plaza Hotel on August 21, 2016.
Maine won as Favorite Pinoy Personality at Nickelodeon's Kids' Choice Awards in 2016.
The Box Office Entertainment Awards also recognized her as the Breakthrough Female Star of Philippine Movies and TV (2016), Most Promising Female Star (2016), Princess of Philippine Movies (2017), and Box Office Queen (2019).
Maine won the following awards from The PMPC Star Awards: Best New Female TV Personality for Kalyeserye (2015), New Movie Actress of The Year for My Bebe Love (2016), Original Movie Theme Song of The Year for Imagine You & Me (2017), Best Female TV host for Eat Bulaga (2017).
The 65th FAMAS Awards also gave Maine the Youth Achievement Award in 2017.
Maine's influence on social media was recognized by Twitter a number of times.
Maine landed the number one spot for Twitter's Most Tweeted Filipino Accounts and she ranked as the fifth Most Tweeted Celebrity in The World in 2017.
In 2018, Twitter Philippines recognized her as the number one Most Tweeted About Filipino Celebrity. She and Alden ranked first as the Most Tweeted About Love Team.
In 2019, Maine remained as Twitter Philippines' Most Tweeted About Celebrity and Most Tweeted About Hashtag.
(Isa ka bang showbiz fan na laging updated at naghahanap ng latest chika? Share what you know. Join here! https://bit.ly/PEPChika)