Filipino movies and TV shows are filled with confrontation scenes.
Face slapping, hair pulling, punching, scratching, cursing—you'll find one or more of these wrath-filled actions in every Pinoy teleserye.
People generally abhor violence, but there is something about these confrontations that get the audience excited and more absorbed with the teleserye. The more emphatic and dramatic the confrontation scene is between the protagonist and the antagonist, the more the viewers talk about the show. These famous lines from Filipino teleseryes even have the tendency to become part of pop culture as more and more people use them through reenactments or parodies.

One of the most-talked about confrontation scenes recently is the recreation of the classic showdown between Amor Powers (played by Eula Valdes) and Claudia Buenavista (played by Jean Garcia) from Pangako Sa 'Yo.

The 2015 remake of this Jericho Rosales and Kristine Hermosa-starrer will be topbilled by Kathniel, the popular loveteam of Daniel Padilla and Kathryn Bernardo.

Bringing life to Amor Powers will be Jodi Sta. Maria while Claudia Buenavista will be portrayed by Angelica Panganiban.

(Read: 10 Things To Know About Pangako Sa 'Yo: Then and Now)
Other melodramatic scenes in the past have lines that are sure to be classics:
"You want war? I'll give you war. Sabihin mo lang kung saan at kelan… I'll be there in my red stilettos."
~ Gretchen Barretto's Victoria to Angel Aquino's Vera in Magkaribal
"Masarap ba ang asawa ko?"
~ Angel Locsin's Monica to Maja Salvador's Nicole in The Legal Wife
Remember who got stabbed by a fork during a confrontation scene?

In the local adaptation of Temptation of Wife, Glaiza de Castro's Heidi is supposed to be pregnant but her secret is divulged when a fork pierced her tummy during her epic fight scene with Marian Rivera's Chantal.

Whose faces got dunked into a wedding cake?

Both Marimar (Marian Rivera) and Angelika (Katrina Halili) experienced getting icing on their faces as they battled it out inside a fashion designer's showroom.
PEPsters, what do you consider as your favorite teleserye confrontation scenes? Share your thoughts in the comments section below.

Here are some memorable confrontation scenes shown in Filipino TV shows (listed chronologically):
Jean Garcia as Claudia vs Eula Valdes as Amor (Pangako sa `Yo, ABS-CBN, 2000 – 2002)
Amor Powers and Claudia Benavista's rivalry ranks as one of the most bitter and interesting in the history of Philippine teleseryes. They were not even lead roles, but their confrontations and exchanges of dialogue definitely added spice to the teleserye Pangako Sa `Yo, the teleserye starring Jericho Rosales and Kristine Hermosa that aired for almost two years.
Though there was no hysteria vented out in this scene, the over-the-top dialogue and the sampalan made it memorable. Claudia started with a leftie slap on Amor's face, and Amor answered with a slap delivered by her right backhand. How many times have we seen a backhand for a slap? Rare!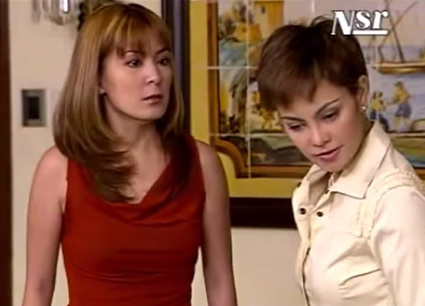 Marian Rivera vs. Katrina Halili (Marimar, GMA, 2007-2008)
The original Marimar starring Mexican actress Thalia is one of the most memorable and influential telenovelas ever aired in the Philippines. It is said to have changed the landscape of Philippine primetime TV.
Its Philippine remake changed the life of then newbie and now GMA-7's primetime queen Marian Rivera, who portrayed Marimar opposite Dingdong Dantes' Sergio. The two are now set to wed on December 30, 2014.
The confrontation scene between Marimar and Angelika (played by Katrina Halili) was one for the books, if only for its messy and lengthy execution. There were no memorable one-liners, but the expression of wrath and anger entailed slapping, wrestling, kicking, faces being dunked on a wedding cake, and ruining the set.

To cap it all off, Marimar has the final say when she confronts Sergio by slapping him and kicking him in the groin. Talk about revenge!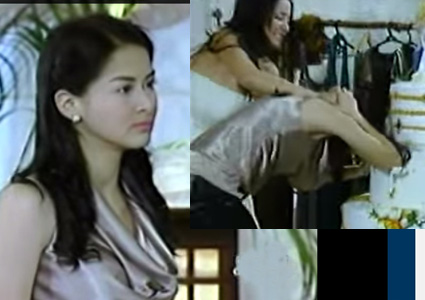 Claudine Barretto as Catherine vs. Angelica Panganiban as Scarlet (Iisa Pa Lamang, ABS-CBN, 2008)
For her last project with ABS-CBN, Claudine Barretto portrayed the role of the underdog Catherine who rose from poverty and fought for her rights and her love. Her portrayal of Catherine earned her Best Actress nominations from 2009 Famas Awards and PMPC Star Awards for TV.
In the intense confrontation scene between Catherine who by then has learned to fight Scarlet (played by Angelica Panganiban), a heated exchange of name calling took place: walanghiya, home-wrecker, adulteress, social climber, slut, black widow, and finally, from a raging Catherine, "Desperate housewife from hell!"
An exchange of powerful face-slapping near the staircase ensued, and Catherine tried to push Scarlet off the staircase.
And the scene's place in the books of memorable sampalan scenes is sealed.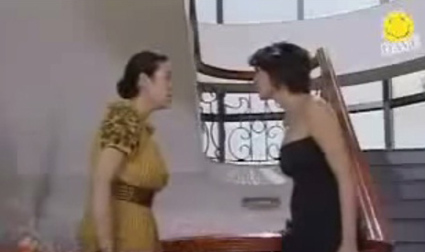 Gretchen Barretto as Victoria vs Angel Aquino as Vera (Magkaribal, ABS-CBN, 2010)
Pinoys love underdogs who rise from the squalor to exact revenge on their oppressors.

In Magkaribal (dubbed as ABS-CBN's first fashionserye), Gretchen Barretto made her major comeback in showbiz by portraying the role of Victoria. The teleserye was originally planned to topbill Gretchen alongside her sister Claudine, but as we now know, that plan didn't push through.

As a result, Bea Alonzo ended up portraying the sister of Gretchen's character. In this particular showdown, Gretchen's Victoria comes face to face with Angel Aquino's Vera with whom she has an old score to settle.

"If you're looking for a job…I'm sorry but we don't hire social climbing wh*res here," Vera says to Victoria who responds by calling her: "My dear, evil aging stepmother."
The role of fashionable and fierce Victoria seemed tailored for Gretchen, who in real life is also known to be a fashion icon. That is why it is difficult to imagine anyone else delivering the line, "You want war? I'll give you war. Sabihin mo lang kung saan at kailan… I'll be there in my red stilettos," other than La Greta.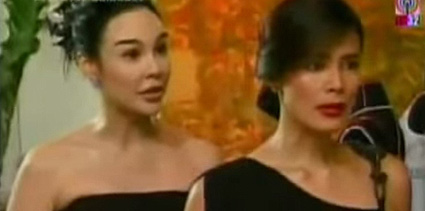 Marian Rivera as Chantal vs Glaiza de Castro as Heidi (Temptation of Wife, GMA-7, 2012 – 2013)
If there's a confrontation scene that could outdo the mess and violence of Marimar's wedding gown fitting scene between Marian Rivera & Katrina Halili, it is this scene in GMA-7's remake of the hit Koreanovela Temptation of Wife.
Again, there was slapping, hair pulling, wrestling, tying a neck with a hanky, and even stabbing as the chaotic confrontation between the characters Chantal and Heidi unfolded at a big party. Chantal (Marian Rivera) repatedly pleads with Heidi (Glaiza de Castro) to stop fighting with her since the latter was pregnant. Even Marcel (played by Dennis Trillo) could not stop Heidi from going on the rampage.

It is difficult to imagine that real people would do this Mortal Kombat-style catfight at a social event, but how would you react if you saw a supposedly pregnant woman stabbed by a fork right on her tummy?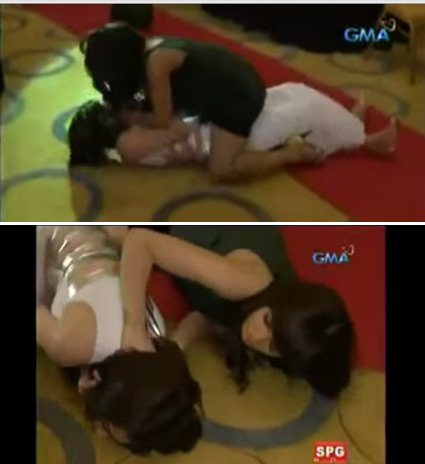 Kim Chiu as Celyn vs Maja Salvador as Margaux (Ina, Kapatid, Anak, ABS-CBN, 2012 – 2013)
It was just a simple and tame sampalan scene: Margaux--frustrated at all the attention her former best friend-turned enemy-turned sister-turned rival Celyn was "stealing" from her--finally can't contain her anger. After their debut celebration, she approached Celyn at the hotel lobby to say how much she hated her, and gave her one big powerful slap. Of course it will not be a memorable sampalan scene without the bida returning the favor, so Celyn slapped the tipsy Margaux while saying "…Para mahimasmasan ka!"
But what made this scene controversial at the time were the circumstances in the personal lives of the actresses involved. Kim Chiu had been public about how she got hurt when Maja Salvador, her former best friend, got into a relationship with her ex-boyfriend Gerald Anderson, and the two were known to be not in good terms during the production of the teleserye.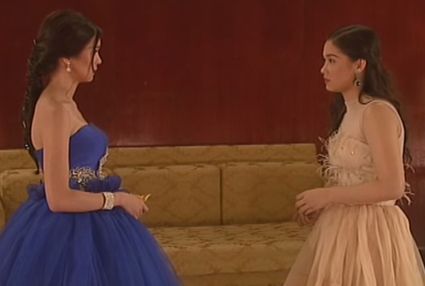 Carla Abellana as Lally vs. Tom Rodriguez as Vincent (My Husband's Lover, GMA-7, 2013)

The first gay-themed soap opera on GMA-7, My Husband's Lover, tackles infidelity within marriage. What sets it apart is the fact that the legal wife (Carla Abellana) must deal with her closet gay husband (Tom Rodriguez) and his gay lover (Dennis Trillo).

This unique love story gave rise to the TomDen loveteam of Dennis and Tom who popularized the use of "Beh" (a variant of "Baby") as a way of expressing affection.

After being in denial about her husband's true sexuality, Carla's Lally walks into Unit 1720 to see Tom's Vincent and Dennis' Eric about to kiss each other.

The clueless wife points a finger at Eric as she finally realizes what the world already knows: the third party in their marriage is from the third sex.

There is no violent outburst but the tension building up to this scene makes this confrontation between husband and wife as one of the most awaited moments of the phenomenal series.
(Read: My Husband's Lover Memorable Moments)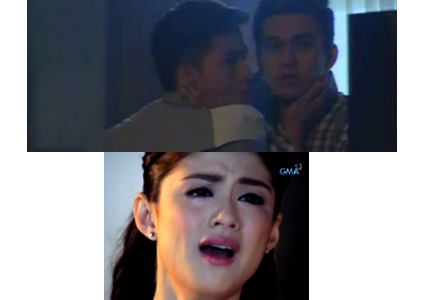 Maricel Soriano as Milet vs Lovi Poe as Sheila (Ang Dalawang Mrs. Real, GMA-7, 2014)
Maricel Soriano played the role of the first wife, Milet, a teacher. In this elevator scene, the livid wife engaged in "usapang asawa sa kabit" while her husband Anthony (played by Dingdong Dantes) was awkwardly helpless in the entire 5-minute scene. Milet did school the second wife Sheila about important life lessons, among which was, "Bago mo ibuka ang hita mo, mag-research ka!"
There was no chaos adn mess here, only powerful and hurtful words from Milet to Sheila, spoken with the sharpness of a dagger, stabbing Sheila over and over again. But still, it had to end with the requisite slap on the face.
We just can't help but wonder why no one entered the elevator during all of five minutes that a confrontation was happening inside.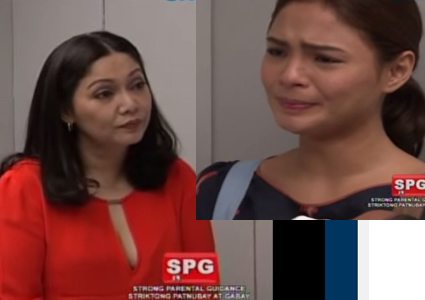 Angel Locsin as Monica vs Maja Salvador vs Nicole (The Legal Wife: The Royal Rumble, ABS-CBN, 2014)
This was the first of two intense and memorable catfight confrontations between Angel Locsin's Monica and Maja Salvador's Nicole. Monica the legal wife is fighting with mistress Nicole over Adrian, played by Jericho Rosales.
The Legal Wife reached record ratings during its run and trended many times on social media as the story of Adrian's infidelity unfolded.
It was painful to watch this more than 7 minute-scene from the episode dubbed as The Royal Rumble where Monica unleashed the wrath of a betrayed wife as she confronted, slapped and threw invectives at her best friend Nicole, who remained passive and accepted all the blows and hair pulling from Monica.
"Masarap ba ang asawa ko? Paano mo siya nilandi? Anong unang tinanggal mo: yung bra mo, yung panty mo, o yung konsensiya mo?" was a line from Monica that is sure to be a catchphrase for real-life wives confronting their husbands' mistresses.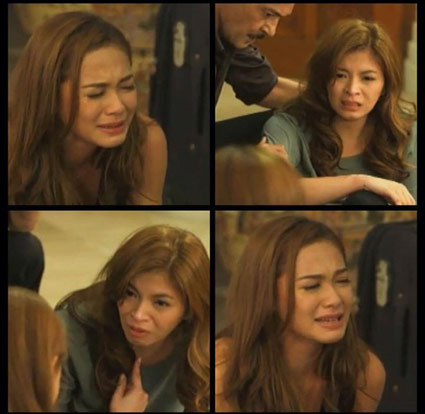 Angel Locsin as Monica vs Maja Salvador as Nicole (The Legal Wife: The Rage, ABS-CBN, 2014)
If Nicole was passive when Monica first confronted her, this time, in the episode dubbed as "The Rage," she was more palaban, equally raging as Monica. Word for word, slap for slap, hair grabbing for hair grabbing, she fought Monica.
Some of the most memorable lines in this confrontation that spawned countless Internet memes:
"Boring ka! Kaya nga si Adrian, naghanap ng excitement sa iba!" said the mistress.
"Walang sa 'yo Nicole! Akin lang ang asawa ko!" shouted legal wife Monica.
"Mahal ka? E, ba't siya naghanap ng iba? May pamilya kayo? Bakit ka niloko? Sa 'yo siya? Bakit siya pumupunta sa akin?"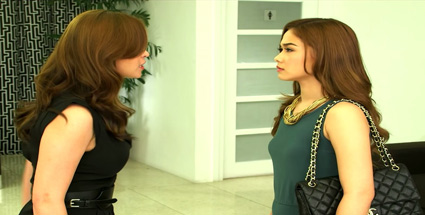 Bea Alonzo as Rose/Emmanuelle vs Maricar Reyes as Sasha (Sana Bukas Pa ang Kahapon, ABS-CBN, 2014)
This scene was memorable if only because the kontrabida wanted to inflict harm on the bida but clumsiness got over her.
Sasha (Maricar Reyes) sees Emmanuelle (Bea Alonzo) flirting with her husband Patrick (Paulo Avelino), who is actually the husband of Emmanuelle's true identity as Rose.
Sasha became furious when she saw Patrick wiping the wine that got spilled on Emmanuelle's legs. A tense-filled but subdued confrontation ensued with Sasha warning Emmanuelle: "Ilang beses ko sinasabi sa 'yo na layuan mo ang asawa ko. He's mine and there's nothing you can do to change that."
Sasha would have slapped Emmanuelle but the latter was able to fend it off. As Emmanuelle was about to leave, Sasha followed her, attempting to grab her hair, but tripped into the pool.
Emmanuelle offered a helping hand to pull Sasha from the pool but took it back as she taunted her rival: "Ooopss…kaya ka nang tulungan ng asawa mo," leaving Sasha in an even more embarrassing situation.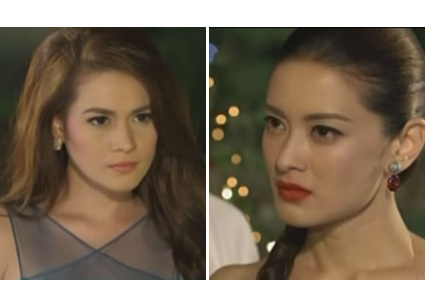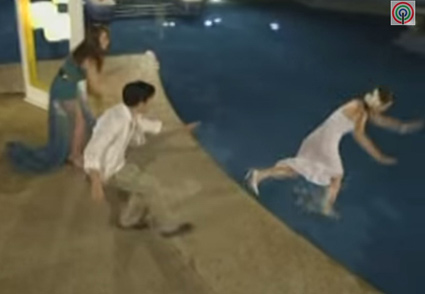 PEPsters, what do you consider as your favorite teleserye confrontation scenes? Share your thoughts in the comments section below. (Read: 10 Famous Lines from Filipino Teleseryes)