Ciara Sotto has the perfect entry for Throwback Thursday today, February 28.
On her Instagram account, Ciara posted a photo from the '90s with her TGIS 2 batchmates, Anne Curtis, Chantal Umali, and Antoinette Taus.
She wrote in her caption, "#throwbackthursday T.G.i.S. New Gen! The four of us called our group LADIES WITH STYLE AND HARMONY.
"I miss you girls!!! So proud of what the 3 of you have become. I'll always be here for you. I love you girls!!!"
Anne and Chantal wrote comments in Ciara's post.
Chantal, who is now a yoga instructor, wrote, "Oh my gosh, LSH!"
LSH refers to "Ladies with style and harmony," or how the four of them called their group before.
Anne, on the other hand, wishes to see her batchmates again.
She said, "Aww love this so much! REUNION PLEASE!!!!"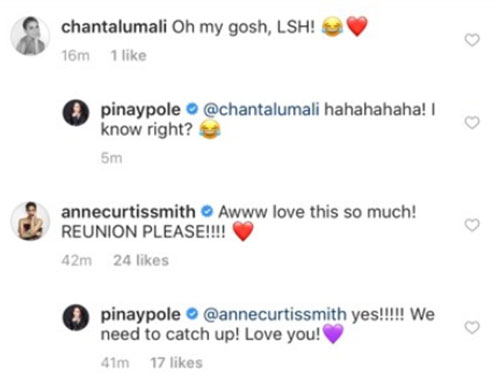 In August 2018, Ciara, together with Angelu de Leon, organized a reunion with the TGIS barkada, which was attended by some members of the first and second batch.
Chantal was present, while Anne and Antoinette did not make it.
Ciara was also the only TGIS cast member who was part of both batches.
PEP.ph (Philippine Entertainment Portal) also traced the whereabouts of TGIS members in our WHERE ARE THEY NOW special feature:
Read: WHERE ARE THEY NOW: TGIS Batch 1 stars