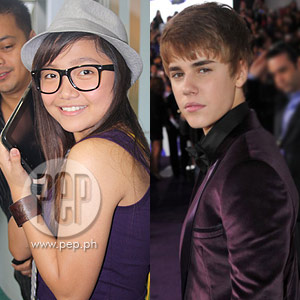 IMAGE 0
---
International singing sensation Charice graced the Warner Music Party that took place after the 53rd Grammy Awards held in Los Angeles last February 13.
The Filipina singer was wearing a white top, topped with a black vest, a black tie and a black fedora hat as she entertained questions from a Hollywood entertainment website [Hollyscoop.com].
Charice expressed her excitement by saying, "I was just so amazed by Lady Gaga. I just want to congratulate David Foster for getting another award. I'm really glad to be here...gonna have fun," she said with a smile.
What did she think of Lady Gaga's flamboyant entrance wherein she arrived in a gigantic egg carried by four men? During the actual show, the pop singer "hatched" from the egg as she performed "Born This Way."
Charice exclaimed, "Geez! I think it's hot. She's always been hot. I think she's amazing and I love her."
The reporter then asked: would Charice ever do a collaboration with Justin Bieber?
"Why not? He's an amazing artist, not only a singer. He deserves everything happening to him, so yeah, why not?"
Charice met Justin when they were both featured on Oprah's "World's Most Talented Kids" episode aired in May 2010.
She also created an impromptu video of her singing Justin Bieber's hit song "Baby." She sent the video to Hollywood celebrity blogger Perez Hilton, who uploaded it online where it quickly became viral. (CLICK HERE to watch the video.)
Justin is expected to arrive in the Philippines this year for a concert.
ADVERTISEMENT - CONTINUE READING BELOW
What is Charice working on right now?
"I'm working on my next single and I'll be shooting Glee again. I can't wait to work with them again. [There are] more projects but I can't say right now," she said.
Charice is currently in Japan for her solo concert tour. (CLICK HERE to read related article.)