IMAGE Kathleen Benavidez
---
69 DAYS TO GO. Wouldn't it be thoughtful if somebody gave you, as a gift, something you've lost or got stolen?
That's exactly what Robi Domingo would want to have for Christmas.
It may be recalled that valuables from his car were nabbed last October 9 in Tomas Morato, Quezon City.
(READ: Robi Domingo's car robbed in Tomas Morato)
The I Dare You host related to PEP.ph (Philippine Entertainment Portal), "Honestly, I'm looking for a bag. Why? 'Cause it got stolen.
"Someone broke into my car, they smashed my window, and then took my bag with the gadgets, with my makeup—everything's gone."
Not surprisingly, Robi is looking for security and dependability in his next bag.
"Backpack, traveler's bag…you know. And hopefully, this bag will have a lock.
"So, you know, at least the thief would have a harder time opening a bag."
Does he have any particular brand in mind? "When it comes to bags… not really.
"I'm just looking for the quality... Quality, sturdiness of the bag, and of course, the comfort."
Robi wants the kind of bag that he can use everyday, "'Cause I'm really a schoolboy.
"So, I really prefer something big, something black, something really, really cozy for me.
"You know, something really soft on my back, but I can carry all my stuff as well."
For gift-givers and people also looking for bags with security features, we suggest you check out Pacsafe Anti Theft bags.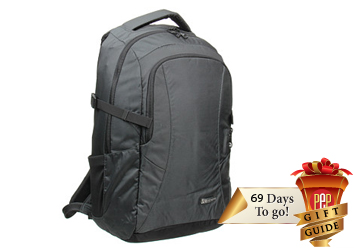 ADVERTISEMENT - CONTINUE READING BELOW
These bags have special patented features, such as the eXomesh cage system, Slashproof, lock & leave Travelsafe™, Slashproof Carrysafe® straps, Smart zipper security™, RFID blocking pocket, and Turn & lock strap hook™ that all answer the safety and security needs of every user.
In the case of Robi, he can go for an Ultimatesafe 22L Anti Theft Backpack.
This medium-sized backpack is just what he needs to hold his belongings without eating up too much space.
From the car-robbing episode, among those items which Robi lost were his iPad, cellphone, and cash.
The Ultimatesafe 22 L has removable padded laptop and iPad / tablet sleeve, and large zippered main compartment.
It also has an external front pocket with organizer, two external side pockets, and removable waist belt.
Answering his desire for comfort, it also features padded back support, ergonomic shoulder straps with soft touch edge, and side compression straps.
Though the bag is very pricey at $200, the assurance of keeping your even more expensive valuables safe is well worth the cost.