IMAGE Noel Orsal
---
In the wake of a rumored "third party" in their relationship, Andi Eigenmann is out to prove her undying love for her off-again-on-again lover Jake Ejercito.
On November 26, via her Instagram account @andieigengirl, the Galema star posted an old photo of Jake and herself, taken when she was only seven years old.
In the photo's accompanying caption, the 23-year-old single mom professed her loyalty to the son of Manila Mayor Joseph Estrada and former actress Laarni Enriquez.
The following text has been edited for the readers' convenience, and the actual caption written by Andi can be seen in the photo below: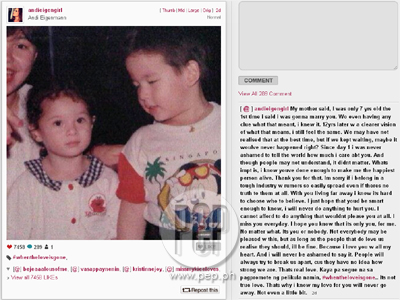 ADVERTISEMENT - CONTINUE READING BELOW
Screengrab from @andieigengirl via Webstagram
"My mother said, I was only seven years old the first time I said I was gonna marry you.
"Without even having any clue what that meant, I knew it.
"Twelve years later, with a clearer vision of what that means, I still feel the same.
"We may have not realized that at the best time, but if we kept waiting, maybe it would've never happened, right?
"Since day one, I was never ashamed to tell the world how much I care about you. And though people may not understand, it didn't matter.
"What's important is I know you've done enough to make me the happiest person alive. Thank you for that.
"I'm sorry if I belong in a tough industry, with rumors so easily spread even if there's no truth to them at all.
"With you living far away, I know it's hard to choose [whom] to believe.
ADVERTISEMENT - CONTINUE READING BELOW
"I just hope that you'd be smart enough to know: I will never do anything to hurt you.
"I cannot afford to do anything that wouldn't please you at all.
"I miss you every day. I hope you know that it's only you, for me. No matter what. It's you or nobody.
"Not everybody may be pleased with this, but as long as the people that do love us realize they should, I'll be fine, because I love you with all my heart. And I will never be ashamed to say it.
"People will always try to break us apart because they have no idea how strong we are. That's real love."
BACK IN EACH OTHER'S ARMS OR NOT? Despite saying in recent interviews that she and Jake are no longer a couple—only close friends—Andi has kept fans guessing about the real score.
ADVERTISEMENT - CONTINUE READING BELOW
In February, Andi said that while she still loves her ex-boyfriend, she is not going to run after him.
"I'm not shy to express my feelings. I'm not shy to say that I still love the person.
"But I don't think na… parang, sino ba siya para hayaan ko ang sarili ko na to make a fool of myself?
"Hindi na ako e-effort kasi wala na kong kailangang gawin pa. Kung ayaw niya, ayaw niya."
READ: Andi Eigenmann on Jake Ejercito: "I'm not shy to say that I still love the person"
But in an interview with Andi's mom Jaclyn Jose last August, the veteran actress hinted at a possible reconciliation between her daughter and Jake.
"E, nag-aaway pa rin paminsan. Nag-i-split pero nagkakabalikan din," said Jaclyn when asked about the status of her daughter's lovelife.
"Hinahayaan ko na lang siya. Tutal naman noong araw, noong time na ganyan din naman ako, hinayaan ko rin ang sarili ko."
ADVERTISEMENT - CONTINUE READING BELOW
READ: Jaclyn Jose on Andi Eigenmann's reconciliation with Jake Ejercito: "Kung magkakamali siya uli, learn from her own mistakes"
With this new development in Andi's lovelife, PEPsters, do you think Andi and Jake are together again?
Sound off in the comments section below.