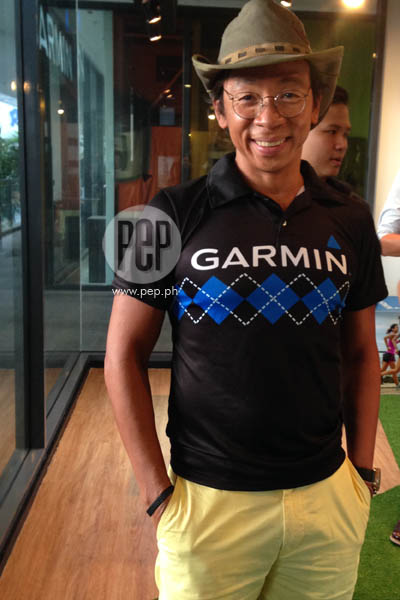 IMAGE Karen A. Pagsolingan
---
"People like me because I'm Kuya Kim [who's] not interested in politics."
So even if there's clamor for Kim Atienza to run for public office, he is firm with his stance.
At the launch of the Garmin concept store in Glorietta 5 last Friday, November 7, he told PEP.ph (Philippine Entertainment Portal) and other media, "…if they see Kuya Kim interested in politics, they will not like [him] anymore.
"People have asked me to run, not my family, ha. My family has already accepted the fact that I'm not going to run. They respect my choice already.
"But ayoko na. Ayoko na 'yon."
Why doesn't he like politics?
"Galing na ako diyan.
"May mga pulitikong sobrang galing. Magaling sila, dahil passionate sila dun, e.
"I don't have the passion... if you ask me why, I don't know.
"I'm passionate about the triathlon. I'm passionate about my family. I'm passionate about TV. I am not passionate about politics.
"Pag walang passion, ba't mo gagawin?
"I can exist. I can survive. I can probably even be good [in politics], but will I be happy?
"I will not be happy, ba't ko papasukin? Tutulong na lang ako sa likod.
"And I know that I'd be of more use... doing the thing that I do."
A DAY IN THE LIFE. We asked the triathlete/host/family man how he squeezes in all his activities in a day.
His day, he said, starts at 5:00 a.m.
"Kung me karera o walang karera, I always wake up at five in the morning.
ADVERTISEMENT - CONTINUE READING BELOW
"The wife and the kids, I have breakfast with them...
"Training starts at 6:30 in the morning. Monday, Wednesday, Friday, I bike. Tuesday, Thursday, I run. I swim four times a week."
He finishes his training "around 11 or 11:30 a.m.," then proceeds to ABS-CBN for It's Showtime.
By three o'clock, after the show, he takes an afternoon nap.
"I tape for Matanglawin, Thursday, Friday."
Afterwards, he has TV Patrol, where he's the weather anchor.
He's home before 8 p.m.
"At 7:45 p.m., I have dinner with the wife and kids.
"The whole household is asleep by 9:45 p.m.
"By 10 p.m. it's lights off."
That has been his routine "every single day," he said.
This early, his kids have imbibed the active lifestyle.
His 12-year-old son Jose wants to join a triathlon.
His second child Eliana is into swimming and tennis.
And his youngest, Emmanuelle, is a gymnast.
At 46, doesn't Kim's body complain, especially after his mild stroke, and being diagnosed last year with Guillain-Barre Syndrome?

READ Kim Atienza remains unfazed by rare disease afflicting him
ADVERTISEMENT - CONTINUE READING BELOW
"It's never been better… The Kuya Kim now is better than the Kuya Kim before.
"And that's not because of me. I'm totally powerless.
"That's because of the Lord. I found the Lord, and the Lord has blessed me.
"And that's the reason why I'm alive, I am healthy."
NO PAIN, NO GAIN. And to those who want to join a triathlon, Kuya Kim has two things to say:
1. Be ready for the pain.
"The essence naman of training is to make your body hurt, e.
"You hurt it so it can heal, and when you heal, you're able to recover, you are stronger.
"When you're stronger, you hurt it again.
"Then it heals again.
"When it heals, you recover again.
"You get stronger, stronger, stronger with the hurt pero dapat tama lang yung hurt."
2. Be competitive.
"I compete against myself. Triathlon is like that naman, e. I can't say that I'll be beating the pros. Mga pros yun, e.
"Ang goal ko sa triathlon is to beat my time every year…
"The three years that I've joined a triathlon, every year, I get better and better and better, faster and faster and faster."
For the 51:50 kms or Olympic distance, his target is three hours at the most.
For the 113.1 kms or half-Ironman, he wants to finish in less than six hours.