The new look of Marlou Arizala has taken the internet by storm.
To some netizens, his transformation is more than just a before-and-after story. It's his revenge against bashing, and his rise above the hate.
The 20-year-old guy who was dubbed "One Pants Man" on social media for wearing "iisang maong" through various occasions is now a potential "leading man" on memes.
He was bashed excessively for being GGSS— or "Guwapong-Guwapo Sa Sarili"—and now has finally fit regular society's standard of guwapo.
He has already said goodbye to Marlou, and has started using Xander Ford.
All the changes were a dream come true for him.
"Natupad ko na po yung pangarap ko...kinalimutan ko na yung mga nakaraan, kasi itong bagong 'to, ito na yung bagong mamahalin niyo."
After Rated K showed all the cosmetic surgeries and treatments he had undergone, the next question was: How much did his total makeover cost?
Research and phone calls led PEP.ph (Philippine Entertainment Portal) to these figures.
PHP95,000 for Rhinoplasty, which enhanced the projection of his nose, and Alarplasty, which reshaped the width of his nostrils
PHP60,000 to PHP70,000 for Mentoplasty, aka chin augmentation
PHP60,000 for mandibular angle augmentation with fillers
These numbers came from The ICON Clinic, which performed the procedures.
PHP16,000 to PHP35,000 for his 4D Eyebrow cloning, a thickening procedure
PHP15,000 to PHP35,000 for the permanent lip tint procedure (three sessions)
PHP7,000 for his anti-wrinkle procedure
PHP500 to PHP3,800 for his semi-permanent eyelash extensions
These numbers came from Prettylooks, which is Xander's sponsor.
Ceramic veneers were also bonded onto his front teeth.
PHP160,000 for eight teeth (PHP20,000 per tooth)
Hence, the estimated total cost of Xander's makeover is PHP465,800.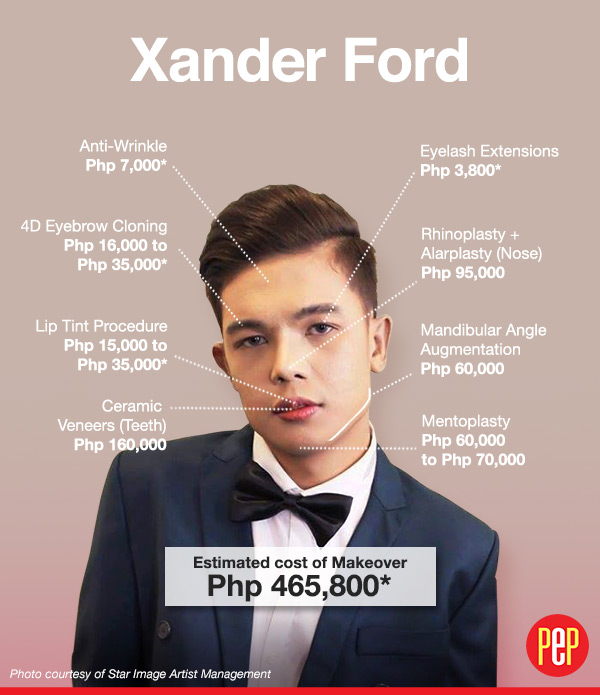 *Highest amount was added to the total