Filipino-British couple Phil Younghusband and Margaret Hall's romance is a love story written in the stars. It was fate that brought them together.
Phil and Margaret, whom he fondly calls Mags, tied the knot in an intimate wedding ceremony held last July 20 2019, in Kent, a county known as the "garden of England."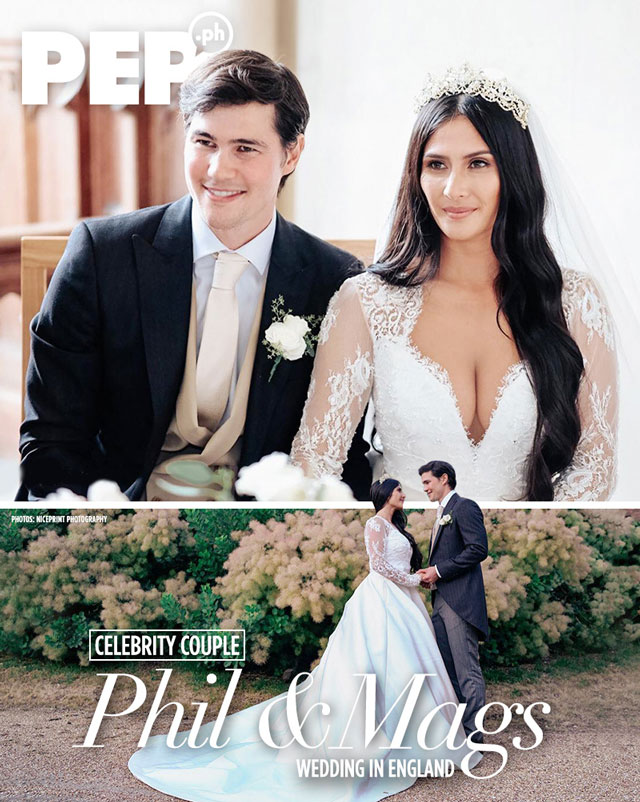 Their love story started in early 2015, the first time they met each other.
"We bumped into each other while we were both in the BGC area," the 32-year-old football player recalled in an interview with PEP.ph (Philippine Entertainment Portal) via e-mail.
"I was with my friends and Mags was with her brother James. As we walked past each other, it was as if we knew each other. We both instantly recognized one another and started talking."
Phil, however, met Mags's family members a few years earlier, before they even met.
He told PEP.ph, "In 2008, I had met Mags's Dad in Iloilo as her brothers James and Ryan were asked to join the Azkals. James and Ryan joined the team in 2011, so I was able to meet with them during that time.
"Mags and her Mum met my Mother, my brother, and my sister in London during the opening of a Filipino hair salon in London in 2009. It was only Mags and I, from our two families, who had never met."
In September 2015, Phil's manager Cathy Nazareno confirmed the news to PEP.ph that Phil and Mags were exclusively dating. The confirmation came after Phil posted a photo of him and Mags while visiting the Harry Potter theme park in London.
At the time, not much was known about Mags aside from her being a gorgeous "Filipino-Spanish model." But Mags was actually born and raised in Kent to a British father and Filipino mother. Phil, on the other hand, grew up in Surrey, the county right beside Kent.
Mags's mom, according to Phil, is from "Punta Bulata in the Visayas," which is found in the municipality of Cauayan, Negros Occidental.
Like Phil, Mags is also into sports. She was a former gymnast and won the British championships during her younger years.
At 18, she decided to concentrate on finishing her studies. She graduated from The University of Kent with a degree in Law and Criminology, and became a Youth Justice Practitioner.
PHIL YOUNGHUSBAND AND MARGARET HALL'S LOVE STORY
There was an instant connection between Phil and Mags since both of them grew up in England.
One thing that drew Phil closer to Mags was her charming smile.
He explained, "Mags has a thing about her where when you meet her, you are automatically drawn into her warmth and her personality."
The football player added, "She listens to every word you are saying. We spoke about our families and growing up only an hour away from each other. We had so much in common, which meant we connected immediately."
Aside from this, what Phil loved most about Mags was that she is a passionate and strong-minded woman.
"Mags makes me a better person every day and I am always learning from her. Mags is very passionate about what she believes in. If she believes in something or feels something is right or wrong, she will fight for it."
Asked how their first date went, Phil recalled, "Mags and I did a number of things. We had dinner at a Thai restaurant, we went bowling and because it was only two of us, the game went very quickly. We followed that up with some drinks, and then we went for a nice walk."
As a boyfriend, Phil was the romantic type. One of the things Mags appreciated in him was that he always put an effort into their relationship, even on the smallest details.
Phil said, "She is very fond of a photo scrapbook I made for her. When we first met, we were living in different countries for a while. I had the time to develop all of the photos from our trips and make a scrapbook."
Their most memorable date happened in September 2015. He decided to fly to England and visit Mags in her hometown.
Phil told PEP.ph, "As Mags was living in England, I decided to visit her when I got a week off from my football. I flew over to the UK and stayed in her hometown.
"Mags and I went on a number of memorable dates during that time. We visited the seaside, we had a beautiful walk around Leeds Castle and the gardens, and we even got the chance to go to the Harry Potter Studios and do the tour there."
For Phil, the sweetest and grandest thing Mags did for him was when she decided to move to the Philippines to be with him.
Phil expressed his appreciation for his wife and said, "She had a successful career and left her friends and family so that we could be together. I will always be thankful to her for the sacrifice she made so that we would never be apart."
PHIL YOUNGHUSBAND AND MARGARET HALL'S ENGAGEMENT
Phil finally popped the big question to Mags on December 25, 2017, after over two years and a few months of dating.
According to Phil, Mags considered this the grandest thing he has ever done for her.
The Azkals striker initially wanted to propose to Mags during their trip to Switzerland, days before they flew to England to spend the Christmas holidays with Mags' family.
He recounted, "We visited Zermatt in Switzerland a week before I actually proposed, and my plan was to get down on one knee next to the Matterhorn and ask Mags to be my wife.
"Unfortunately, from arriving in the UK and flying to Switzerland the very next day, I didn't have the time to go to London and buy the engagement ring I wanted to give to Mags."
Phil, then, decided to go for Plan B.
"I went to London soon after we arrived back from Switzerland and bought the ring. I had asked Mags's Mum and Dad for their blessing a couple of days earlier.
"Mags is very close to her family so I thought it would be special to do it on Christmas Day in front of her family while we were opening the gifts in front of the Christmas tree.
"As soon as we had unwrapped all of the presents from underneath the tree, I told Mags I have one more gift. I got down on one knee and asked Mags if she would marry me."
PHIL YOUNGHUSBAND AND MARGARET HALL'S ENGLISH SUMMER WEDDING
It took Phil and Mags quite some time before they got married, over 18 months in total. One of the main reasons was that they wanted to have an intimate English summer wedding.
He said, "We would have liked to have been married sooner, but Mags and I decided we wanted a summer wedding in the English countryside. The first summer was only 5 months away after we had gotten engaged.
"This wouldn't have given us enough time to plan the wedding with the football season in place and from the other side of the world. We felt 18 months was a good amount of time."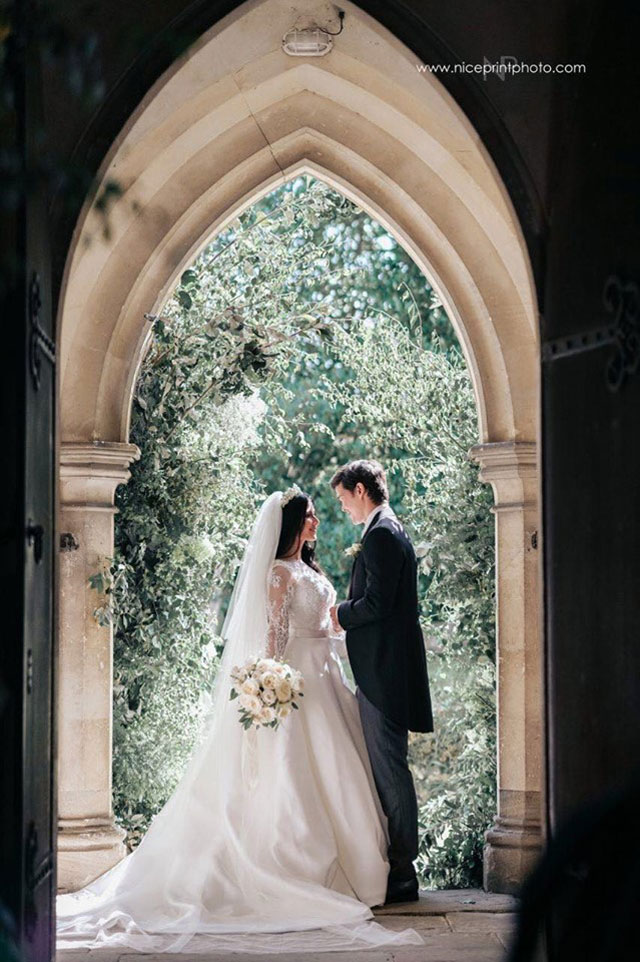 Both of them had their inputs on what they wanted for their wedding.
"Mags and I made all of our decisions together whilst planning our wedding. Mags and I have very similar taste so there was never a point we didn't like each other's suggestions."
He added, "I would say Mags was more hands-on, but I was very involved. If I saw something I liked, I would run it by Mags and vice versa. We would only go forward with a decision if we both agreed."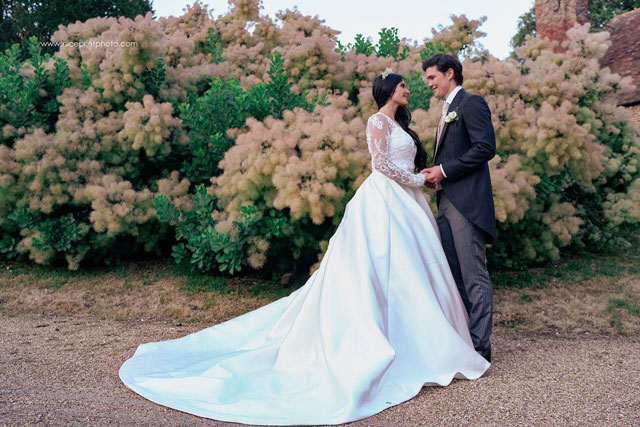 Mags looked every inch a princess in her custom-made bridal gown by British designer Suzanne Neville.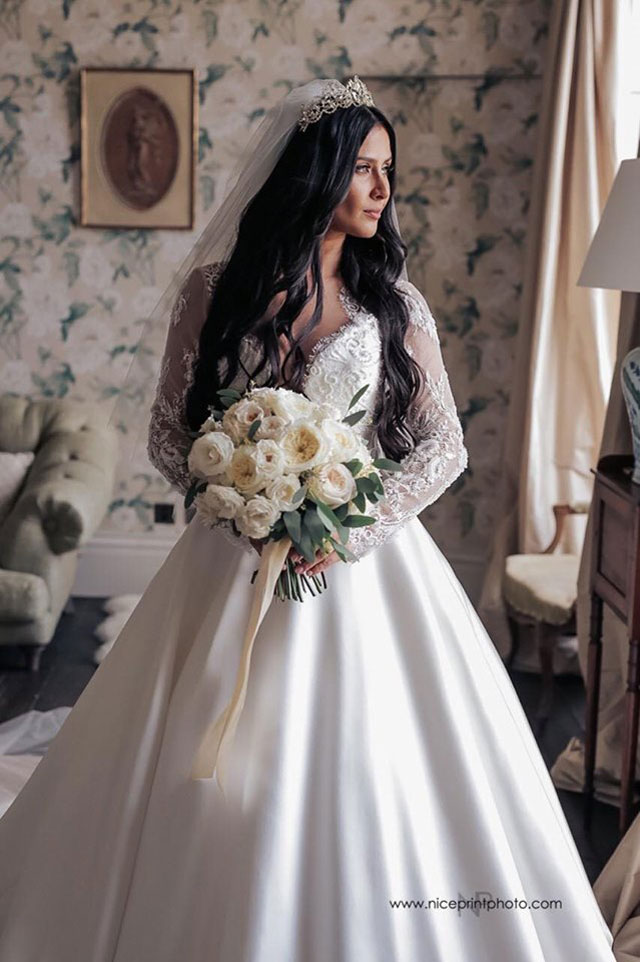 Mags picked hairstylist Daniella Mckenzie and makeup artist Krystal Dawn to do her bridal look.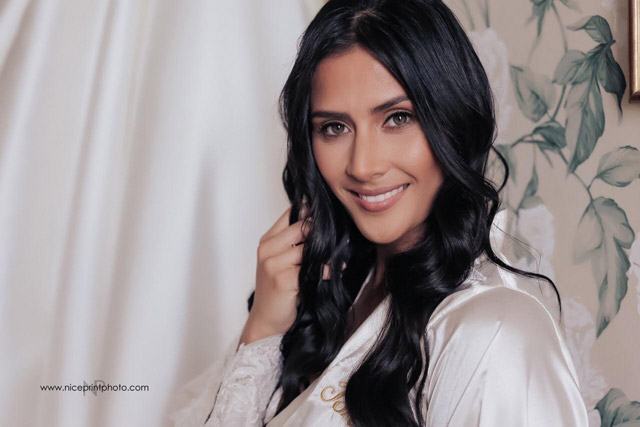 Phil, on the other hand, looked dashing in his morning suit from Hackett, a London-based menswear retailer.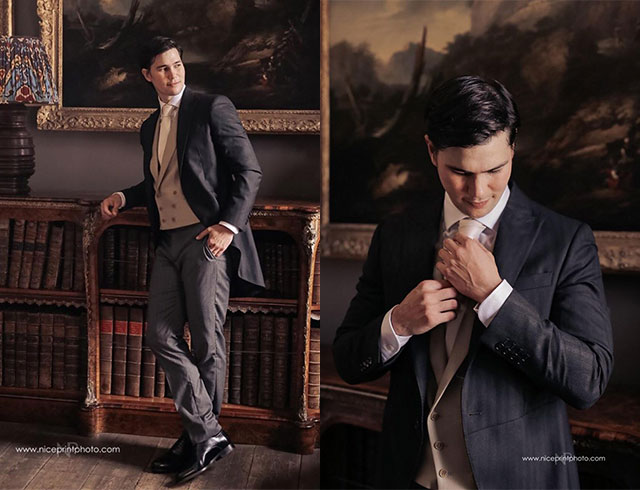 The couple tapped Louise Perry Weddings & Events to help them with the planning.
Asked about the theme, Phil said they wanted a "simple and classic monogram" for their wedding.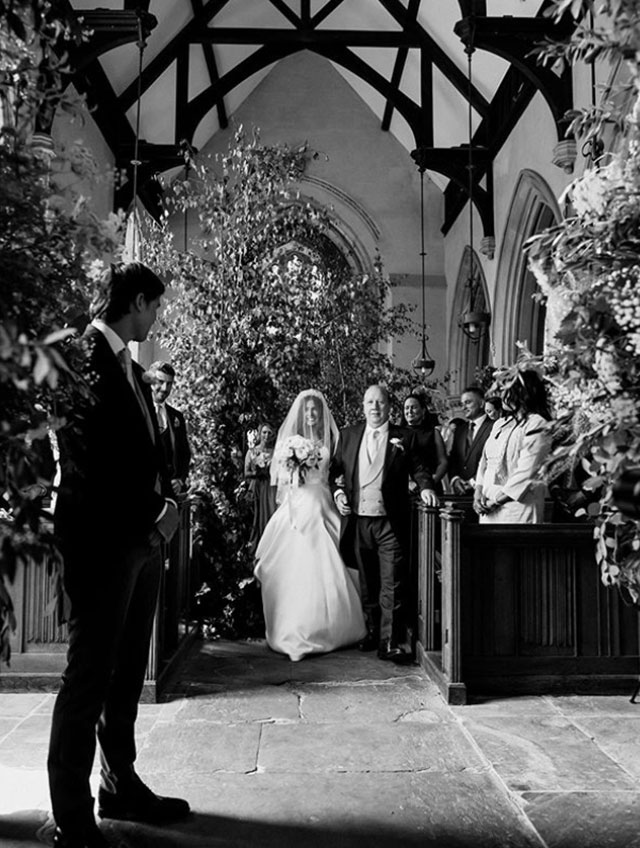 Ruth Davis of All For Love London was in charge of styling the event.
She also prepared Mags's bridal bouquet which was made with a variety of white flowers, including roses.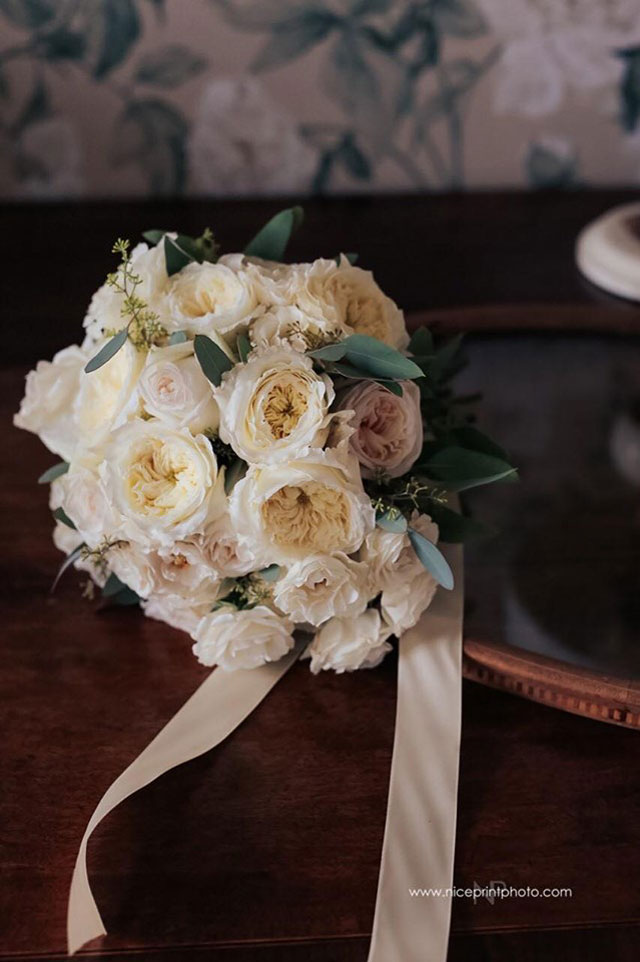 Mags's bridesmaids wore infinity gowns from Love, C Manila.
The couple's flower girls wore cute white dresses from Little Eglantine, a luxury childrenswear brand based in London.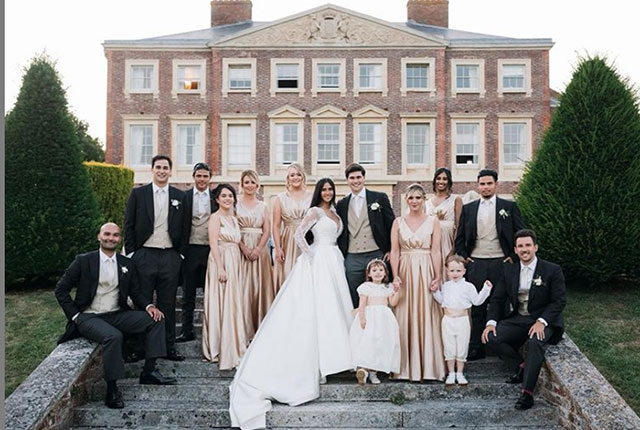 Phil and Mags's English summer wedding was held at the Goodnestone Park in Kent.
When asked what their considerations were on picking their wedding venue, Phil said, "Mags and I did some research on some venues in Kent and after viewing two [venues] we knew it was perfect.
"Whilst we were searching for our ideal venue, we had criteria. We wanted the location to be in either Surrey or Kent because those are the two county's Mags and I grew up in.
"Also, we looked for a venue that had the Church on the same grounds as the wedding reception.
"There were not many and it was very difficult to find, but thanks to Mags, we were able to identify Goodnestone Park and we couldn't have imagined it being anywhere else."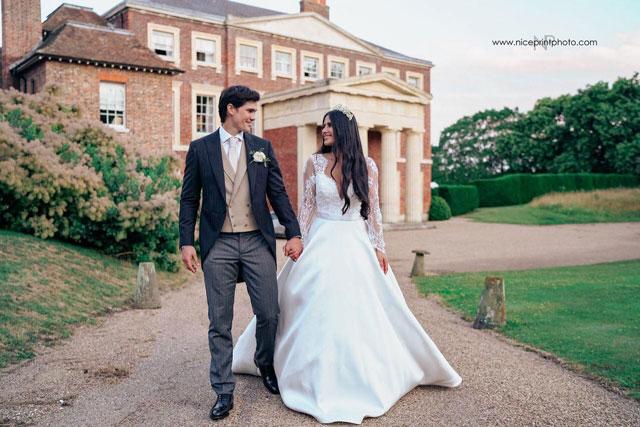 The couple went for a traditional English ceremony, incorporating their Filipino heritage in their wedding.
"We had a beautiful, traditional English wedding ceremony in a Church. We had a Filipino choir that sang beautifully during our wedding ceremony. This was such a wonderful way of sharing our Filipino heritage with our Guests."
Both of their families were present. Phil's older brother James Younghusband and Mags's siblings, James and Ryan, were all present.
The couple kept their guest list close to a hundred people only.
Phil explained, "Mags and I both wanted a small, intimate wedding. We had just under 100 guests, all of our very close family and friends."
As for his favorite moment from their wedding day, Phil answered, "I loved the whole day, but for me, the part that stood out the most was the Church ceremony. It was the moment we exchanged our vows that we look back on and gives us the most satisfaction."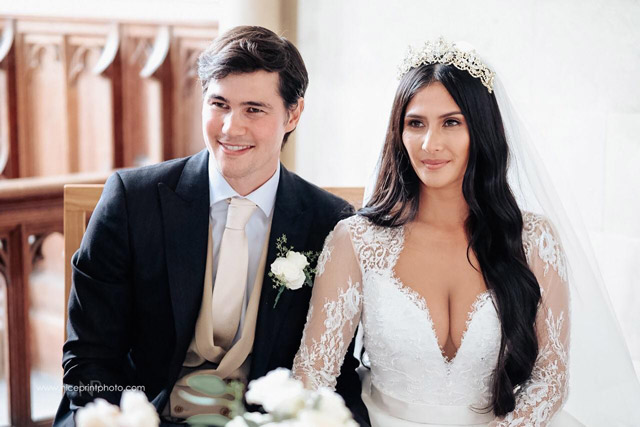 PEP.ph asked Phil what their immediate plans are after getting married.
The Filipino-British athlete replied, "After our wedding, we would like to take some time to reflect on our journey leading up to our wedding day and also the wedding day itself. Enjoy being newlyweds and spending time with our family and friends in England."