Christian Bautista, 37, and fiancee Kat Ramnani, 34, will tie the knot on November 17, 2018, and open another chapter in their lives.
It was serendipity that brought them together.
Christian has been active in the entertainment business for over 15 years, having entered the music scene in 2003 via ABS-CBN's reality singing competition Star In A Million.
Since then, Christian has gained popularity not just in the Philippines, but also in neighboring countries such as Thailand, Singapore, Malaysia, and Indonesia.
Meanwhile, Kat has established a career in the corporate world after finishing her Communications degree at the Santa Clara University in Silicon Valley, California.
Her work experience had been with the world's biggest tech companies.
In 2013, she came home for a sick family member, and later joined a telecommunications company, where she is currently the head of Strategy and Program Management under the content business team.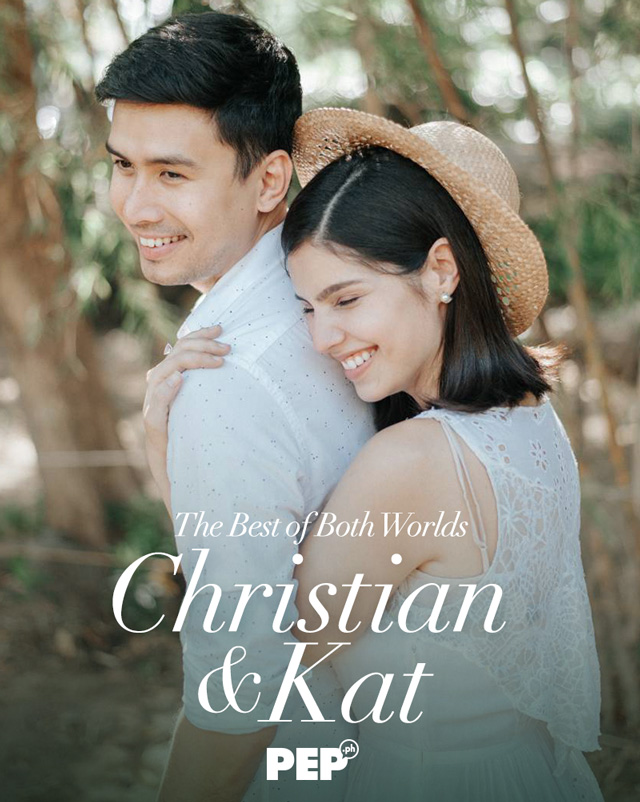 Both lived in the same area, around three blocks away from each other, but they never met.
Kat knew nothing about her future groom.
She said, "I didn't know. I had no idea. I was living in the U.S. [from] 2002 to 2012.
"I went to school there and I worked there. So 2002 to 2012, that's when Christian started. I was out of the country.
"I really didn't know much, so when he was introduced to me as a singer, I thought he was an up-and-coming singer.
"I had no idea who he was."
But Christian had read about Kat in an article and was impressed.
He recalled, "Talagang na-impress ako kasi, 'Wow ang ganda talaga, beauty and brains!'
"And then yun pala magmi-meet kami sa Breakout serendipitously."
In their pre-wedding interview with PEP.ph (Philippine Entertainment Portal), Christian and Kat openly shared their most memorable moments that would lead them both to the altar.
GETTING TO KNOW CHRISTIAN
It was in 2014 that Christian and Kat first crossed paths at a gathering arranged by host Cesca Litton for her friends at Breakout Manila, a premiere escape game room in Mandaluyong City.
Kat recalled, "One of my best friends, Cesca Litton, she orchestrated the entire Breakout with all of our church friends.
"It was a bunch of people, and we just both happened to be there.
"I actually don't know many people in the group. I met a bunch of new friends that night, and he was one of them."
Christian vividly described the moment he first met Kat in person.
"I was instantly attracted to the bangs, the face, and wit."
"Kasi nasa Breakout, e, you have to solve the [puzzles in the] room so ang galing niya.
"We became friends and over a year later, ayun, nilagawan ko na."
Kat remembered, "He would take me to really obscure restaurants... so I thought, 'Up and coming doesn't really have a lot to spend so that's why we go to these places...'
"It was fine and yun pala, 'cause he wanted a very quiet place where we can have our privacy."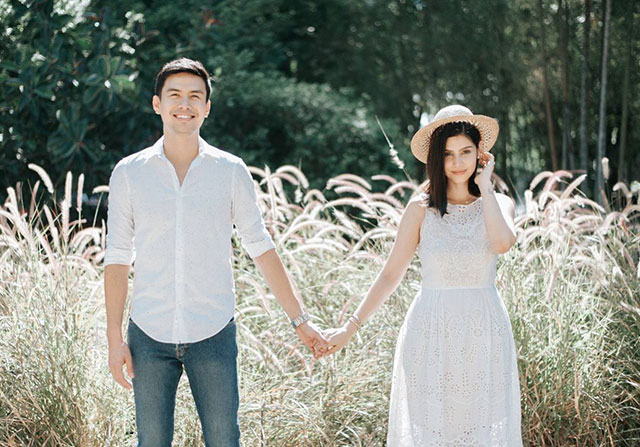 Christian never let on, and Kat would have the biggest surprise of her life when she found out more about the guy she was dating.
She recounted, "I remember my co-worker, I came in, and it was super kilig...
"I'm not really very forward with my emotions when I'm not certain about things.
"My co-worker was like, 'Girl, ba't ang saya mo?' I was like, 'I'm dating this guy and he's super cute.'
"And then she said, 'What does he do?' I'm like, 'He's a singer!'
"And then she's like, 'Oh, what's his name?'
"'Ah hindi mo kilala, bago lang 'to... Wait, I'll just show you a picture.'
"'Ano ka ba, girl, si Christian Bautista ito!'
"'Yeah, that's his name! How did you know?' And then she's like, 'Google him!'
"So I googled him, and then I was in a vortex for an hour so I texted him, 'I googled you.'
"I had no idea 'til we had actually started dating, and then it was just a flood of information."
The "Who Is She To Me" singer deliberately did not tell the telecom executive he was dating about his celebrity status.
Christian explained he wanted Kat to know a side of him he has kept from public view.
He said, "I didn't wanna start with na, 'Oh, by the way, I'm this guy...'
"I really wanted her to get to know me, who I really am, how I do things.
"When I tell her na, 'O, I have work here, I have work there.' Pero I just wanted her to find out eventually.
"That was my strategy para hindi siya mayabangan sa akin."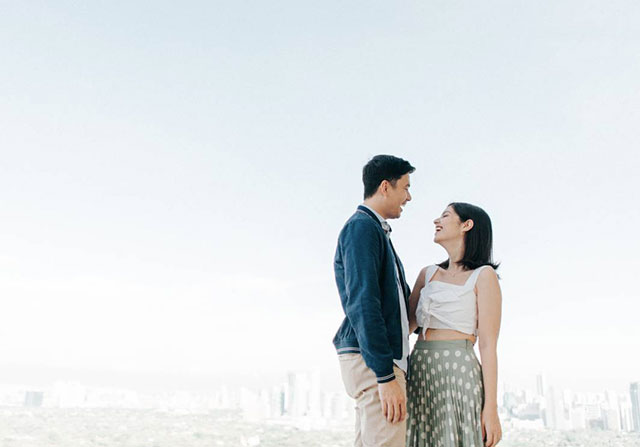 COURTING KAT
It was around November 2015 when Christian started courting Kat.
What took him so long?
"I didn't also want to rush into a serious relationship, I didn't want her to rush into a serious relationship as well," he explained.
"Parang I wanted the timing to be right. Matagal talaga ako, segurista ako, e.
"And I wanted to know her more na matagal talaga, hindi ako yung jump agad.
"Siya yung jump agad. Ako yung parang 'Let's analyze everything.'
"I wanted to be friends first."
The Kapuso singer-actor also wanted to make sure he was more than ready to go into another relationship.
"I needed some space, I needed to clear my head. I needed to be ready again.
"It's cliche but nag-work sa akin yung I needed to be happy as a single man first para when I meet someone, she meets a happy single person."
"Hindi rin naman ako one hundred percent okay all the time, pero at least ninety percent, I'm okay ninety percent.
"Kasi it's very hard to introduce yourself to someone na ano ka, forty percent.
"He or she will have to compensate pa. It will not be fair."
Kat, for her part, said she never really thought her friendship with Christian would go anywhere beyond that.
"When we first met, I wasn't interested in dating him, and he wasn't interested in dating me. He was my friend first and I was his.
"Things changed later in life when we were both ready and available."
"I never thought I was going to get married 'til I started dating Christian, then everything changed."
For a celebrity like Christian, finding and relating to someone not from showbiz have been uniquely rewarding.
"It's very refreshing because I learn so much from her, I learn so much, and she teaches me a lot of things as well," he said.
More importantly for him, guarded as he has been with his private life and also to protect Kat's privacy, Christian has kept their relationship under the radar of prying eyes.
READ: Christian Bautista admits having a love life: "Hindi ko naman siya itinatago, pero hindi ko na lang siya ie-expound."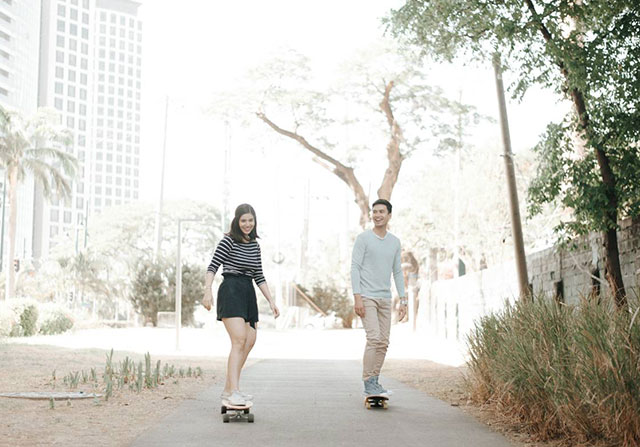 LETTING OTHERS IN
But being in showbiz, Christian knew he owed it to his fans to introduce Kat to them.
Besides, how long really could they go on hiding in plain sight?
He admitted, "Sometimes we would go out of town or out of the country para lang magkaroon ng privacy or any obscure places, pero you still will be found out.
"And it was a bit of an adjustment during the early periods kasi when someone would want a photo and we're sharing a private moment...
"'Do I do this first?' Ganun lang na adjustment pero, now, I think, we both get the hang of it."
After two years of keeping everyone curious about them, Christian and Kat finally came out in the open.
She said, "He was very good in talking to me how important his fans are to him, what fans want, how to deal with photos, what a press launch is like.
"I had no idea about this, and it's like Bambi with new legs.
"So he's very, very helpful and kind to me throughout the journey, so I was super lucky."
On July 1, 2016, Christian and Kat attended their first public event together and was spotted arriving at the Preview Ball 2016 in Whitespace, Makati City.
READ: 30 celebs spotted at Preview Ball 2016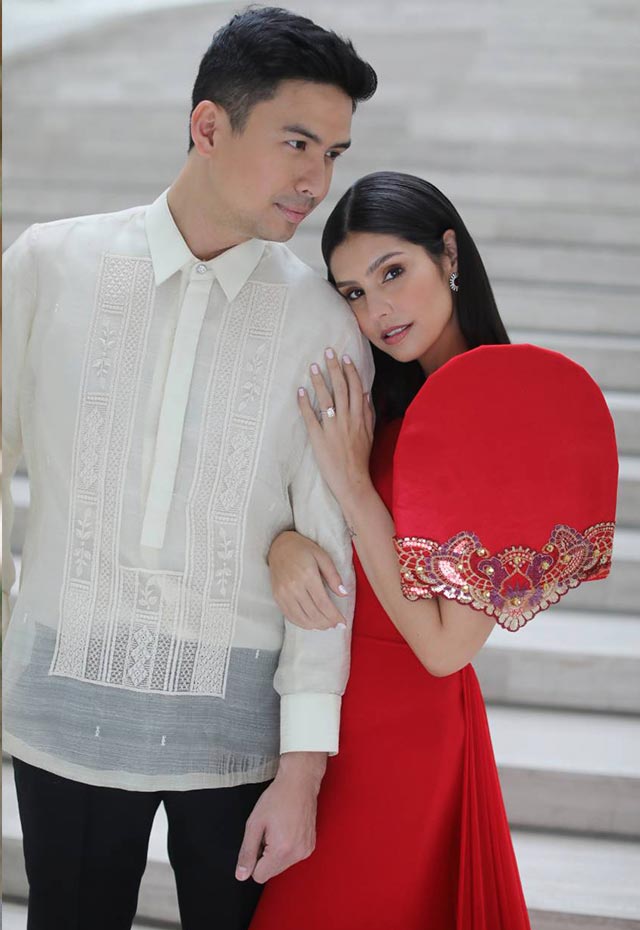 Even so, they kept their engagement a secret from the public, even from their closest friends and family.
Kat said, "When we were engaged, we didn't tell anyone for about a week. It was a secret.
"We were travelling through Europe, just the two of us. Not even our families knew, just the two of us for a week.
"It's such an amazing secret because it was yours for a week.
"We don't even have an actual picture of our engagement. We just took a picture four days later.
"When we landed, we called our parents, and we told our parents first, and then we told our close friends.
"And then it's a couple of days later before we released anything on social media.
"Of course, we're happy to share the news, but you're never gonna get that time again when some things are yours, di ba?"
READ: Christian Bautista is engaged to girlfriend Kat Ramnani

After announcing their engagement on November 3, 2017, Kat expressed relief and gratitude that it all went so well.
"It's definitely different as the relationship progressed to now that I'm doing interviews.
"It's different from what I'm used to 'cause I'm a corporate girl, so the press we talked to [were] also very different.
"The showbiz press has been nothing but kind to me and non-invasive about my life."
She added, "Especially with you in PEP, because you wrote so many nice things about us, so I can't complain. But definitely, [there was] an adjustment."
READ: Christian Bautista opens up about his "ninja-like proposal" to Kat Ramnani

AWWW, THOSE SWEET NOTHINGS
For their first date, Christian brought Kat to his alma matter, the University of the Philippines in Diliman, Quezon City, where he finished his degree in Landscape Architecture.
He recalled, "I wanted to show her the place, the ice-cream stand, the swing kasi sabi niya sa akin she loves swings.
"So, punta kami sa Sunken [Garden], nakita ko yung ice cream, nag-ice cream kami dun.
"Pumunta kami sa isaw, di pala siya nag-iisaw...Hindi niya sinasabi sa akin nung time na yun... pero kumain siya.
"Nag-swing kami then we met this Korean kid na cute na tinatanong kami ng all these questions.
"It was like a movie 'tapos I said, 'I know this restaurant...' E sarado pa, so sabi ko, 'I know this crepe place...'
"And then yung road pala, under construction, so nilakad namin."
"It was a perfect moment for walking, just talking, and then getting to know each other while having a comfy snack until... water everywhere!
"The car was far, and then bumagyo. Heavy, heavy rain so hindi kami makalabas ng restaurant," Christian continued, laughingly.
"So pakitang gilas ako, sabi ko, 'Wait there, I got you!'
"Thanks to this barangay, meron silang mga boats so nagpatawag ako ng boat 'tapos si kuya, siyempre, tinutulak niya yung boat.
"Tinutulak niya kami 'tapos paddle-paddle nang konti until we reach the street, sa Katipunan.
"Naglakad na lang kami, nasa Katipunan na kami."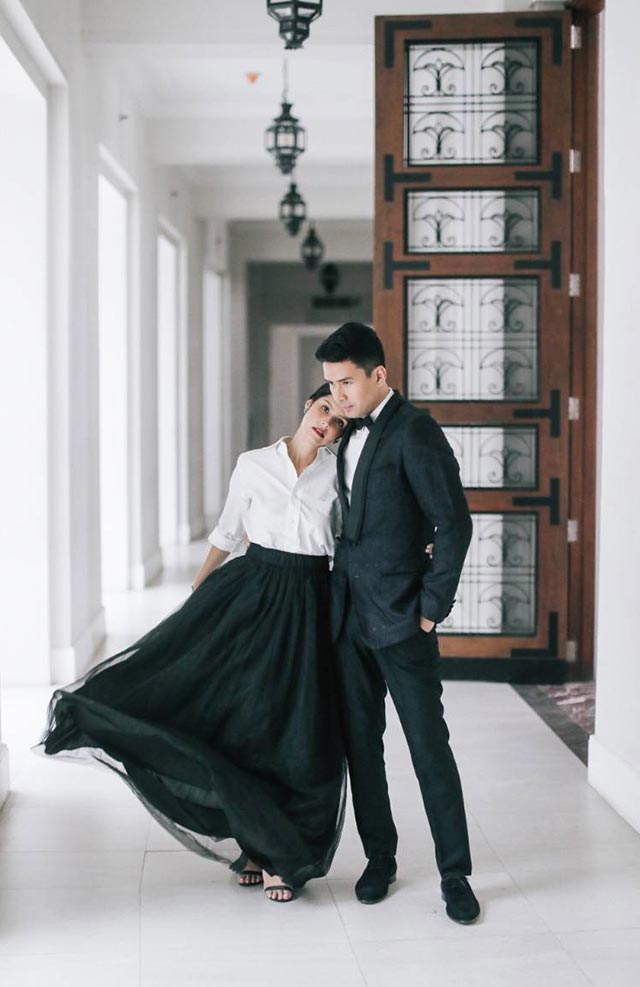 A little bit of shower was kind of romantic, but getting caught in the flood on a first date was a mess for Christian and Kat.
Credit must go to Kat, who was wearing an all-white outfit at that time, for keeping her cool.
"The flood was up to [the thighs] and the restaurant was on an elevated area... Right outside the restaurant, it was up to [thighs]."
She added, "I was sitting on the boat, there's muddy water all around us.
"Christian was on the other side of the boat ,and he's trying to be romantic, and there's a kuya there like, 'Ma'am, okay ka lang, ma'am?'"
But the most memorable date for Kat was when Christian brought her to his family's ancestral home in Imus, Cavite.
That was when she realized Christian was the man she wanted to spend the rest of her life with.
"He's from Imus, Cavite, and he's very proud of that. So one time, he took me home from where he grew up.
"I saw na he was so proud of where he had grown up and, you know, his grandfather built this church, and this is the house that they grew up in.
"I saw where he had come from and how proud he was of it and what he had accomplished."
"To me, him allowing me to go through that journey with him and share that really was so inspiring for me and probably one of the many reasons that I said that this is somebody I really want to be with, one who shares the same values and morals that I do."
With music being the couple's common denominator, Christian and Kat enjoyed watching concerts on their date nights.
She said, "On my birthday, we flew to Singapore to watch Guns N' Roses, and that was so much fun, and we're huge Coldplay fans and so we watched them here."
Christian added, "Ang memorable dun sa Guns N' Roses, e, di kumakanta na kami, biglang yung ibang fans, 'How do you guys know Guns N 'Roses? You guys are so young!'"
Guns N' Roses' concert in Singapore was held on February 25, 2017, at the Changi Exhibition Centre.
Meanwhile, Coldplay staged their A Head Full of Dreams Tour at the SM Mall of Asia Concert Grounds on April 4, 2017.
HMMM, LOVERS' SPATS
Christian and Kat's relationship has not always been all rainbows and butterflies.
There were times when they disagreed with each other and argued.
In the end, what mattered to both of them was how they resolved the issues.
Christian said, "I don't remember our first major fight, but, every time, it will be a discussion."
"So parang we will do our best not to heighten emotions, parang temper it, control it, and just sit down and talk about it."
"Parang, 'You first... talk' bawal sumagot, but minsan, 'But...'
"'No, wait hold on. Let me finish.' 'O ako naman...'
"Kahit mahirap, kahit di namin maayos that day, but at least nasabi na namin."
Kat said, "I can't remember ever Christian raising his voice at me or using any language that was hurtful. It's always been a discussion.
"Some are more serious than others because of the nature of it.
"Some are more emotional than others, but always very respectful and with the intent of solving."
"We also have a rule between us that if we've discussed something or had an argument or disagreement about something that has closed, it's not something we bring into a fight because if you do that, you pile on a lot of unresolved issues."
"So if we argue about something or discuss something and it's resolved and squared away and we don't bring it back up."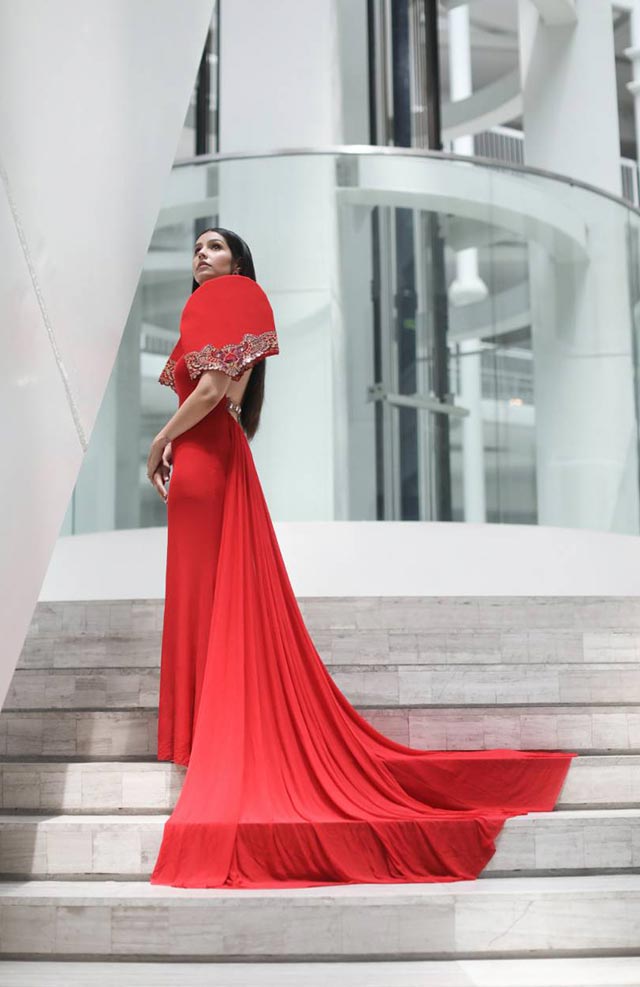 And as far as their previous relationships were concerned, those were in the past, and the only bearing they have on Kat and Christian as a couple have been the lessons they learned from them.
Kat said, "Both of us dated people in the past and if you are jealous about the past, I think that that's wrong.
"Because the people in your past taught you great things.
"Christian wouldn't be who he is today, the kind of man he is today, if he didn't have those experiences and he's come out a stronger person because of it.
"So for me, those chapters are closed, and it all comes back down to trust, and I trust him.
"He hasn't given me a reason not to… and I don't feel the need to be jealous and understand that it's the nature of his business."
Christian said he has never been jealous of anyone, but admitted being annoyed by some guys who still hit on his fiancee.
"Meron kasi sometimes mga guys na alam nila na we're engaged na or a couple pero nagta-try pa rin e, 'Hey, you're with that singer ah! I'm smarter than that singer!'
"Parang ako, 'Excuse me?' May mga feeling talaga, e, na lumalapit."
Not that Christian has ever mistrusted Kat, who assured him, "I would never give him a reason to. I'd probably fight them before him."
HAVING FUN PLANNING THEIR WEDDING
Christian and Kat themselves attend to all the details of their wedding even when they have a coordinator to arrange every thing for them.
And Kat, being a techie, has all the details in an application she has created for their wedding.
She told PEP.ph, "We ended up building an app for our guests, 'cause we're a very digital couple.
"We use a lot of apps to schedule our lives, so we decided na to represent us best is to have an app.
"It has a counter on it, which tells how many days we have left."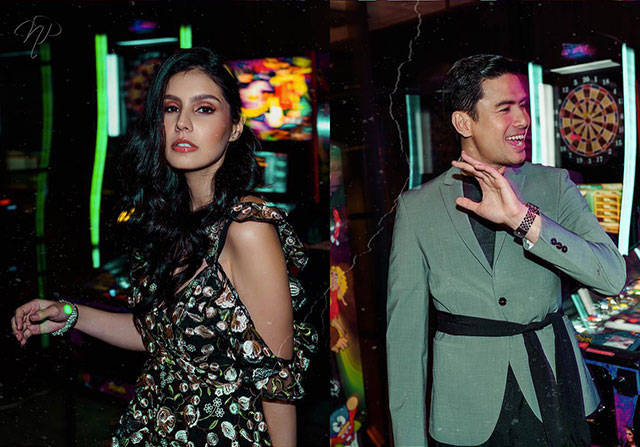 The couple also keep track of their wedding planning through an Excel sheet Kat prepared.
"Every day, I have color-coded Excel sheets shared on Google Drive, tasks assigned, a Gantt chart...
(A Gantt chart, named after its developer Henry L. Gantt in 1917, is a horizontal bar chart frequently used in project management, a graphical illustration of a schedule that helps to plan, coordinate, and track specific tasks in a project.)
Christian commented, "A couple told us na it's your first major project together. It's a real test, and I think we are doing very well.
"Kasi all her corporate expertise, yung nga kakasabi lang niya Excel sheets… I don't even know how to operate Excel.
"I know how to read Excel pero siya pati yung formula, 'Oh, I put the formula...' 'What? There's a formula?' 'There, the numbers!'
"Parang ako, 'Oh, that's great!' And ako naman, I'm helping with my contacts, getting better deals."
READ: Christian Bautista in the thick of wedding planning and having a good time
The couple decided to have two set-ups for their wedding: an intimate ceremony abroad and a grand reception in Manila later in the year.
Kat elaborated, "Initially, we really wanted a very small wedding, and we wanted it abroad.
"However... we realized that's not fair with so many people in our lives that have been part of our story, that want to celebrate with us, we want to make sure we have that opportunity with them.
"It wouldn't be fair to ask everybody to fly. We wanted to make a reception in the Philippines that can accommodate so many people that we love.
"So many people that are so important to us, and kind to us, and given us advice, and pushed us when needed, and shoulders to cry on throughout our relationships and our single lives."
Christian said, "We're inviting all our work friends and, of course, our close family members.
"It's gonna be a very musical night, with lots of great food, and yung flowers talaga nakuha namin yung gusto namin."
For the bridal march, Christian and Kat thought of playing their favorite song, which is, according to the groom, a "new version of anthemic OPM long-time favorite."
In an exchange with PEP.ph via Viber, the balladeer added, "Universal records, when they heard the song fell so in love with it that they decided to release it for everone to enjoy on December 2."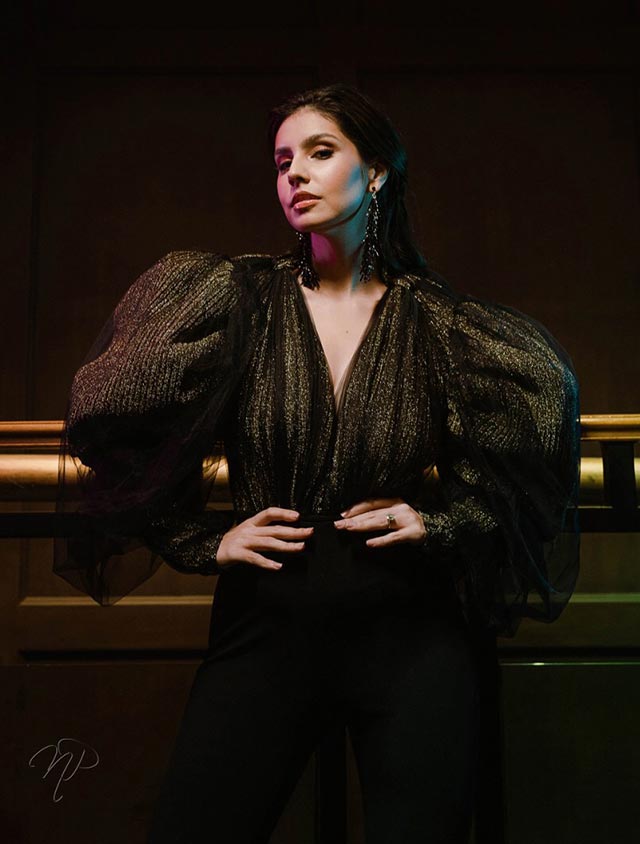 LEARNING TOGETHER
Far from feeling pressured, Christian and Kat are enjoying the rigmarole of wedding planning.
Kat said, "I would encourage all couples who are thinking about eloping not to because this is where you really find out to work with another person.
"What it's like to deal with finances, what it's like to make major decisions together and disagree fundamentally.
"It's such a good first start. I didn't realize the teachings that planning a wedding brings.
"I always thought it was just, 'Okay, fun naman.' I didn't realize the fundamentals that it brings along."
Christian added, "You learn the lessons if you're really involved in it.
"Some couples naman just tell the coordinator, 'O kayo na bahala diyan. Whatever happens, just send us the bill.'
"Since we're really involved, and we want certain things to happen, then the learnings come.
"Sometimes, if one thing is over budget already, we just find something that we would both appreciate and yet know not to spend too much.
"At the end of the day, we want a fantastic wedding, but it really is just the day.
"Both of us we would rather spend it on the house or basta sa future expenses."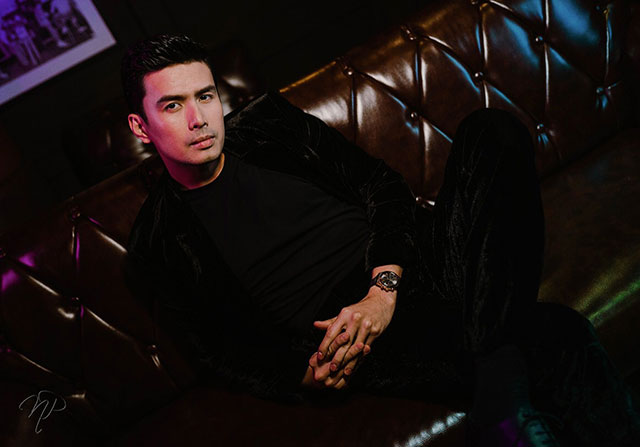 Kat, however, said they did not cut back on their wedding coordinators.
She explained, "We didn't scrimp on that because they really are the core of putting everything together.
"We've had just a very good time putting it together with some of our friends that are directors helping bring that theater discipline to an event.
"Our friends have been just the mountain of support for us. They're always reaching out, 'What do you need?' 'How can I help?'"
And not forgetting to give her friend Carlo Orosa a special mention, she concluded, "We're so grateful our friends have been amazing, and family."
Carlo is the manager of Christian and has been graciously extending his hand to help the couple plan their wedding, which will use the hashtag #LetsGetReadyRamBau.
INTERVIEW: Nikko Tuazon and FM Ganal
PHOTOS: Arvin Simbulan, Pat Dy, and Nice Print Photography & Exige Weddings