Binibining Pilipinas 2022 candidate Graciella Lehmann of Oriental Mindoro is overwhelmed with the support she received from pageant fans for her out-of-the-box national costume.
Early this week, Graciella made waves on social media for her Tikbalang-inspired national costume, which was designed by Paolo Ballesteros.
Read also: Bb. Pilipinas 2022 candidate Graciella Lehman wears "Tikbalang" costume by Paolo Ballesteros
On Wednesday, July 6, 2022, Paolo uploaded his sketch of Graciella's national costume on his Instagram account.
"TIKBALANG for @bbpilipinasofficial national costume [emojis]," the TV host wrote in the caption of his post.
In the comments section of his post, Graciella thanked Paolo and wrote, "LOVE YOU MAMWA [emojis] THANK YOU FOR BRINGING MY DREAM INTO LIFE."

Several beauty queens also expressed their support for Paolo's creation and even picked it as their favorite national costume for this batch.
Binibining Pilipinas Grand International 2020 Samantha Bernardo commented, "Grabe po, congratulations! [emojis] You are a trend setter always for @bbpilipinasofficial NatCos! [emojis] Mabuhay ka @pochoy_29 [emojis] "
Miss Universe Philippines 2021 1st runner-up Maureen Wroblewitz told Paolo, "My favorite!!! [emojis]"
Meanwhile, Miss Universe Philippines 2014 Mary Jean Lastimosa commented on her Eat Bulaga! co-host's post and wrote, "Dazurv ng best in natcos [emojis]."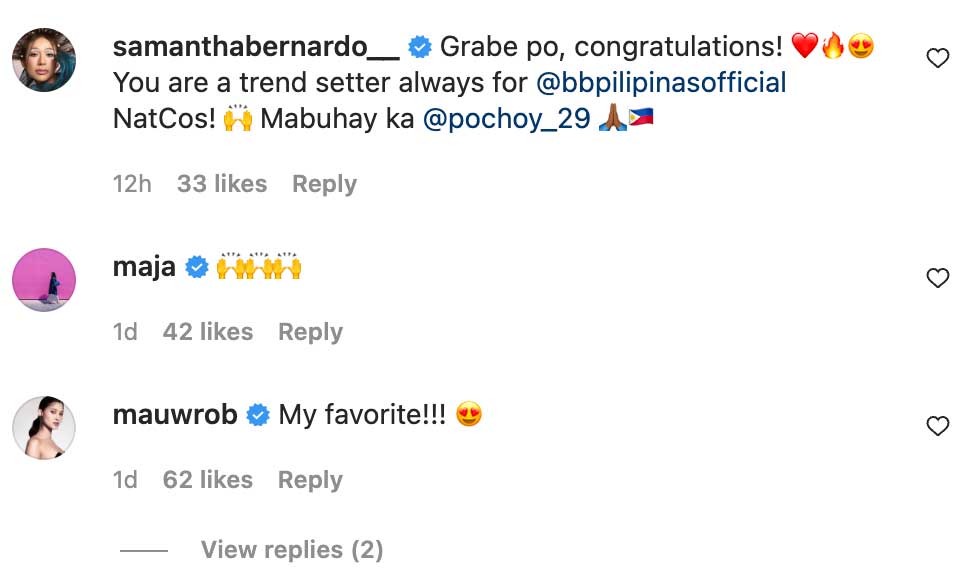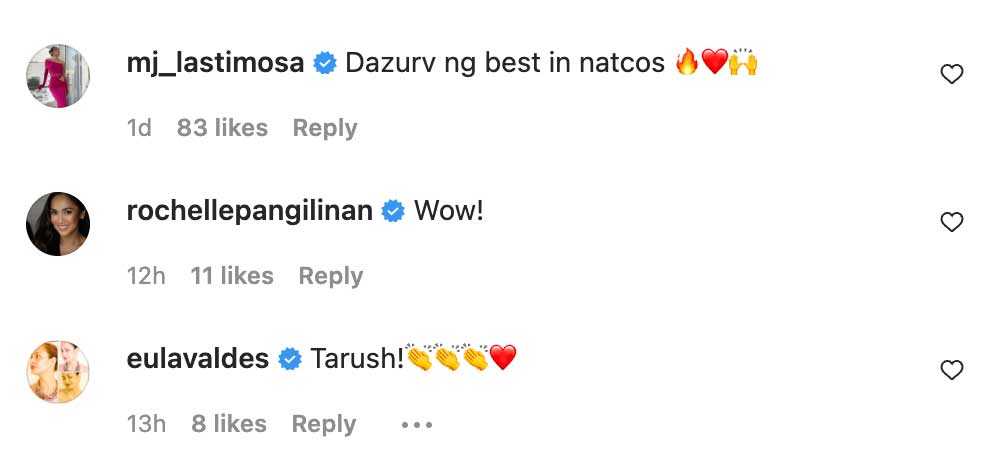 GRACIELLA LEHMANN ON COLLABORATING WITH PAOLO BALLESTEROS
In an exclusive interview with PEP.ph (Philippine Entertainment Portal), Graciella shared more details about her national costume.
She said, "This Tikbalang national costume is fashioned with intertwined branches of the Balete tree that forms the horse head and butterfly sleeves, and hugs the body down to its hooves as to conceal the creature's looming presence.
"Sheets of translucent, ghostly-white fabric are decoratively draped as its beguiling mane and tail that dance with the wind as it lurks in the shadows.
"The body is adorned in lace, with white pearls and rhinestones flickering like diamonds that will captivate anyone who may glimpse at this elusive mythical creature."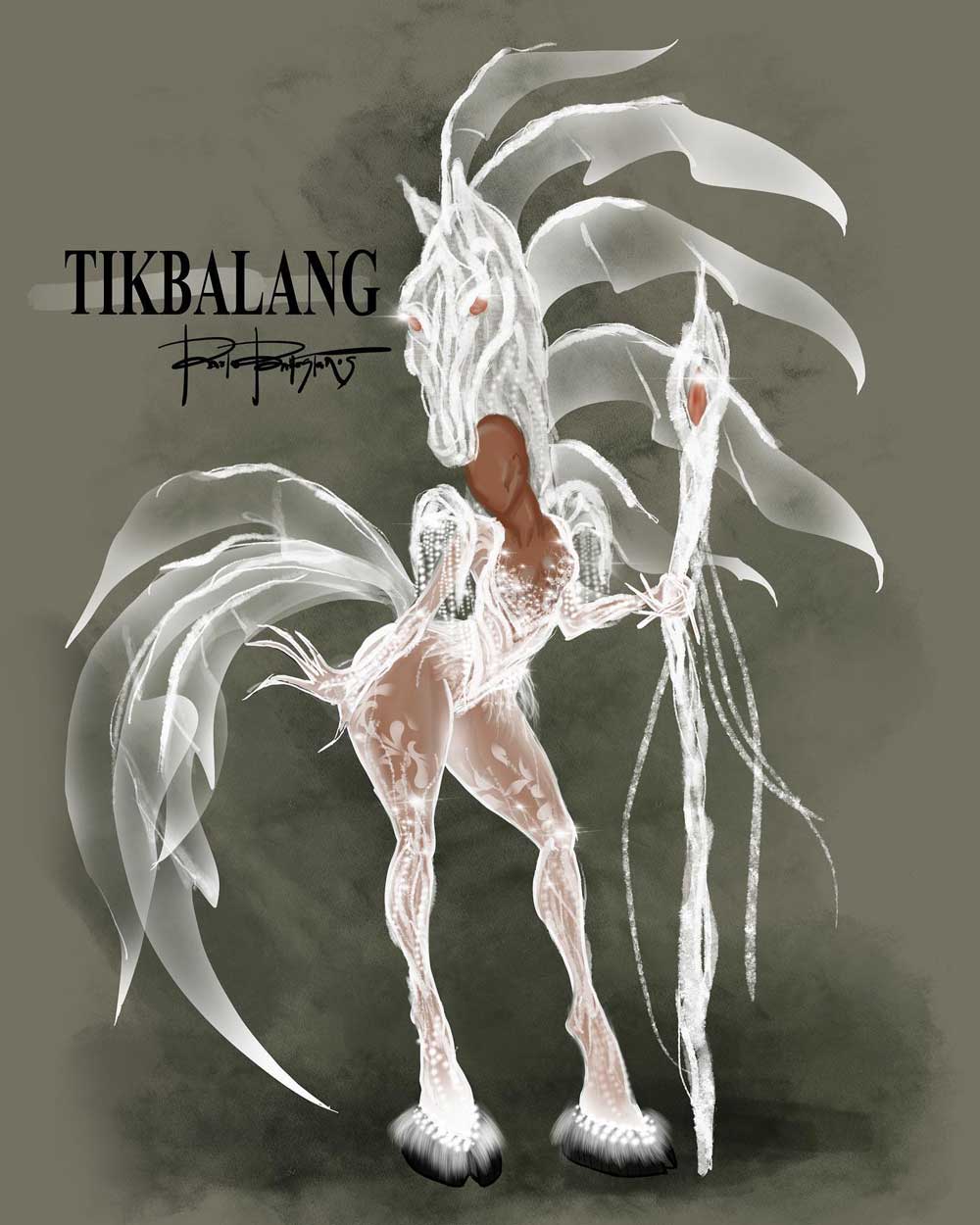 Graciella revealed that she has always wanted to wear something extraordinary for her national costume, even before she joined the Binibining Pilipinas 2022 pageant.
She said, "Even before I thought of joining this year, I had several ideas in mind and I put them all in my game plan.
"I want to wear something that resonates with our cultural and mythical beliefs and at the same time, something tasteful that is primarily why we chose white as the base color of the ensemble."
The 24-year-old flight attendant was also grateful for having Paolo Ballesteros as her designer.
Asked about her experience collaborating with the Eat Bulaga! host, Graciella told PEP.ph, "Working with Paolo is undeniably a dream come true. Never did I imagine that I will be mentored by him.
"I presented some pegs and ideas for my national costume, and I am extremely happy that Paolo has considered my idea, but he has taken it to a whole new level.
"This is exactly how I imagined it to be and I will always be grateful for him for bringing my vision into reality."
Now, Graciella has been practicing her walk wearing the sky-high platform heels of her national costume.
Her fans will be able to see her wearing it at the pageant's national costume show happening on July 16, 2022.
"I have spent an entire week just to learn walking with my elevated shoes.
"I have fitted the costume several times and Paolo never failed to remind me that I should walk with pride and feel the edges of my shoes, endure every detail of my costume, and that is when I can fully showcase it."
READ MORE: