Anne Curtis easily generated over a million likes for her recent swimsuit photo.
And she was not even totally flaunting her figure.
In the caption, she posted her conversation with husband Erwan Heussaff, who took the picture while they were in Napa, California.
Erwan: Go. Face me.
Me: No.
Erwan: Why?
Anne: May burger pa sa tummy ko
The Queen of Instagram, who has 11.5 million followers, also elicited more than 6,200 comments at press time.
Some of them noticed that she gained weight.
A follower remarked, "Parang tumataba ka anne."
She replied, "I knooooooow! Food is life e. Seeeeeereeeh."
Kim Atienza interjected, "I think we need to run. love you."
Meanwhile, a lot reacted with positivity.
Antoniette Taus wrote, "Wowwwwwwwwwwww."
Celebrity stylist Pam Quinones said, "Love this!!! You're livin your life."
Director Dan Villegas commented, "Ang gandaaaaa!"
Nevertheless, she promised her fitness trainer Arnold Aninion that she'd resume her regular workouts as soon as she gets back from her vacation.
In her replies to Arnold's comment, she said she would go back to eating healthy, and avoid "burger, fries, steak, pasta, and ice cream."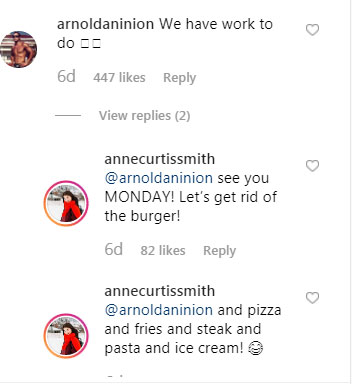 Early this year, she started her fitness journey, and lost 10 pounds within three weeks.
Her goal is to achieve her pre-YOLO (You Only Live Once) weight, which was 115 pounds.