Andi Eigenmann is not too concerned about getting back her pre-pregnancy body after giving birth.
Instead, she is more concerned about resuming her activities before she got pregnant.
"I think about that a lot," the actress tells PEP.ph (Philippine Entertainment Portal), "But it's not the body or it's not what I would look like.
"It's more just being able to do the things that I got myself used to doing before, like working out every day."
Andi knows that she has to eat more for the baby, so weight gain is expected.
That's why the 29-year-old celebrity mom wants to be "kinder" to herself.
"If I want something that is not in my diet before like fast food, I'm gonna give it to myself. That's also something in my mind na I'm excited to do.
"But the pre-pregnancy body, getting it back, I'm happy with whatever I achieve from the amount of discipline I give myself after."
PEP.ph met with Andi at her baby shower last June 22, 2019, in Rockwell Center, Makati.
ANDI'S PREGNANCY FITNESS JOURNEY
For her second pregnancy, Andi promised herself that she will take on a more "holistic approach to fitness and nutrition."
The celebrity mom made this personal commitment after she dug up photos from her first pregnancy.
Andi got pregnant with her daughter Ellie eight years ago.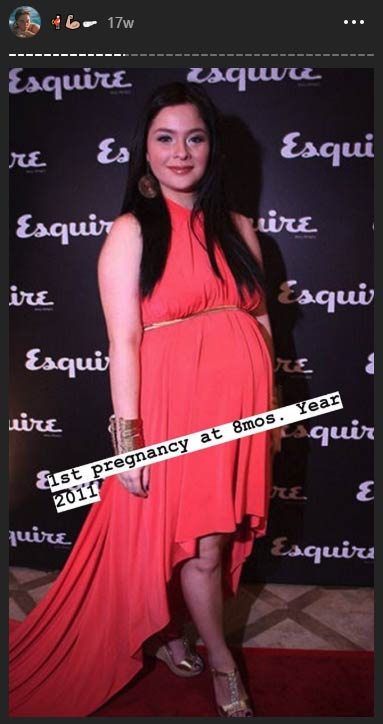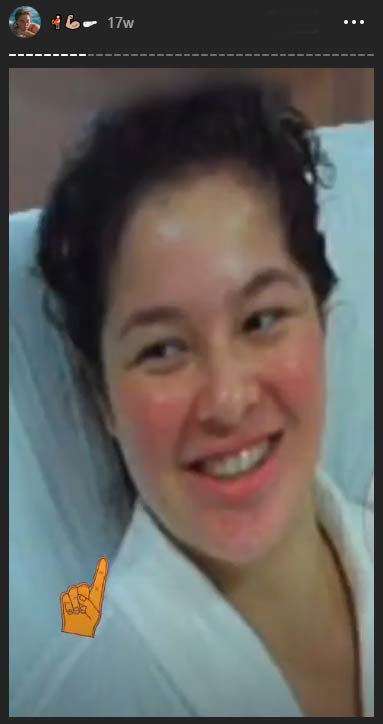 Andi said in an Instagram post dated June 10 that she weighed 103 pounds when she learned about her first pregnancy.
Toward the last couple of weeks of her first pregnancy, the then-21-year-old actress weighed 157 pounds.
The daughter of Jaclyn Jose and the late Mark Gil then recalled in her Instagram Stories that her OB-GYN wanted to put her on a diet because she gained "too much weight each term than what was expected."
But Andi didn't follow her doctor's recommendations, hence, she gave birth to Ellie via emergency C-section because the latter also got "too big."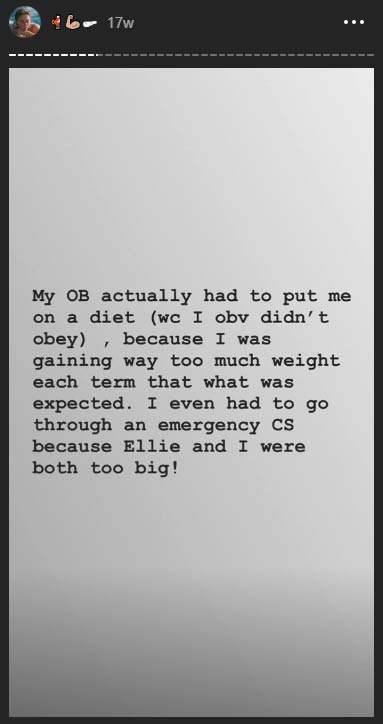 For her second pregnancy, Andi said she started off on the right foot.
She was 125 pounds, which was the "fittest" and "healthiest" version of herself.
And even if morning sickness made it difficult for her to stick to a healthier diet, Andi was determined to stay healthy.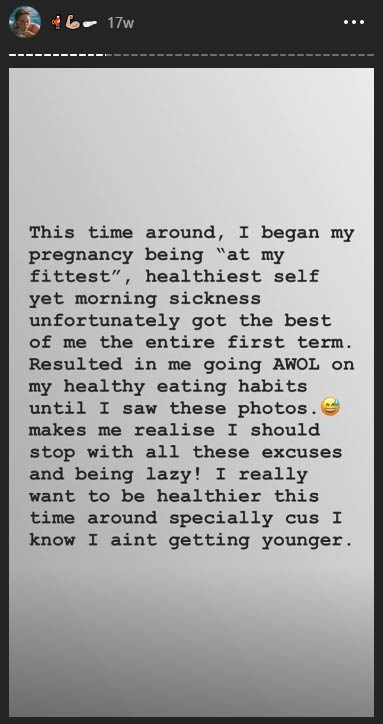 Andi began her pregnancy fitness journey by tweaking her exercise routine.
"I never worked out during my 1st pregnancy so Im being extra careful this time," she wrote in her Instagram Stories 16 weeks ago.
The celebrity mom also revealed how she tweaked her workouts.
"No ab exercises till I give birth, should be satisfied with only 20-30 min work- outs, and make sure never to get to a point where you're already catching your breath as you speak."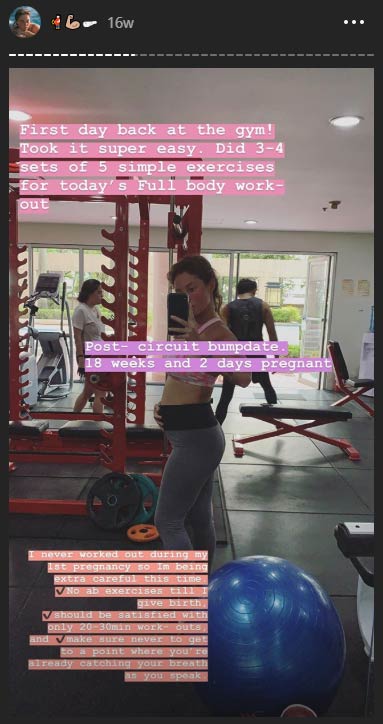 Though she wasn't consistent with the frequency of her workouts, she had made time for the gym whenever she could.
"I stopped counting the days," the actress said in her Instagram Stories 14 weeks ago.
"It just made me feel the pressure.
"I realised I am more motivated to get my butt up and exercise when I don't feel like I am forced to do so."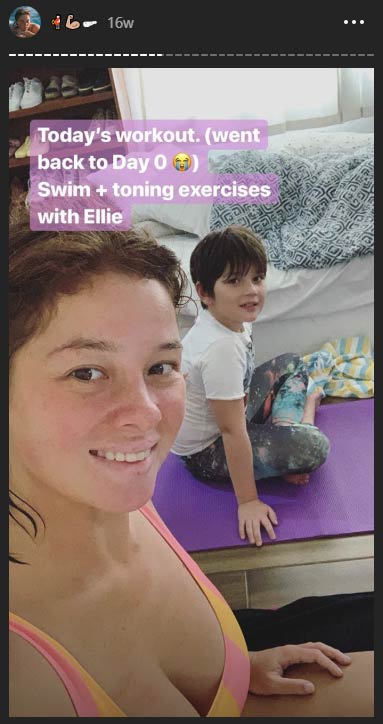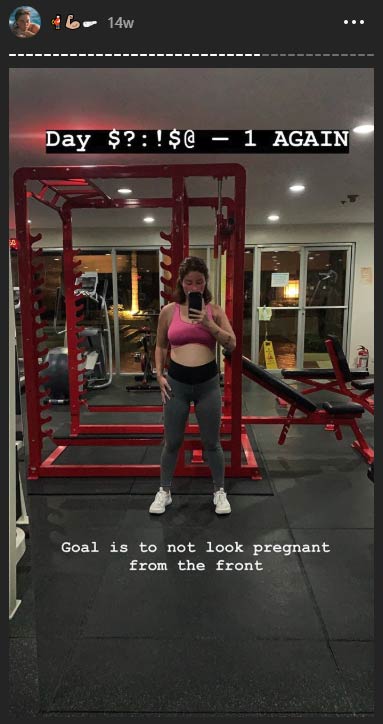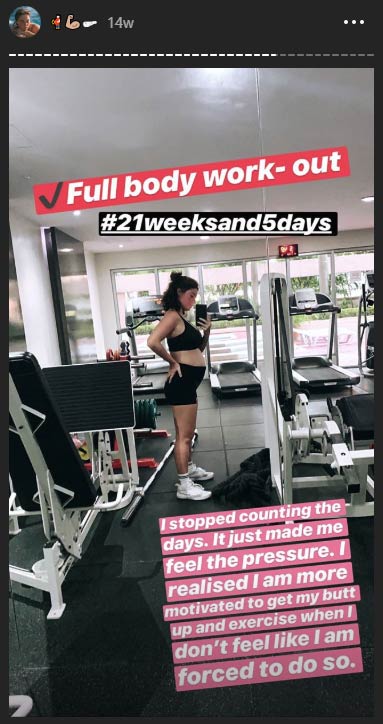 There were times when Andi felt great about herself and her body.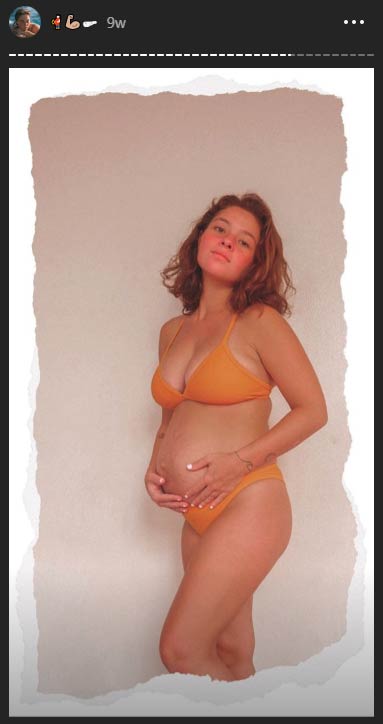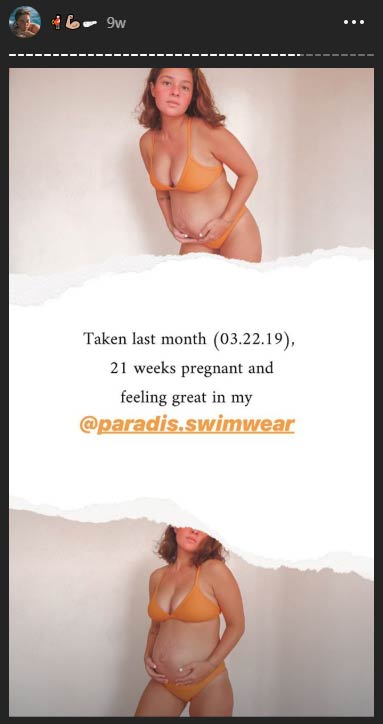 Then there would be moments when she didn't.
Still, Andi chose to motivate herself to be healthy for the baby.
"I RELAPSED," the 29-year-old actress said in another post on Instagram Stories. "I kept going for the lame excuse of wanting to take all the rest I could for the baby, but in reality, the lack of physical exercise and excessive eating isn't only harmful to our bodies but to our babies as well.
"I would really love to have a safer and smoother delivery this time around, and so it's time to stop moping around and do what I could to not make things worse for us..."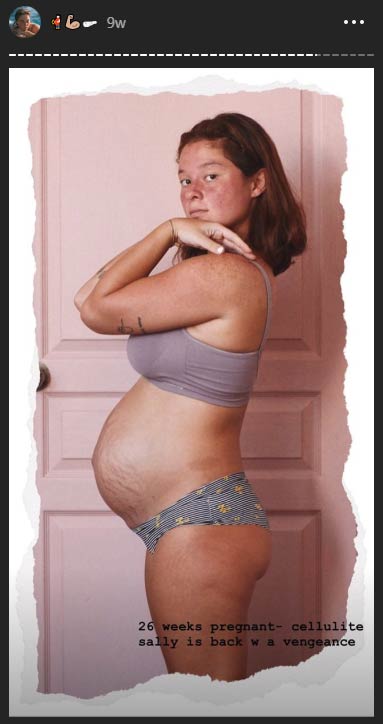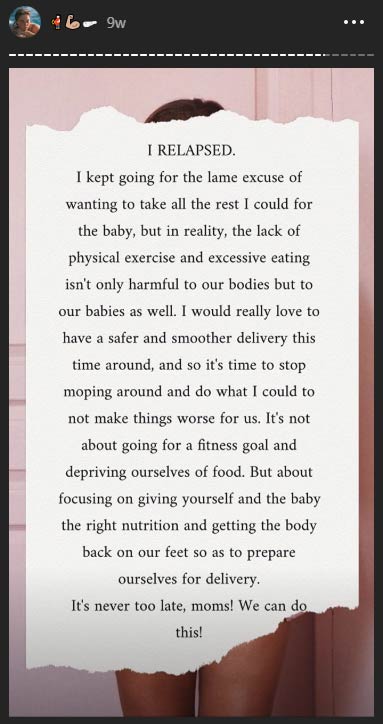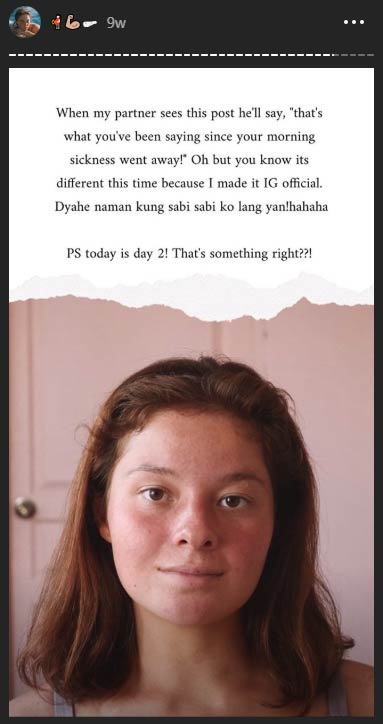 Now, Andi is on her 35th week of pregnancy, and looks forward to giving birth via vaginal birth after C-section or VBAC this time around.