Seven months after giving birth to her second daughter Lilo, Andi Eigenmann is back to her pre-pregnancy weight of 125 pounds.
In a series of Instagram Stories over the past week, Andi talks about her fitness journey.
The part-time actress says, "I'm now 125 pounds. I only lost 10 pounds since November. You know why? Because I'm not relying on the scale.
"125 pounds was my weight before I got pregnant. But then, I was a size 2.
"Now I'm a size 4, which is honestly my size forever. Like that's my average size.
"I hope to get back to a size 2, but I'm not gonna force myself to do that.
"My goal is to just look my best and feel my best, you know? Become my fittest."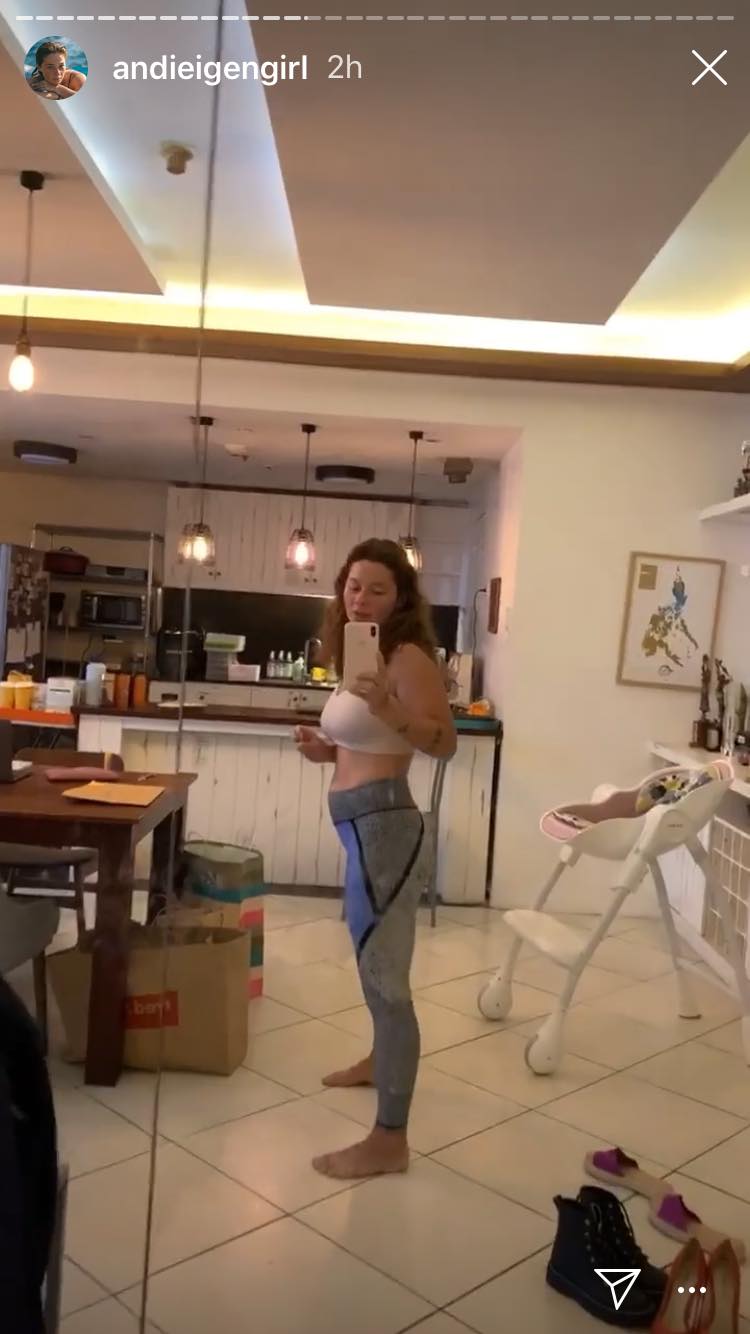 Andi, who has been in Manila for a while now, is proud of her current workout regimen.
The mother of two continues, "I'm so proud of myself because it's been 10 days here in Manila and every time Ellie is at school, I just work out.
"I swim, I do yoga, I exercise, and I honestly haven't been telling Philmar any of that. Para, when he sees me, he's proud, di ba?"
Siargao-based surfing champion Philmar Alipayo is Andi's current partner and the father of her second daughter.
When Andi is not in Manila for work-related matters, she resides with him in the beach island.
And even though Andi and Philmar are currently apart, the actress says his presence is still very much felt.
She relates, "Honestly, every time I'm lazy or I decide to just lie down and watch Netflix, I hear his voice in my head!
"Find yourselves a man who motivates you to not be lazy, to go after your goals. Seriously guys, I didn't expect him to be so helpful even if we're far apart."
Andi then posts a photo of herself from November 2019 to show how far her fitness journey has taken her.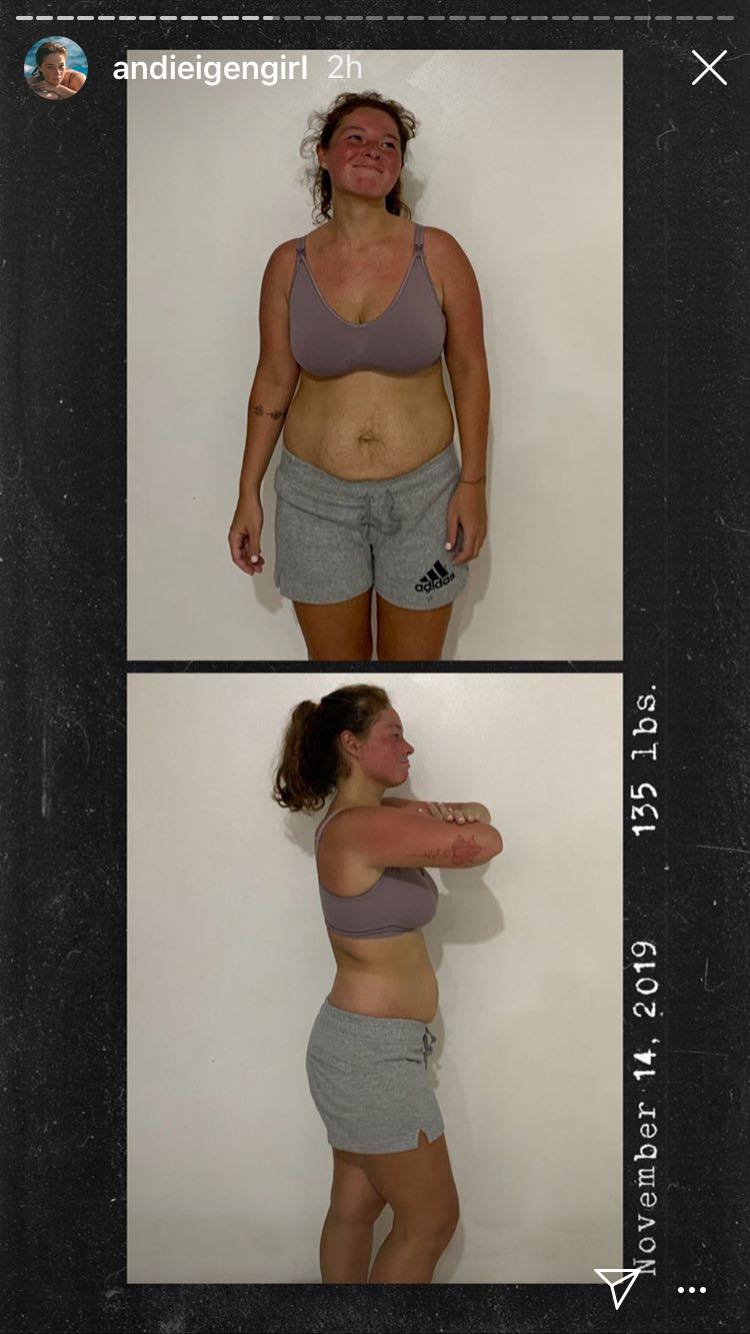 Still a work-in-progress
While Andi seems to be making headway in bringing back her pre-pregnancy weight, the actress-turned-vlogger admits that there's still much work to be done.
For one, Andi still needs to address the bulge around her abdominal area.
As she explains in her Instagram Stories, the celebrity mom has diastasis recti or abdominal separation.
According to Pregnancy Birth and Baby, abdominal separation occurs "when the growing uterus causes the 2 long, parallel muscles of your stomach to separate from each other."
The syndrome is common among mothers who have had more than one child.
But Andi says it is possible to "improve the area." Her choice of workout is Pilates at One Life studio.
She exclaims, "It's so good. I highly recommend it."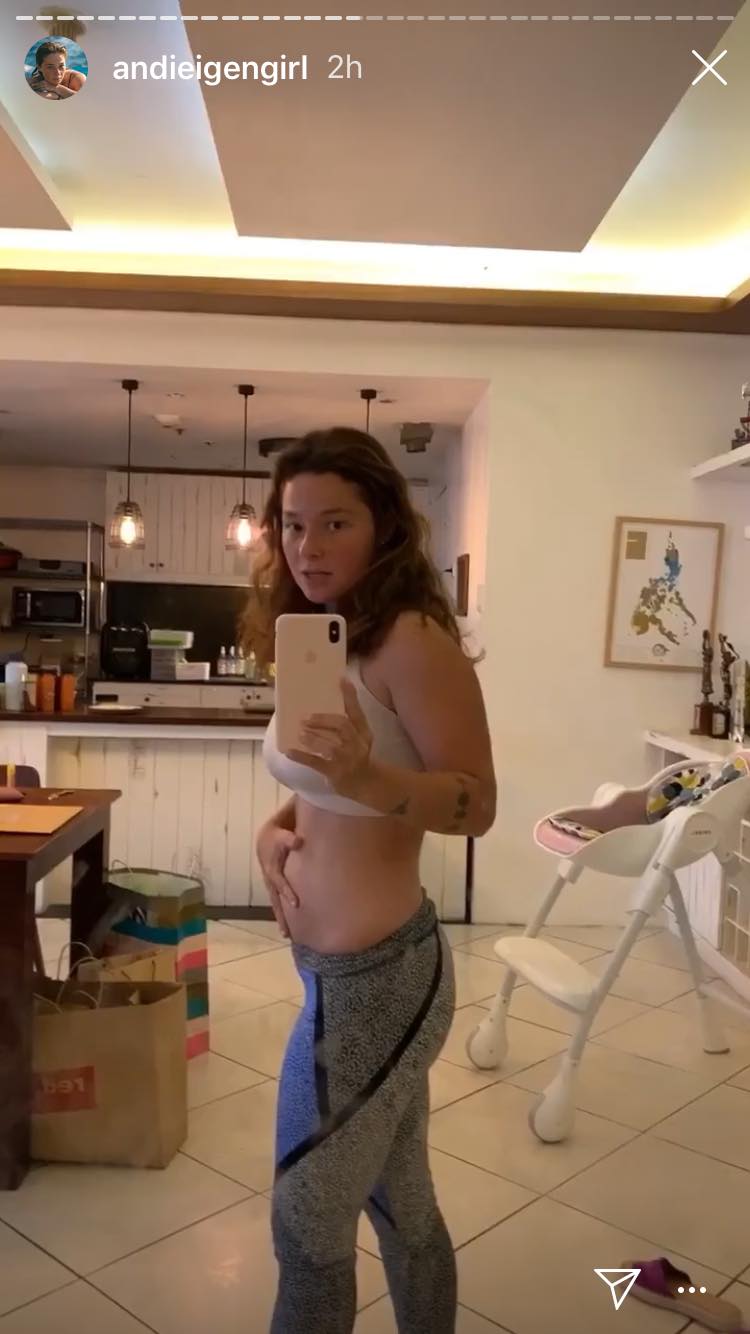 Andi is "really proud" of the progress she has made so far.
"I've been looking and feeling as fit already as I was before gaining any pregnancy weight, but I'm not there yet. I'm just showing you guys that it's possible," she shares.
Her personal way of staying fit is exercising and eating "as clean as you can."
Andi explains, "We eat healthy. It's a part of our lifestyle. It's not like a diet na, parang, 'Oh, I'm gonna do this for a week para I lose weight' or reach a certain goal.
"No, eating healthy is our lifestyle.
"We avoid processed foods, we avoid food with trans fat in them. We don't eat food with MSG or so we think. We don't eat anything with artificial sugars in them. That's what we do."
But Andi underlines that one's fitness routine should be unique to one's fitness level and goals.
"Doing just simply that is not going to help you guys achieve your fitness goal if you have the same or similar goals as I do.
"You have to exercise and come up with a workout routine that works best for you... Don't just copy what I'm doing.
"To reach the goal, you have to know what's best for you."
Andi has two daughters: Ellie and Lilo.
Ellie is Andi's daughter with former boyfriend Jake Ejercito.
Use these Adidas PH promo codes or vouchers when you shop or order online. Marami pang ibang coupons dito.