Three deaths have been announced by the Department of Health (DOH) as of today, March 14, bringing the death toll from COVID-19 in the Philippines to eight.
Among the deceased is a 54-year-old male Filipino from Lanao del Sur, code-named PH40, who was admitted at the Northern Mindanao Medical Center in Cagayan de Oro City.
In its official Facebook page, DOH confirmed two more deaths early this afternoon. One of them is a patient who was confined at Our Lady of Mt. Carmel Medical Center in San Fernando, Pampanga.
DOH said it will provide more information on the recent deaths as soon as it is available.
RECOVERIES
Meanwhile, three more COVID-19 patients in the Philippines have reportedly recovered. This information is according to the case tracker of the DOH.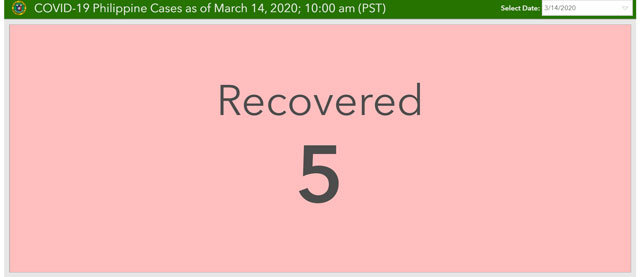 At press time, the health department has yet to release such details as whether these patients have been discharged or not.
So far, two COVID-19-afflicted patients in the Philippines have recovered and have been discharged from local hospitals. They were PH1 and PH3, who are both Chinese nationals, and have returned to China.
As of March 14, the Philippines has 64 laboratory-confirmed cases of COVID-19. Among these, 53 are still confined in hospitals around the country.
Three patients are in critical condition.

They are PH9, an 86-year-old male American, and PH29, an 82-year-old female Filipino. Both are confined at The Medical City in Marikina City. The other one is PH39, a 64-year-old male Filipino currently admitted at Ace Dumaguete Doctors in Negros Oriental.
UPDATE
The Department of Health has also announced 34 new laboratory-confirmed cases of COVID-19 in the Philippines.
The total number of cases detected in the country is now 98. DOH made the announcement around 5 p.m.