Jasmine Curtis-Smith didn't need a beach to heat up our Instagram feed with her bikini-clad photo.
The GMA-7 actress caught Instagram's attention early this week when she posted a photo of herself bathing in a fancy-looking hotel somewhere in Bali, Indonesia.
Her photo now has over 100,000 likes. Even her sister Anne Curtis left a comment: "Sheeeexy!"

The comments section was filled with positive reactions, with netizens telling Jasmine, "what a goddess body" or "super damn hot."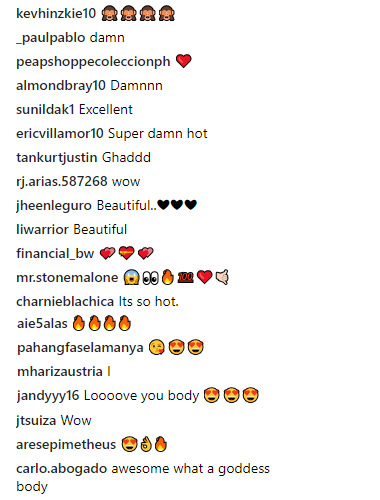 But just a few months ago, the comments were much more different and with a more off-putting tone.
People felt uneasy upon seeing another bikini-clad photo of Jasmine she posted in October 2017.
They believed the actress was becoming "anorexic," which unbeknownst to them had put Jasmine in an uncomfortable spot.
She confronted these netizens, saying that they were being "judgmental" about her health and physique.
READ: Jasmine Curtis-Smith responds to netizen who called her "anorexic"
LOVE YOUR OWN BODY
In a video interview with Cosmo.ph early this year, Jasmine opened up about her journey toward body positivity and self-love.
Ever since she was young, people have always commented about her body.
In her neighborhood, people used to call her "butete" or "tadpole" because she was "fairly small and skinny but [she] had a tummy."
This seemingly harmless nickname made Jasmine feel extra conscious about her body and it was further magnified when she entered showbiz.
Touching on the body issue she encountered last 2017, Jasmine revealed she had "a change of lifestyle" which led to some physical changes.
The Kapuso star said, "I lost a lot of weight and a lot of people on social media understood [the change] in a different way.
"People thought I was anorexic and needed help and needed to seek doctor's advice… but I already had gone and done that.
"I had already consulted so many of my co-workers about how I look, and everyone would come back to me and say, 'Well, it's about how you feel.'
"It just never stuck to me. Parang ayokong to just accept na it's about how you felt…"
This drove Jasmine to increase her weight, but she eventually felt that her decision to eat more and gain the pounds wasn't exactly healthy.
It was only this 2018 when Jasmine changed her perspective and stopped listening to what people say.
"It's more of shading that noise away para you can concentrate on yourself and loving yourself na totoo, hindi yung because everyone else said so…"
Jasmine said that she's currently "in a state of reconnecting and healing" with herself.
"I think I did a lot of damage to my state of mind and also my body in turn as a result of how I was thinking.
"I'm trying to repair that, and work on myself, and really understand my body…
"Rather than seeing what's there and what's working on everyone else and trying to impose that on myself, [I want to understand] what's best for myself."