Andi Eigenmann is happy to report that her dream home in Siargao is nearing completion.
She captioned her Instagram Stories yesterday, February 22, "So much progress so quickly.
"Checking on our dream house daily with my pet alaga @chepoxz [Philmar's Instagram handle]"
Her "pet alaga" is, of course, her partner, Philmar Alipayo.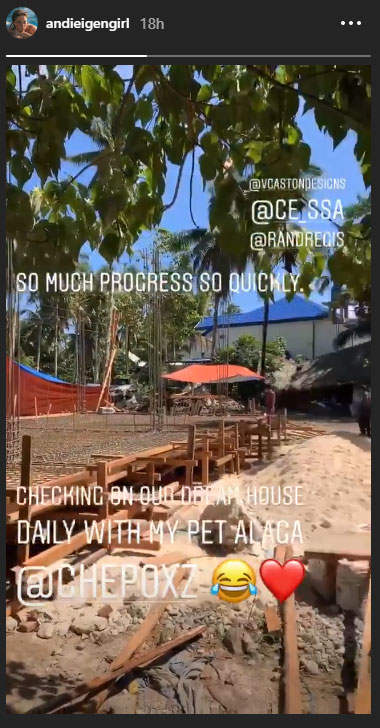 After leaving the city life behind in 2017, Andi began to build a new life for herself and her daughter, Ellie, in Baler, Aurora.
The 28-year-old actress sold most of her luxury items, including her van to make the move.
A year later, she fell in love with surfer champion Philmar, a resident of Siargao.
Andi then changed her plans especially after she and Philmar learned they were having a baby.
Through one of her Instagram Stories, the celebrity mom wrote, "The journey has been so exciting, yet scary at the same time, but we have been so happy and at peace nonetheless.
"Still wouldn't have my life any other way.
"We are now on our way to moving to our new island home where my growing family will make more joyful memories together."