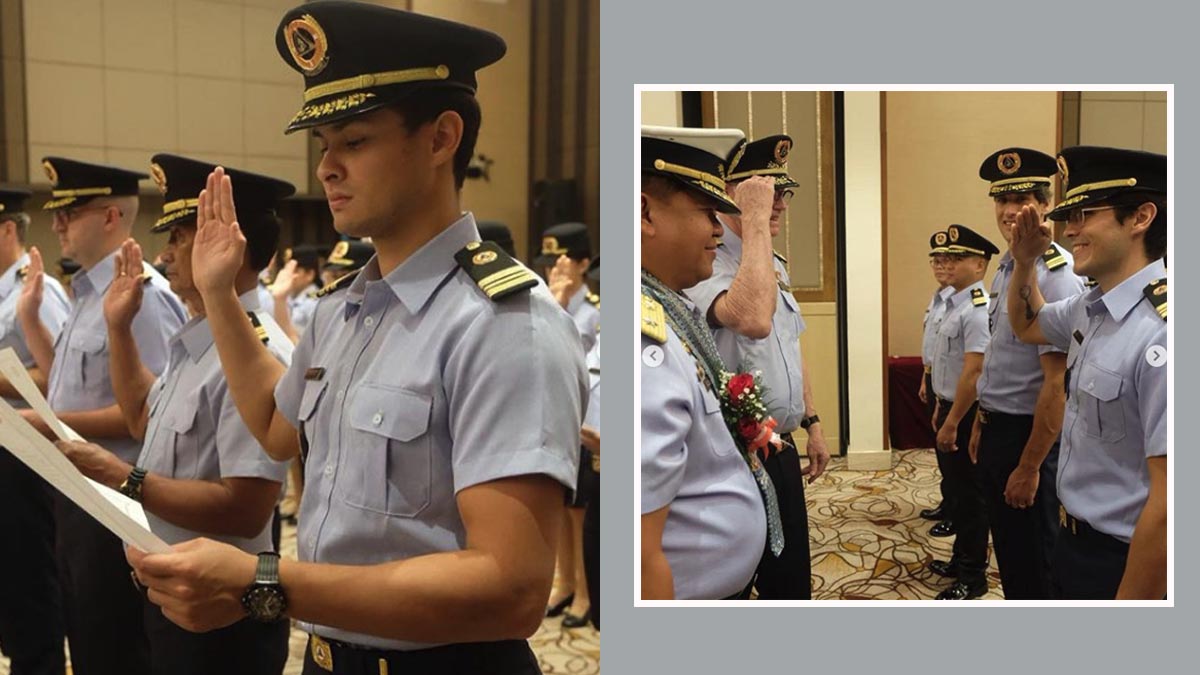 IMAGE @jacquesjewelmer on Instagram
---
Actor Matteo Guidicelli, social media star-entrepreneur Nico Bolzico, and restaurateur Erwan Heussaff are the newly inducted officers of the Philippine Coast Guard Auxiliary (PCGA). 
They are part of the 408 Squadron, together with Jewelmer co-founder and French pearl farmer, Jacques Branellec (center) as their captain.
Jacques was among the first to welcome Matteo, Nico, Erwan, and fellow new inductee, Julian Agosta, to the squadron after their induction ceremony over the weekend.
In his caption, Jacques summed up what the PCGA is about.
He wrote, "Congratulations to all the newly inducted officers of the Philippines Coast Guard Auxiliary 408 squadron.
"It was an honor to welcome my brothers to help with the mission of the PCGA to aid in marine environmental protection, marine search and rescue, and youth environmental education.
"Welcome aboard:
"1. Lt. Commander Bolzico
"2. Lt. Commander Heussaff
"3. Lt. Commander Guidicelli
"4. Lt. Commander Agosta
"Also pictured are some of the newly inducted men and women of the pearl farm operations in Palawan also aiding our Philippines Coast Guard in protecting our marine environments in their respective marine protected areas.
ADVERTISEMENT - CONTINUE READING BELOW
"Special thank you to PCG Commodore Allen T Toribio Commander of the Coast Guard district Palawan, and Commodore Abadillia of the PCGA Palawan."
Through Instagram direct messaging, PEP.ph (Philippine Entertainment Portal) spoke to Jacques, who revealed that being part of the PCGA "is by invitation only."
He said, "As part of the PCGA, we are expected to uphold values on which the organization was built upon as well as contribute voluntarily our time, talent, and/or resources to the various activities of the Philippine coast guard auxiliary..."
According to PCGA's official website, members are expected to provide "support and assistance to PCG in the promotion of safety of life and property at sea, the preservation of the marine environment and its resources, the conduct of maritime search and rescue, the maintenance of aids to navigation, recreational safety and such other activities that enhance maritime community relations which include civic action, participation under the National Service Training Program, youth development, and other related activities."
ADVERTISEMENT - CONTINUE READING BELOW
LT. COMMANDER BOLZICO
Known for his witty captions on Instagram, Nico expressed his gratitude for being part of PCGA.
The husband of Solenn Heussaff wrote, "Honored to be part of the Philippines Coast Guard Auxilary (PCGA) 408 Squadron after a recommendation from our Captain @jacquesjewelmer.
"The PCGA is a voluntary non-government and non-political organization whose members adhere to the Philippines Coast Guard."
These are our responsibilities as members of the PCGA:
"1- Maritime Safety.
"2- Maritime Search and Rescue.
"3- Marine Environment Protection.
"4- Youth Environmental Education."
Nico added some witty disclaimers about his induction into the PCGA.
For one, the Argentinian businessman clarified that the #BulliedHusbandClub is not affliated with the organization.
The #BulliedHusbandClub refers to the husbands from his circle of friends, namely Georgina Wilson's husband Arthur Burnand; Isabelle Daza's husband Adrien Semblat; and fellow PCGA inductee, Anne Curtis' husband Erwan Heussaff.
Also among its honorary members is Dingdong Dantes, Marian Rivera's husband.
ADVERTISEMENT - CONTINUE READING BELOW
Nico continued on his caption, "Other remainders based on questions I asked during the ceremony:
"1- Rambo is not part of the PCGA.
"2- You can not get a bazooka and shoot any illegal foreign fishing boat on the coast of The Philippines.
"3- You can not tell people you are equivalent to Aquaman in the Philippines.
"4- Apparently the First Rule of the PCGA is NOT "you do not talk about the PCGA".
"5- The PCGA is not an affiliate club of the #BulliedHusbandClub.
"6- There is not a PCGA signal that is reflected in the sky when we need to gather together.
"7- I can not be called Coast Guard Sheriff.
"8- The PCGA members are not obligated to come to my Birthday party."
Nico concluded his Instagram caption on a serious note, encouraging us to protect our natural resources.
He said, "The PCGA is a way of giving back to this beautiful country that gave me and keeps giving me so much!
ADVERTISEMENT - CONTINUE READING BELOW
"You can all do your part in protecting the Philippines greatest resource which is our Youth and our environment!
"The challenge is not to be part of the PCGA, the challenge is what you do after!"