After touring New York with her entire family, Megastar Sharon Cuneta stayed behind to squeeze in more bonding moments with her daughter Frankie Pangilinan.
Frankie is now living in a dormitory and studying in New York, away from everyone she loves in Manila.
Sharon still can't bear the thought that Frankie has flown the coop, and she got all candid about it in her post on Instagram on August 29.
She wrote, "I have been getting 2-1/2 to 3 hours of sleep at night since we got here two weeks ago, and now, clearly this is no longer jetlag (though that lasted a week for me!).
"It's all the stress and pain of knowing that in a few more days, I will have to gather all my strength to be able to finally leave her here, in this big, beautiful city - all alone without her whole family, and her friends whom she has known and loved and been loved by since 7th grade.
"She has known nothing but love since the day she was born... and I worry too much about her.
"I am so crazy about all my children - but since Kakie's second oldest and was born a 'manang,' meaning she has always been more mature for her age, she has been for the past few years, my best friend.
"I miss her already. I cry every night, but I shouldn't be selfish and just let her spread her wings and fly.
"I hope I can visit her often. Please pray for both Kakie and me. Thanks so much and God bless you all."
At the time, Frankie stayed with her mom in a hotel.
The mother and daughter made the most of their moments together in the U.S. city, eating out and walking to Frankie's school together, as shown in the photos Sharon posted on Instagram.
FRANKIE'S "GUARDIAN ANGELS"
With Frankie set to live on her own, Sharon feels assured she will be watched over by their friends and family who are based in the States.
She calls them "Frankie's guardian angels," and two of them are her long-time friends Cecile and Anina.
Cecile is one of Sharon's "best friends since childhood," and Anina is a "friend for life."
Former actress Beth Tamayo, who is based in San Francisco, will also be one of Frankie's guardian angels.
Beth flew to New York with friends Eggy, James, and Ares.
Sharon captioned in one of her Instagram posts: "These are some of my most loved, most trusted friends. Now Kakie's guardian angels too!"
Sharon is now back in Manila, arriving just in time for the birthday of Miel, her second daughter with Senator Kiko.
In one of Frankie's recent Instagram Stories, the young singer posted souvenir photos of their moments together before Sharon left for Manila.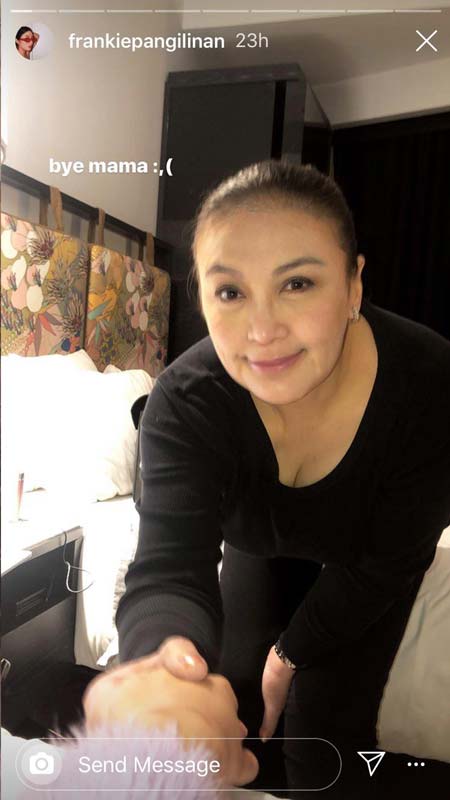 Frankie's caption for one story read, "mom's gone and i'm going to wake up a swollen mess of an actual adult i can't stop crying."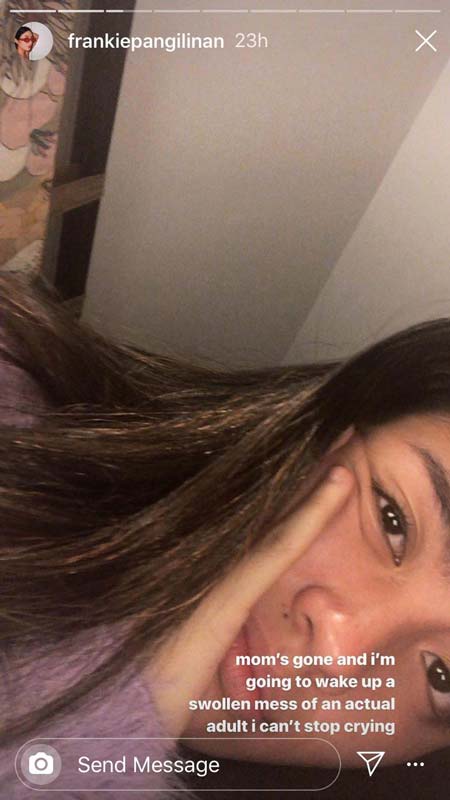 Frankie graduated from high school in June.