A few days ago, I received a message from my editor to write an article about the life of a social media influencer from my point of view.
This came as a surprise since I don't really consider myself worthy to even come close to being one, but heck, I'm very much delighted to take on the challenge.
Having a humble following of 1,742 on Instagram, I'm nowhere near the numbers that normally validate a social media influencer's worth.
Every now and then, I get asked about what's hot and what's not, but that's probably because of my line of work and because I move in the same circles.
So, self-serving as it may be, I am writing a feature about a topic close to my heart, and something most millennials would probably want to know more about.
WHAT IS AN INFLUENCER?
A decade ago, the term "influencer" did not even exist. But now, it has turned into a real (and lucrative) job.
Social media influencers are usually ordinary people who have gained a massive following because of their expertise, whether about beauty, fashion, travel, food, or any other subject.
It usually starts out as a hobby, and for a fortunate few, it has turned into a full-time career.
Some examples are David Guison, Camille Co, Kryz Uy, LA Aguinaldo, Deegee Razon, Mimiyuuuh, Kimpoy Feliciano, and Janeena Chan, among many others.
Social media has become an important marketing tool, so much so that some quarters believe it has become even more pervasive and effective than traditional media.
Brands are now tapping influencers to engage with their customers and target a specific audience. Sponsored content on social media comes with a price, and the range of fees depends on the number of one's followers.
A digital marketing executive previously told PEP.ph (Philippine Entertainment Portal), "For Twitter accounts with 100,000 to 500,000 followers, it's PHP25,000 to PHP50,000 per tweet. For Facebook pages with 500,000 to one million followers (minimum), it's PHP30,000 to PHP50,000 per post."
Meanwhile, a YouTube channel with over 100,000 subscribers and more than two videos per day can earn as much as PHP100,000 per month, depending on its number of views.
I'd probably work full-time as a vlogger/social media influencer if I earn this much, but my stats are nowhere near these numbers. Nonetheless, with my current following, I could probably be aptly called a "micro-influencer."
HOW DID I GET HERE?
After finishing my degree in Communication Arts at the University of Sto. Tomas, I imagined myself working in an advertising or marketing agency.
But it seemed like the universe had a different plan for me.
In 2011, I started working at GMA-7's News and Public Affairs department as a production assistant and segment producer. A year after, I decided to move to digital publishing.
I was lucky enough to work with PEP.ph, first, as an editorial assistant.
Eventually, I worked my way up to become a multimedia producer and now, a lifestyle writer.
I consider myself a content writer who pens features about celebrities and their lives outside showbiz.
Never in my life did I imagine I would get to meet celebrities, and get a taste of their privileged lifestyle.
I mean, who would think this dork would actually rub elbows with celebrities?!?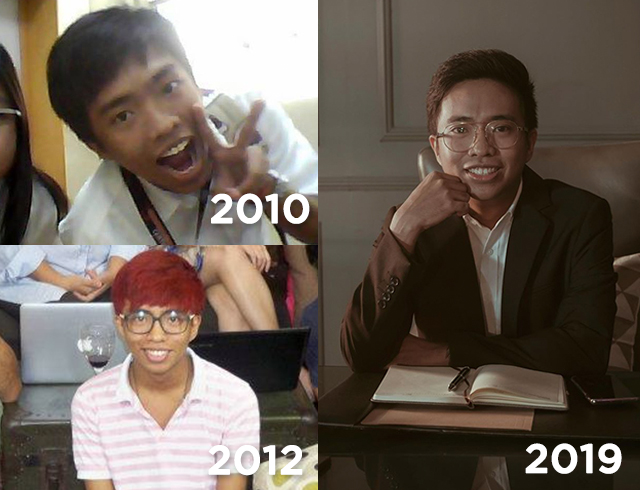 (Say hi to my glow up photos. And no, I'm never dyeing my hair red again.)
LIFE OF AN INFLUENCER
So what's a typical day like in an influencer's life?
One good thing about being an influencer is having a flexible work schedule.
To quote novelist Paulo Coelho, "No one day is like another..."
You can be attending several events today, editing a video the next day, and doing nothing after that. You can fit your gym time in between schedules—before attending an event or editing a photo/video.
While it's not your traditional nine-to-five job, being an influencer is more than just posting a photo or a video. Every content produced requires a lot of effort and creativity.
I witnessed how social-media influencers Mimiyuuuh and Kimpoy Feliciano create content for their followers during an event in Tagaytay City, on October 30, 2019.
Mimiyuuuh is currently one of the most-followed Filipino YouTubers with two million subscribers. Kimpoy, on the other hand, is a long-time social media influencer and has been vlogging for more than five years.
I welcomed their challenge of doing a vlog for PEP.ph and asked them for some tips.
One important factor these two keep in mind every time they produce content is to let their unique personalities shine through, and be true to themselves.
Mimiyuuuh explained, "Kasi sobrang hirap pekein yung mga bagay na parang gusto mong gawin para sa clout lang. Mahihirapan ka lang mag-produce ng content."
The comic vlogger added that your content should be "true to your branding na gusto mong gawin." He ended, "Always be you. Yun ang masasabi ko."
Mimiyuuuh, Kimpoy Feliciano share tips on how to become a successful vlogger
I don't really like watching myself on video, and I also cringe upon hearing the sound of my own voice, so editing this video posed a real challenge for me.
As a writer for PEP.ph, I get invited to exclusive events, fashion shows, product launches, concerts, and parties. Influencers also get to experience the same once they're included on the lists of PR agencies. At these events, you get to meet a lot of new people, and expand your network.
One of my most memorable events this year was when I went to Indonesia for the Lazada Super Party. I was able to watch the performances of Dua Lipa and some of the best acts in the region.
On December 2, I attended Francis Libiran's 20th-anniversary charity fashion gala titled Dare To Dream: Francis Libiran Celebrating 20 Years of Fashion and Purpose at the grand ballroom of City of Dreams in Parañaque City.
I'm a big fan of his work and it was a surreal experience to watch his 2020 collection parade down the runway with performances by some of the biggest artists in the country, including KZ Tandingan, Erik Santos, Inigo Pascual, and Rachelle Ann Go.
Most people also think being an influencer is awesome because they usually get a lot of free stuff.
Brands often send products to influencers to promote them, while others let you try their service for you to review.
I remember doing a feature about Belo Medical Group's new treatment called the Salt Facial, which Leila Alcasid and other celebrities tried at the Belo Beauty Suite before walking the red carpet of the ABS-CBN Ball 2019, last September 14.
They usually have a list of treatments available at the Belo Beauty Suite and since it's their newest one, I decided to try it.
Needless to say, I was shookt! I didn't know what to expect from the treatment until their aesthetician started scrubbing my face with microfine medical-grade sea salt to get rid of dead skin. After a few minutes, voila, my face was soft as a baby's bottom!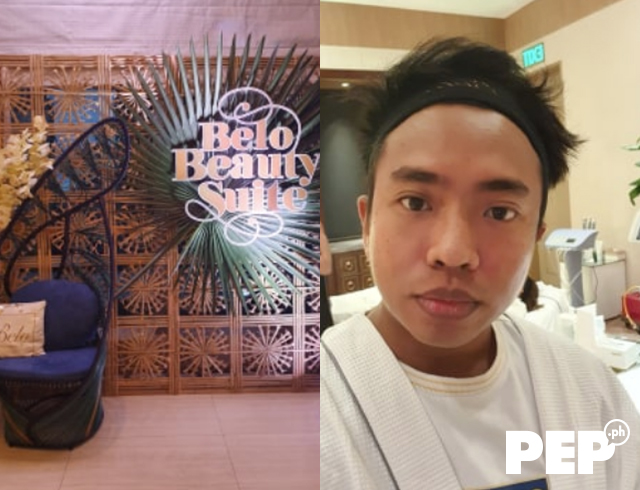 But keep in mind that you shouldn't become a blogger or influencer just because you want free stuff. It's not easy to build a huge following, and it's twice as hard to gain the respect of everyone in the community.
It is a do-it-all job. You do everything on your own: take photos, edit videos, write blogs and captions, among many other tasks. Unlike publications, influencers don't have editors or fact-checkers to correct errors in their posts (unless they hire them).
And you have to be thick-skinned to withstand any form of online shaming.
But the most important thing I've learned is you really shouldn't call yourself an "influencer." It's a title others bestow on you.
If you enjoyed reading this and want to be updated on my showbiz experiences, do follow me on my Instagram account @mrnikkotuazon (Subtle self-promotion).