All of sudden, a lot of girls would want to marry Tony Labrusca.
Since the release of his now-famous kissing scene with Angel Aquino, his social media posts have been generating six-digit likes, not to mention comments from die-hard fans who are either dropping pick-up lines or directly asking him to marry them.
At 23, the son of Boom Labrusca and Angel Jones is indeed out to prove that he can do more than what boys his age can do.
Here are some of the reasons his fans are crazy about him.
Tony would bother calling out reckless school bus drivers.
He tweeted last November 18, "If the St. Paul Pasig school bus drivers would be more careful drivers and stop trying to run over me whenever I to cross the street by Ayala 30th, that would be amazing. Thanks."
Tony is okay...with or without a love team.
He recently revealed that his aborted love team with Kisses Delavin was not "management approved."
In a recent presscon, he said, "Gawa siya ng fans, so, fan-based."
KissTon had a good thing going for almost a year until Kisses was paired with Donny Pangilinan.
For his part, Tony does not have his own love-team partner yet, but he was given the project Glorious, where he was paired with the 45-year-old Angel Aquino.
In the end, what happened seems to have worked to his advantage: Going 'solo' makes him all the more desirable!
He remarked, "I believe what's yours will always be meant, will always be for you. So, whatever is yours will always be yours."
Aside from Glorious, Tony also took provocative roles in the independent films ML and Double Twisting Double Back, which were both shown this year.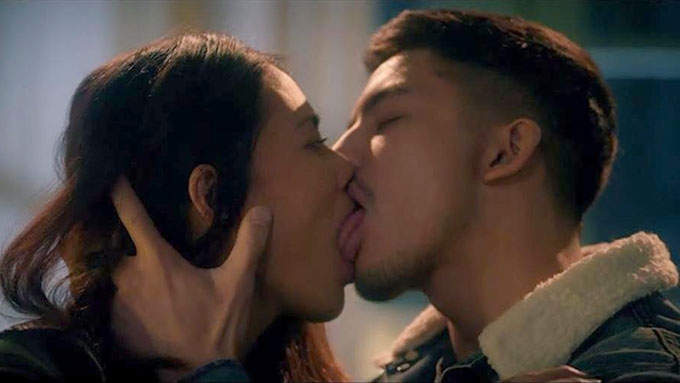 Tony has a bod to die for!
On Instagram, this photo where he flexed his arms earned almost 140,000 likes and 2,520 comments.
His fans couldn't agree more with his caption: "g l o r i o u s"
Tony's pormang pogi is fuss free—just jeans and shirt.
This post, where he wore a white muscle shirt, a pair of shorts, and rubber shoes, had almost 80,000 likes.
In the recent press conference of his movie ML, Tony wore a coat, a jersey shirt, a pair of jeans, and looked good in them.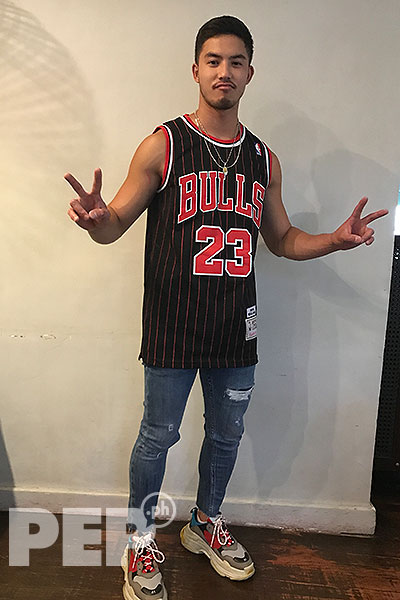 When asked about his style, he answered, "I don't really like to have a style, I take inspiration from everywhere.
"And so, I like having street style but, at the same time, I like dressing up looking fancy sometimes.
"So today, I'm literally just wearing a jersey and my favorite Lee jeans.
"But you know, I like comfort style but, at the same time, I also really like dressing up once in a while, it depends on my mood."
Tony appreciates good sense of humor.
One time, he retweeted a funny encounter with a netizen.
The netizen wrote, "literally told a guy at the gym he looks hella like tony labrusca and that he can be an artista only for him to tell me he actually is tony labrusca lmao"
Tony doesn't hide his soft side.
In May 2018, he posted on Twitter how a story about his late grandma made him cry.
"I never cried over my grandmas death 3 years ago, and to this day idk why. But tonight I did a show in her hometown and everyone is telling me stories about her..man it made me tear up. I wish you were here to see this ma. You'd be so proud. I've always loved u, I always will."
Tony is the guy you'd want to introduce to your mom
The young star cheered for his mom Angel Jones when she joined the Century Tuna Bods in April 2018.
On Twitter, he exclaimed, "MY MOM JUST WON!!!!! SHE JUST MADE HISTORY AS THE FIRST AGELESS CENTURY TUNA SUPERBOD WINNER !!!!!!"
And did you know he treated her to dinner when he got his first paycheck? Such a sweet boy!
READ IN PHOTOS: Get to know more about sexy man of the hour Tony Labrusca

READ Tony Labrusca on Glorious love scenes: "All around the world, malibog talaga mga tao."
READ Angel Aquino-Tony Labrusca tongue scene sparks hilarious reactions from netizens