The latest Instagram post of Ina Raymundo about her eldest daughter, Erika, has caught the attention of netizens and celebrities alike.
Many gushed that Erika, 16, looked like the young version of Kathryn Bernardo.
One netizen commented, "I thought si @bernadokath [red heart emoji] ganda both po :) God bless"
The celebrity mom of five replied, "When I first worked with @bernardokath (she was 14), I kept telling her that my eldest looked a lot like her.
"I can still see it now at a certain angle.
"That's why Kathryn has a soft spot in my [heart emoji]."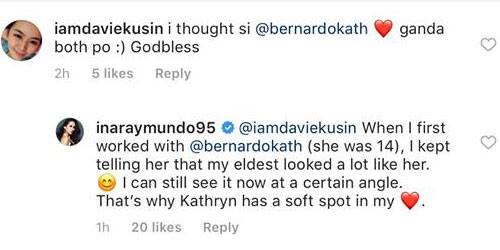 More than a week ago, Ina finally introduced Erika to her Instagram followers.
In her previous posts about her family, Ina had not talked much about Erika.
The 16-year-old wanted "anonymity... She doesn't want to be on my IG," Ina said.
But on November 15, the mom of five posted a photo of her two teenage kids.
The actress wrote, "Meet my beautiful eldest daughter, Erika with her brother Jakob."
READ: Ina Raymundo finally introduces eldest daughter Erika
Two days after, November 17, Ina dubbed her daughter "the next Sabado Nights girl."