Rica Peralejo and husband Pastor Joseph Bonifacio welcomed their second son, Manu.
The former actress gave birth at home on June 9, 2019, with her chosen birthing team.
"And so after 25 hours, this boy is finally out. I cannot wait to tell you all our birth story," Rica writes in her Instagram post introducing her newborn son.
"Let me just say that it was a miracle to actually do homebirth, vbac (vaginal birth after caesarian), and to remain completely unmedicated all throughout the labor.
"So many times I wanted to quit... but somehow strength came to my bones and body.
"Oh I really cannot wait to share it all with you...
"To all who have been praying with us since We began this journey, I thank you.
"From a fearful time to a victorious birth, can you imagine???
"In those 25 hours his heart rate stayed completely perfect. Never went down.
"God protected my child through and through.
"He created AND sustained him.
"And I believe this is His promise to this child for all the rest of his life."
In her second Instagram post, Rica mused about her long wait before her prayer of having another baby was granted.
"How can I not shed tears if it had to take five years, 38 weeks of praying God will sustain him, 25 hours of labor before I can finally have this boy?
"His papa, kuya, and I, have longed for him deeply," she added.
Rica Peralejo then gave a glimpse of her home birth through a series of Instagram Stories.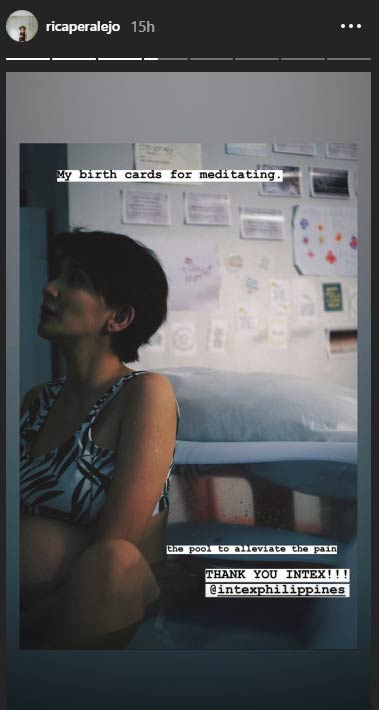 The celebrity mom also thanked the people who have supported her throughout the birthing process.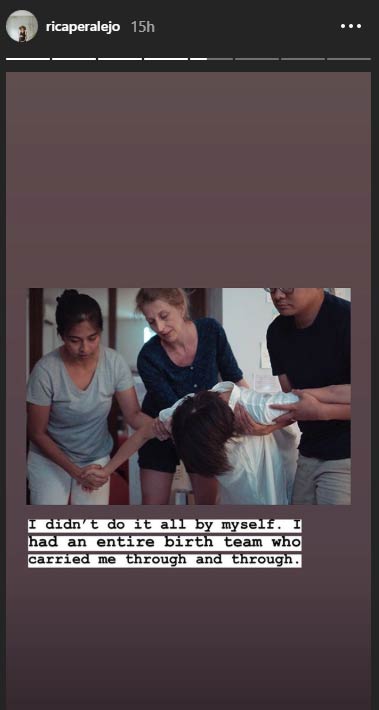 She didn't forget giving her firstborn Philip, who appears to have easily transitioned into his new role as Kuya to Manu, a shout-out.
The second-time mom wrote, "And I had a firstborn who wanted to help me and give me energy.
"Who is also a kuya, who cannot stop saying he is so happy about Manu."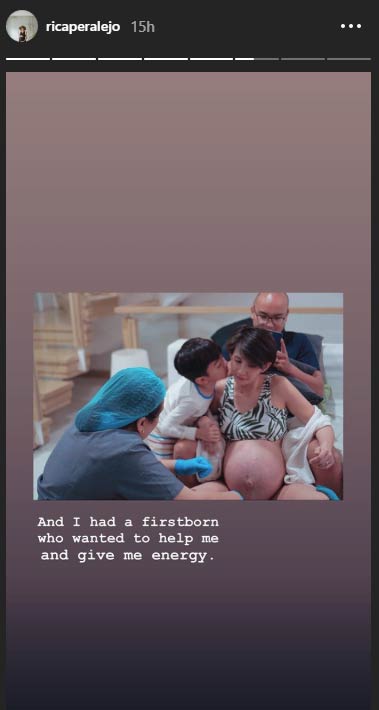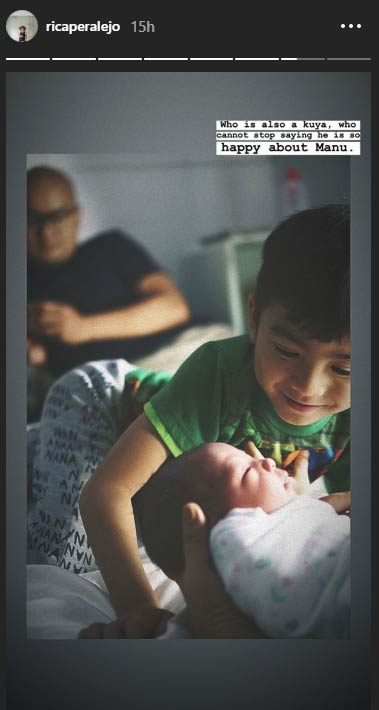 A few days before giving birth to her second son, Rica revealed on Facebook her choice of delivering via home birth, which "is the most natural way...according to God's design for the woman's body and the baby's agency."
Rica announced that she was pregnant in January 2019.
She suffered two miscarriages in the past, thus making this successful pregnancy and "victorious birth" all the more emotional and meaningful for her.
Her first son Philip was born in January 2014.