The spotlight were on the dads, the tatays, and the papas on June 16 as everyone celebrated Father's Day.
While all dads were given a shout-out on Instagram by their families, some celebrity dads turned the spotlight on their children to honor them on this special day.
After all, they would not have been fathers without them, wouldn't they?
Richard Gomez
A husband to Lucy Torres and a father to Juliana, Richard marked Father's Day with a throwback photo of his first day as a dad.
The Ormoc City mayor captioned, "This is our day because of this special one.
"I love you @gomezjuliana and @lucytgomez"
The photo was taken in September 2000, when Juliana was born.
Martin Nievera
The Concert King thanked his kids, especially his eldest Robin, for kicking off his "fatherhood journey."
Martin wrote, "This kid started my fatherhood journey! Thank you @robinnievera@ram and#santino for making me the proudest father! #happyfathersday"
Martin has two sons with Pops Fernandez, Robin and Ram.
Santino is the concert performer's son with former girlfriend Katrina Ojeda.
Ogie Alcasid
Ogie calls his kids Leila, Sarah, and Nate as "My pride and joy!!!"
Leila and Sarah are his daughters with former wife Michelle Van Eimeren, while Nate is his son with wife Regine Velasquez.
In a separate Instagram post, Ogie further expressed his love for his kids through a prayer.
He captioned, "Ang mga anak ko ang aking mga inspirasyon. Salamat Panginoon at kayo ang aking gabay.
"Marami akong pagkakamali bilang ama, ngunit kayo ang pumupuno. Purihin ka Diyos Ama at happy Father's day po sa ama ng lahat. #praisetheLord"
Hayden Kho Jr.
Hayden, who became a dad four years ago, thanked his daughter Scarlet Snow for making him one.
"The only reason I'm getting Father's Day greetings is because of this girl, so thank you @scarletsnowbelo," he captioned.
It was Hayden who first broke the news that he and now wife Vicki Belo have a child.
Scarlet Snow was already a year old when she was introduced to the public.
At the time, the celebrity dad expressed how grateful he was for this life-changing event.
He wrote, "I guess God knew fatherhood would change me completely and bring me closer to being the kind of man He always wanted me to be, so He sent me and Vicki an angel who is to be our lifelong inspiration..."
John Prats
John calls his family his "inspiration" and his "reset button."
"Kahit gaano ako kapagod, nawawala pag kayo ang kasama ko," the actor-director wrote.
He and his wife Isabel Oli have two kids named Feather and Freedom.
Feather was born in April 2016, while Freedom was born in November 2018.
When his daughter was born, John tried to describe the happiness he felt back then.
He told Philippine Entertainment Portal (PEP.ph) in May 2016, "Sobrang magical yung feeling. Hindi mo alam, umiiyak ka na pala."
Doug Kramer
Doug described fatherhood as a "full time job."
"There's no secret" when it comes to building an intimate relationship with them.
"Don't give them crumbs, give them your full attention and listen to them.
"You want to instill discipline and respect? Spend time with them.
"You want to make all your children feel special, spend time with them one on one.
"Date them. Make each of them feel how it is to treat them special and give priority as if they were the only child."
Doug also said that fatherhood is "Life changing."
He added, "Being a father has been the greatest blessing and the biggest responsibility I have embraced."
But the basketball star also pointed out, "We're all imperfect fathers. Sometimes we will fail [to] live up to the expectations of our children.
"That's why, even with how I am to my kids, I always tell them to look to God, and to forge their relationship with Him.
"That's the bottom line. Everything else follows.
"Fatherhood is a gift and responsibility that has to be fulfilled everyday.
"So Happy Father's day to all dads out there, and Moms also who are fulfilling dual roles."
Doug and wife Cheska Garcia have three kids: Kendra, Scarlett, and Gavin.
The couple are trying to have another baby via in vitro fertilization or IVF.
Doug first informed his followers about this decision in February, when he and Cheska consulted a doctor about the procedure and its necessary prerequisites.
The IVF journey of Doug and Cheska is still in progress.
On Doug's Father's Day post, Cheska replied with hope they will welcome more babies into their home.
She wrote, "I want pa babies like them. [heart eyes emoji]"
Doug replied, "exactly! Give me triplets pls"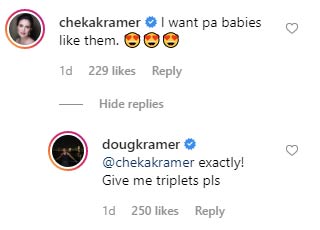 Kean Cipriano
The Callalily frontman mused on how much fatherhood has changed him.
He began in his Father's Day post, "Before, MUSIC was the most important part of my life.
"Now, Everything has changed. My daughter, my wife.. My FAMILY, they are everything!!"
Kean is "so happy" at the changes to his "whole being" that fatherhood brings him.
The musician-actor continued, "It changed my whole perspective. Thank God! Wow! I am getting so emotional just thinking about it.
"Good thing I was able to get out of that era when I was so blinded by a lot of things... people.. faith.
"Thanks to you guys @chynsortaleza @stellarcipriano! You saved me! keeping up with me every single day is no joke... i know.. but Thank you. love you both so much."
Kean then looked back on the words of his late father, Edgie, to him.
"Will always remember my dad's golden advice: 'Madali maging Ama. Mahirap Magpaka Ama.'
"Happy Father's Day to all Solid dads out there!"
Kean is married to Chynna Ortaleza.
They have a daughter named Stellar, who was born in April 2016.
Kean and Chynna are presently expecting their second child, a baby boy.
They announced their second pregnancy in April during Easter weekend.