It's another baby boy for Georgina Wilson.
"It's time to meet the world my baby boy [two hearts emoji]," the soon-to-be second-time mom wrote in her latest Instagram post's caption.
Georgina made the announcement all glammed up, clad in a white silk tiger print robe with her baby bump peeking out.
Georgina announced that she and husband Arthur Burnand are expecting their second child in March 2019.
"Another adobo loving baby coming right up!," her Instagram post read.
The caption was referring to a viral video of her eldest son, Archie, who was crying for adobo.
In the comments section of her pregnancy announcement, Georgina's circle of friends dropped hints on the new baby's gender.
Isabelle Daza, Georgina's cousin, and Magic Liwanag, a photographer, gave the most telling comments.
Isabelle wrote: "My baby boi"
While Magic said, "Adoboyyyyy"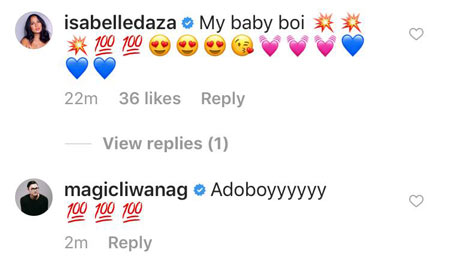 Georgina is already on the home stretch of her second pregnancy.
The model-entrepreneur is due to give birth anytime soon.