Film director Paul Soriano is convinced: "You'll never master parenting or marriage."
He inherited this mindset from his parents, Jeric and Marissa Soriano, who told him parenting is "always a work in progress."
Paul remarks, "To hear that from my mom and dad who have been together for so long, parents for so long, it just shows that you need to have that kind of heart. It's okay to make mistakes. It's okay to learn and not know it all."
Paul welcomes PEP.ph (Philippine Entertainment Portal) to the Makati headquarters of his film company TEN17P for a candid chat about his life as father to three-year-old Seve.
The director-producer says, "It's been amazing. It's been a complete 180, but for the positive.
"In every aspect of my life—from filmmaking, to owning a business, to owning my other businesses and stuff like that—it's just been very inspiring. It feels like a rebirth."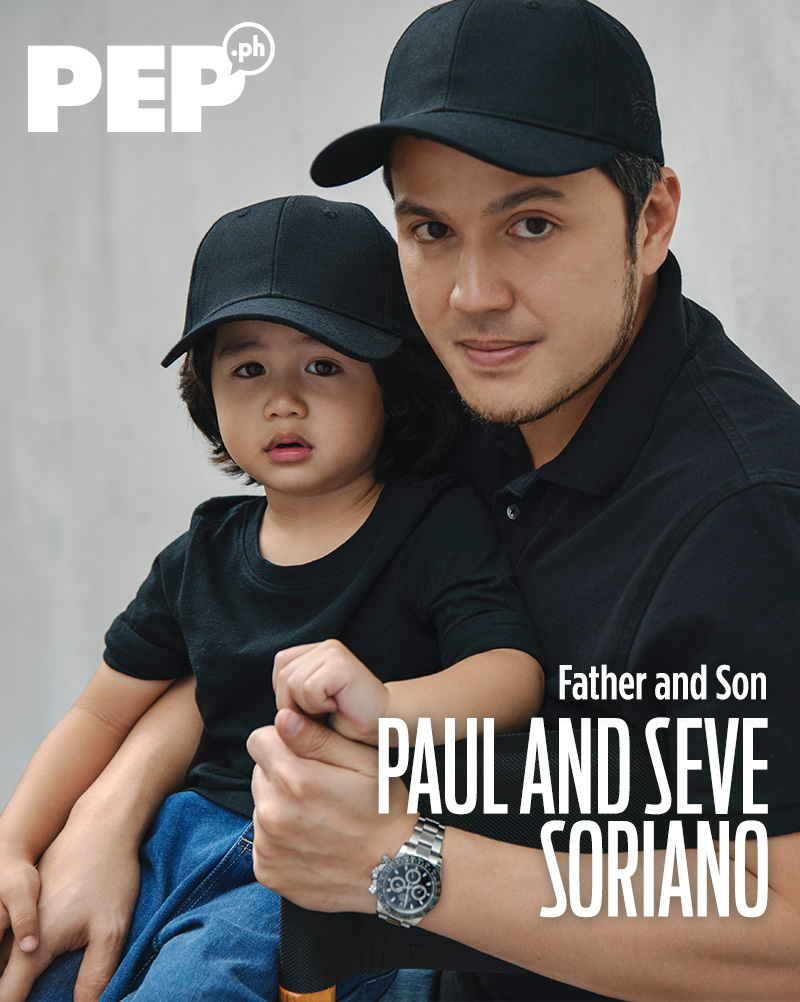 For Paul, it seems his child-like wonder has been reawakened.
"You get to see now the world all over again through his eyes.
"From not going to theme parks to going back to theme parks and enjoying again, to watching classic films again [and] seeing how he reacts, to playing with toys again, to enjoying going to toy stores.
"Going back to the same countries, but it's a new experience."
Paul and his wife Toni Gonzaga became parents six months into their marriage.
The couple got married on June 12, 2015, at the Taytay United Methodist Church in Rizal.
In February 2016, PEP.ph broke the news about Toni's pregnancy.
Toni confirmed the news in April 2016.
Five months later, Toni gave birth to Severiano Elliott or Seve on September 30, 2016.
PAUL AND SEVE: IN CAHOOTS AGAINST MOMMY
What is playtime like for Paul and Seve?
Paul quips, "It's doing things Mommy will not approve of. That's running fast, jumping, tumbling, you know, being a boy, the dangerous kind of stuff.
"But, of course, we're not naman reckless. Of course, I don't want anything happening to him."
Despite being Seve's playmate, Paul still acts as his active son's disciplinarian.
It is because, according to him, "I like to discipline. I like to make sure na he knows it's not easy also.
"He's still three years old, so it's still fun and games, of course. But he knows na, he knows.
"He's a smart kid. He knows how to test his limits."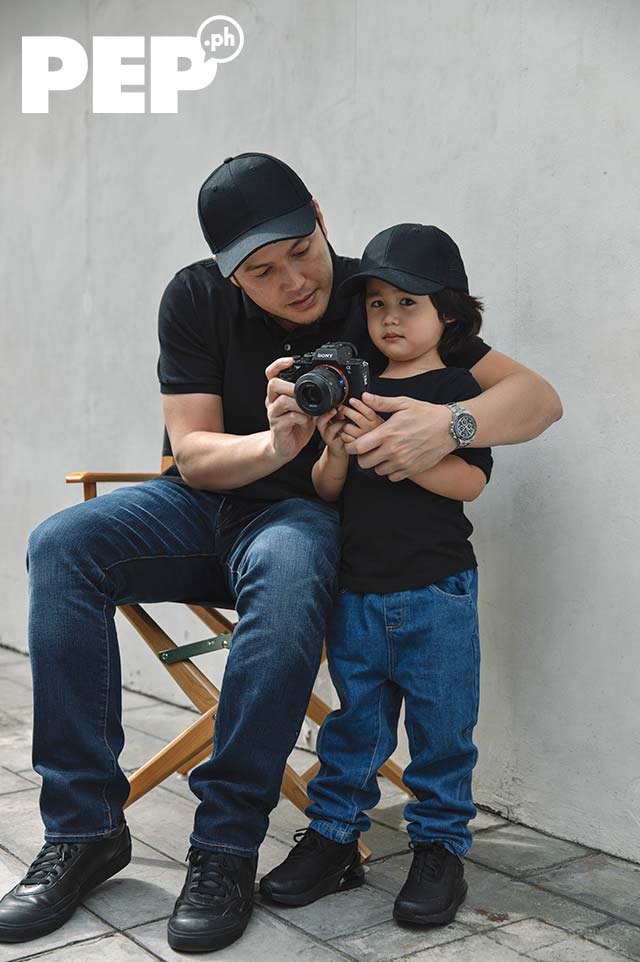 Among Paul's disciplinary tactics are "face the wall" and "time out." He also considers spanking a good approach.
"Definitely, I believe in it. We call it 'palo.' When it's extreme, I guess, but right now, he's still in the exploratory stage.
"He's three years old, so he's still given the benefit of the doubt. But, of course, eventually when he gets older, he's gonna start understanding.
"Right now, it's more of 'time out' or 'face the wall' or 'Sit down. Think of what you did.'
"He does naman, but he likes to un-time out himself. He says, 'Okay, finished na.'"
Paul also excuses Toni—or Tin, as family and close friends call her—from all that because she does not have the heart for it.
He explains, "She finds it still very hard to discipline Seve. Naaawa siya.
"But what's miraculous is that, sometimes, Tin doesn't have to because Seve naturally listens to her. Mama's boy, e. He's Mama's boy.
"So, kapag sinabi ni Mommy, ginagawa niya. Pero kapag kami, away kami. 'No!' 'No, Daddy.'
"Eventually, he will listen because I'm also fun… I try to balance it because I also want to have fun with the boy. Can't be all discipline."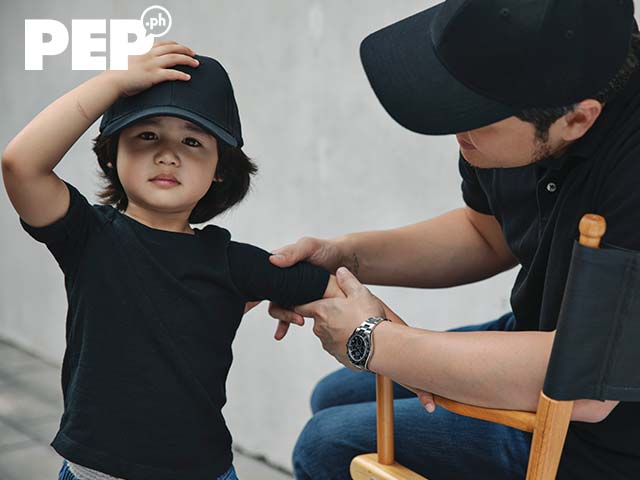 PLANNING FOR SECOND KID
He and Toni are considering having one more child.
Paul says, "One more. We want one more. I think we agreed."
The director of Mananita further says, "Seve was not planned, di ba? We got married and Tin got pregnant six months later.
"We were hoping to do a year of traveling, e. I guess we got too excited, noh?
"So, with the second, we are, so far so good, planning it… We want Seve to turn four.
"Maybe next year we can look into it. We want kind of like a four-year gap, so that when the next one is born, Seve can take on the Kuya role.
"He understands it. He's a little bit more mature. He's not two or one na hindi pa siya puwede.
"Maybe we can actually tell him, 'Take care of your brother or your sister, ah?' So far naman, that's been the plan. But things can change, right?"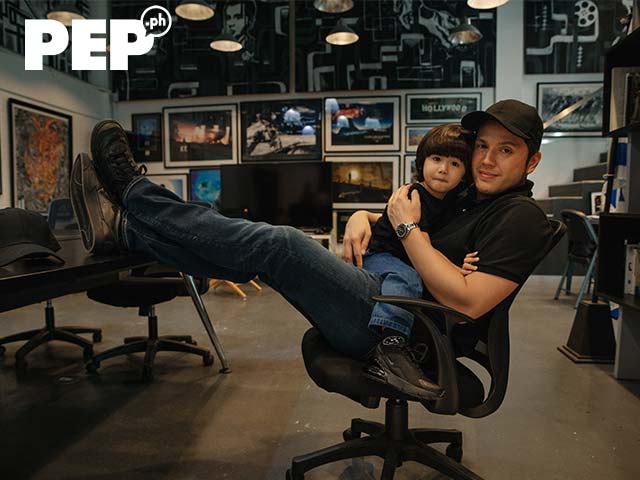 BONDING OVER FILMS AND STORY TIME
As a filmmaker, Paul makes sure to show Seve his favorite films.
"We've seen E.T. together. I think that's the only film really that I am allowed to watch with him, at least for now," he says.
E.T. refers to E.T. the Extra Terrestrial, the 1982 family film that revolves around a boy named Elliott and his unique friendship with the alien, E.T.
The film, which is the inspiration behind Seve's second name, is directed by Paul's all-time favorite Hollywood director, Steven Spielberg.
Paul has plans to make Seve watch Jurassic Park, another Spielberg classic.
"But I think matakot pa siya. We'll see," he continues. "So far, E.T. we've watched it a handful of times.
"He's enjoying movies now because we've kind of transitioned from watching YouTube to more of mga Pixar films, Toy Story.
"Polar Express. He loves The Polar Express. His favorite film is Wall-E and, of course, E.T."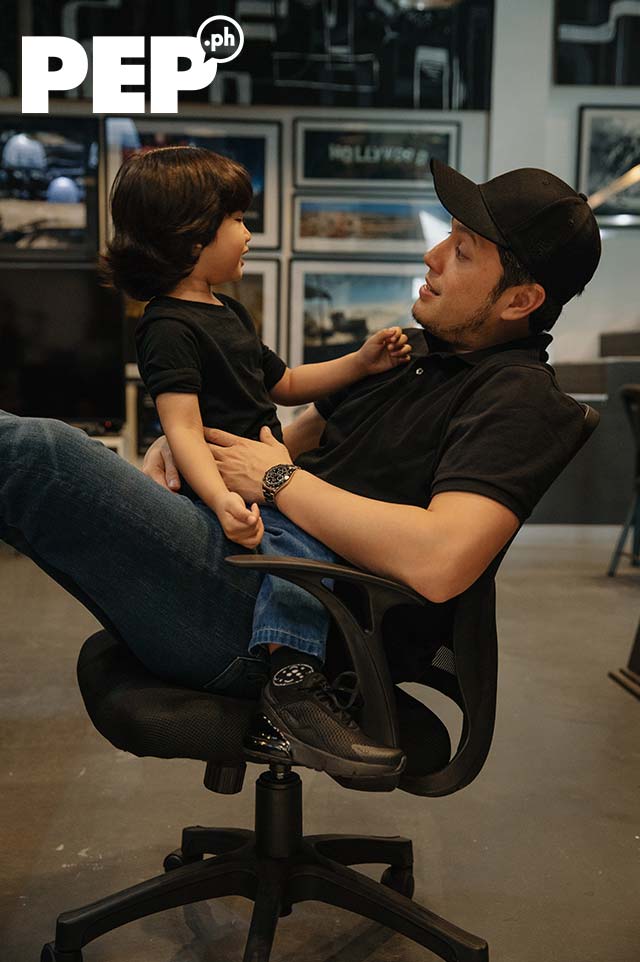 Paul says story time is also a go-to bonding activity for him and Seve lately.
"If there's one thing about Seve, he's got a really huge imagination.
"He always says like, 'Daddy, tell me a story.' So, I'll start it, but he finishes it.
"That's kind of what we've been doing for the last few months. Story time, but I start and he finishes it."
PAUL ON FATHERHOOD: IT'S A LIFETIME COMMITMENT
Paul maintains the mindset that fatherhood is an ongoing journey.
"I don't think you'll ever learn how to be a father. I think it's a work in progress all the time," the producer of the Metro Manila Film Festival 2019 entry Sunod says.
"I think you just have to have that attitude that you are going to fail. Just learn from it and don't be too hard on yourself.
"It's really just trying to work as hard as I can to give Seve that best kind of foundation for him to also succeed one day."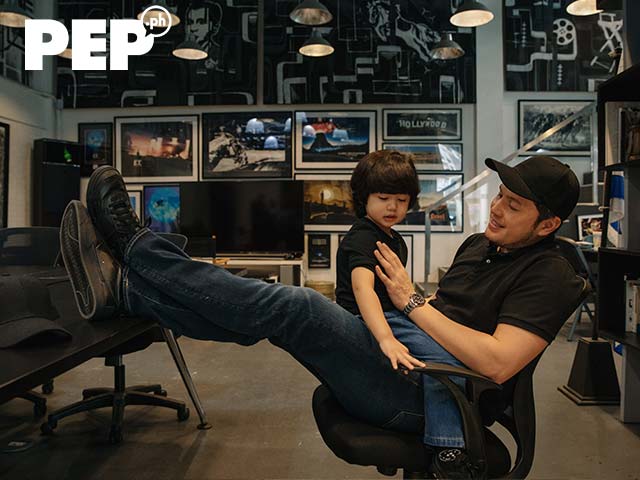 PRODUCTION CREDITS:
Photographer: Joseph Pascual
Shoot Producers: James Patrick Anarcon, Rommel Llanes
Shoot Co-Producer: FM Ganal
Interview by: FM Ganal, James Patrick Anarcon, Rommel Llanes
Video Producers: Mart Francisco, Vince Mendez
Special thanks to Angelica Clarice Sales of TEN17P