Kobe Paras is having a great time in Boracay with his younger siblings Jared, Caleigh, and Yohan.
His mom Jackie Forster can't be happier than to see her children bond.
On her Instagram feed on December 29, she captioned their photo, "My sunshine after any storm [rainbow emoji] Always count your blessings #Godisgood"
This is Jackie's second Christmas with Kobe after their reconciliation in April 2018.
Last year, they spent the holidays in Hong Kong.
But where is Andre?
Kobe and older brother Andre are Jackie's children with ex-husband, cager-comedian Benjie Paras.
On Jackie's Instagram feed, she mentioned the names of her children except Andre's in her holiday greetings to her social media followers.
She wrote, "I hope you all have a happy and healthy last few days of 2019 everybody from my family to yours ~ @jared_therockstar @caleighsimone @_kokoparas #yohandsomef #familyftravels"
Based on Andre's Instagram posts, he flew to Japan on Christmas day, December 25.
A week before the Christmas break, Andre dropped a comment in one of the posts of Kobe during the latter's Palawan trip with his friends.
Kobe wrote, "taking a stroll in our microverse."
His kuya remarked, "Kala ko ako yung nasa unang photo..."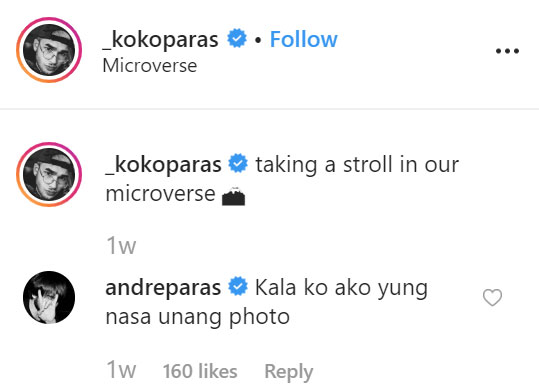 Andre's latest post was taken at Fushimi Inari-taisha, a Shinto shrine in southern Kyoto which is famous for its thousands of vermilion torii gates.
He also went to Universal Studios Japan in Osaka.