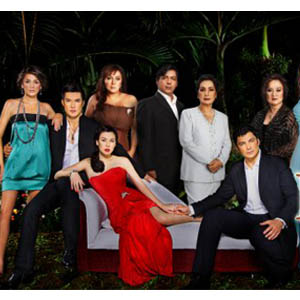 ---
ABS-CBN's primetimedrama series Iisa Pa Lamang finallyclinched the top spot a month after settling for fifth place, according to thelatest Nationwide Urban TV Audience Measurement(NUTAM) surveyconducted by AGB Nielsen Media Research, Philippines for the month of November.
It was major leap for thestar-studded soap opera as it even surpassed perennial favorites and fellowKapamilya programs Dyosa and I Love Betty La Fea in the primetimerace. Iisa Pa Lamang gathered a rating of 33.6 percent followed by Dyosa's 32.9 percent.
Heart Evangelista's firstprimetime soap starrer as a Kapuso, LunaMystika, immediately made an impression as it barged in to claim the fourthspot, beating Bea Alonzo's Betty La Feaand Dennis Trillo's Gagambino.
The local franchise of Pinoy Fear Factor, hosted by Ryan Agoncillo,also made it to the list at No. 10 to round up the primetime column.
Not much has changed in the daytimeTop Weekday Programs battle as Willie Revillame's Wowowee remained untouched at the top spot, bolstered by its 21.9percent grade. GMA-7's drama combination of GaanoKadalas ang Minsan? and Una KangNaging Akin changed positions, with the former now assuming second placewith a 21.6 rating to show while the latter accumulated a total of 19.7 percent goodenough for third place.
Boxing special once moreflexed its muscle to bully the competition. The ring matchup between Ricky "TheHitman" Hatton and Paulie "The Magic Man" Malignaggi aired by ABS-CBN onNovember 23 knocked Willie Revillame's Wowoweeout of the daytime Top Weekend Programs apex. Garnering a strong 28.3 percentrating, the bout dubbed as The Hitman vs.The Magic Man beat Wowowee's21.2 percent showing and ASAP 08's18.2 mark.
ADVERTISEMENT - CONTINUE READING BELOW
EatBulaga! nailed fourth place, followed by Cinema FPJ: Da King on ABS-CBN. TheBuzz edged out rival Showbiz Central,although the team of Pia Guanio, John Lapus, Raymond Gutierrez, Mo Twister, andRufa Mae Quinto surely wouldn't mind the setback as they fared better this timecompared to the month of October when they failed to enter the winningbracket.
MaalaalaMo Kaya ruled the primetime race for the Top Weekend Programs, nipping Rated K's effort to secure the top spot.The country's longest-running drama anthology registered a rating of 28.6percent while Korina's program garnered 28.1 percent, closely followed by Komiks 27.6 percent rating. The primerof Ryan Agoncillo's Fear Factorlanded eight spot with 23.4 percent. Completing the list were two Kapuso shows—Kakasa Ka Ba Sa Grade 5? and Family Feud—which bore identical ratingsof 22.2 percent.
Here are the Top 10 weekday and weekend programs forthe month of November, basedon a survey conducted by AGB Nielsen among NUTAM households:
Top Weekday Programs (Daytime)
1. Wowowee(ABS-CBN) - 21.9%
2. Gaano Kadalas AngMinsan (GMA-7) - 21.6%
3. Una Kang Naging Akin(GMA-7) - 19.7%
4. El Cuerpo Del Deseo(ABS-CBN) - 19%
5. Carlo J. Caparas' Pieta(ABS-CBN) - 18.4%
6. Pilipinas, Game KNB?(ABS-CBN) - 18.3%
7. Eat Bulaga!(GMA-7) - 18.2%
8. Saan Darating AngUmaga? (GMA-7) - 17.1%
9. Daisy Siete(GMA-7) - 16%
10. Flame of Recca (GMA-7)- 13.5%
Top Weekday Programs (Primetime)
1. Iisa Pa Lamang(ABS-CBN) - 33.6%
2. Dyosa(ABS-CBN) - 32.9%
3. TV Patrol World(ABS-CBN) - 32.7%
4. Luna Mystika(GMA-7) - 30.8%
5. I Love Betty La Fea(ABS-CBN) - 30.5%
6. Carlo J. Caparas' Gagambino(GMA-7) - 28.6%
7. Codename: Asero(GMA-7) - 27.7%
8. 24 Oras(GMA-7) - 25.5%
9. Kapamilya Deal or No Deal(ABS-CBN) - 24.9%
ADVERTISEMENT - CONTINUE READING BELOW
10. Pinoy Fear Factor(ABS-CBN) - 24.4%
Top Weekend Programs (Daytime)
1. The Hit Man Vs. The Magic Man: HattonVs. Malignaggi** (ABS-CBN) - 28.3%
2. Wowowee(ABS-CBN) - 21.2%
3. ASAP '08(ABS-CBN) - 18.2%
4. Eat Bulaga!(GMA-7) - 17.7 %
5. Cinema FPJ Da King on ABS-CBN(ABS-CBN) - 17.4%
6. Your Song(ABS-CBN) - 15.7%
7. The Buzz(ABS-CBN) - 14.9%
8. Wish Ko Lang(GMA-7) - 14.2%
9. SOP(GMA-7) - 13.5%
10. Showbiz Central(GMA-7) - 13%
Top Weekend Programs (Primetime)
1. Maalaala Mo Kaya(ABS-CBN) - 28.6%
2. Rated K(ABS-CBN) - 28.1%
3. Komiks Presents Tiny Tony(ABS-CBN) - 27.6%
4. Goin' Bulilit(ABS-CBN) - 26.6%
5. The Singing Bee(ABS-CBN) - 26.4%
6. Bitoy's Funniest Videos(GMA-7) - 24.3 %
7. Kapuso Mo, Jessica Soho(GMA-7) - 23.5%
8. Pinoy Fear Factor Primer**(ABS-CBN) - 23.4%
9. Kakasa Ka Ba Sa Grade 5?(GMA-7) - 22.2%
10. Family Feud(GMA-7) - 22.2%
**Special
Source: AGB Nielsen Media Research, Philippines