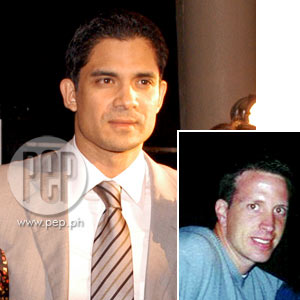 ---
David Bunevacz's name once again hits the news, this time in The Seattle Times, a 120-year old publication that's presently tagged by Wikipedia as "the largest daily newspaper in the state of Washington."
In The Seattle Times article headlined "Broken rules, a failed deal and a frenzy over Olympic tickets" (February 27, 2010), a businessman named Gene Hammett implicated Bunevacz and his father Joseph for allegedly "paying huge kickbacks" to unidentified officials of the National Olympic Committees (NOCs) of Spain and Hungary to collect tickets illegally for the recently-ended 2010 Winter Olympics in Vancouver.
Hammett, who owns ticket dealership Action Seating in Alpharetta, Georgia, told The Seattle Times, that the Bunevaczes led him to believe that the tickets would be delivered to him before the Olympics. He claimed he was defrauded of nearly $3 million when he bought 17,000 tickets from them, and the purchase "never materialized."
However, the e-mail forwarded by Bunevacz's camp to Karen A. Pagsolingan, managing editor of PEP (Philippine Entertainment Portal), on March 4, stated that Hammett's statements "were untrue and merely an attempt to divert attention from his own misdeeds, namely that he sold non-existent tickets to unsuspecting consumers."
The official press statement of Atty. Michael M. Amir—Bunevacz's lawyer, who also co-owns the law firm Doll Amir & Eley LLP in Los Angeles, California—related that a lawsuit was filed last March 4 in L.A. County Superior Court, "to correct and remedy the accusations leveled at him [Bunevacz] by a disgruntled ticket broker in a recent Seattle Times article concerning Vancouver Olympic tickets."
ADVERTISEMENT - CONTINUE READING BELOW
Attached to the lawyer's "press release" was a 25-page affidavit, which underscored the Bunevacz complaint for: "Breach of Contract, Fraud, Defamation, and Declaratory Relief."
It also stated that Hammett's statements in The Seattle Times were "false," that Hammett's problems were "his own doing" and that he "did not have sufficient funds to purchase the tickets."
The complaint said Hammett's allegations constitute a "breach of contract" because he allowed the publication of "confidential information" in The Seattle Times, which published copies of several documents that Hammett provided to the publication, including contracts, e-mails, and purchase orders.
But while Bunevacz has declared Hammett's statements against him to be only "a tale of mystery and greed," one issue that remains unsolved is: Who made the commitment to deliver the thousands of tickets for the Winter Olympics?
PLAYERS IN THE STORY. David Bunevacz, 41, is a former decathlete for the Philippine team.
He became the subject of controversy when he represented the country in the 1997 SEA Games, and brought home silver medal—which, according to the tabloids, did not sit well with some sports officials because the team budgeted huge training fees for him and expected gold in return.
From sports, David Bunevacz gave showbiz a shot.
In 1997, he became known as the athlete-boyfriend of former beauty queen Anjanette Abayari who starred with big-name action stars like Cesar Montano for Silakbo, Phillip Salvador for Hangga't May Hininga, and Fernando Poe Jr. for Ang Syota Kong Balikbayan. In 2001, Bunevacz himself made it to the movies with Buhay Kamao and Tusong Twosome.
ADVERTISEMENT - CONTINUE READING BELOW
In 2007, Bunevacz stirred another controversy when he and wife Jessica Rodriguez were accused of misappropriating the funds of high-end beauty clinic Beverly Hills 6750. PEP was the first to break the story (CLICK HERE). The following year, the Quezon City Regional Trial Court released a warrant for Bunevacz's arrest in connection with the Estafa case filed by Tyrone Ong, one of the Beverly Hills 6750 investors (CLICK HERE). To date, the case is still pending in court.
The Seattle Times also reported that Bunevacz was jailed in the early 1990s after being convicted of "burglary, grand theft and obtaining less than $400 under false pretenses" in the Los Angeles area. (But Bunevacz said in the complaint that this statement is "false" and also "defamed" him.)
On the other hand, the 39-year old Gene Hammett owns Action Seating Inc., a company that sells tickets to several online brokers in the secondary market, which is not sanctioned by the official Olympics organizing committee to distribute tickets.
Hammett's public profile in Plaxo.com, a social networking website, indicates that he resides in McDonough, Georgia. He describes himself as a "fun loving, hard working, dependable entrepenuer (sic)."
The profile also states that Action Seating Inc., which started in 2008, sells "tickets and packages to the world's largest sporting events, such as The Masters, Olympics, World Cup Soccer, Super Bowl, and Kentucky Derby."
Readers of the article in The Seattle Times called Hammett a "ticket scalper" and not a legal broker. Wikipedia (accessed at 10:10 p.m., March 4) says ticket scalpers, or resellers, "use several different means to secure premium and previously sold-out ticket inventories" to sell them at a higher price.
ADVERTISEMENT - CONTINUE READING BELOW
Many event organizers, like those of the Vancouver Olympics, prohibit ticket scalpers. Unauthorized selling of tickets is even illegal in some countries—in the United Kingdom, for instance, resale of football tickets is illegal under section 166 of the Criminal Justice and Public Order Act 1994.
HAMMETT'S STORY. The Seattle Times article made it clear that the two major players in the story circumvented the Vancouver Olympic Committee (VANOC) rules to be able to get tickets for the Winter Olympics.
The VANOC, the official agency that distributes tickets to various NOCs (national Olympic Committee) around the world, expressly prohibits the sale of official Winter Olympics tickets outside the country where they are delivered.
The U.S.-based Hammett admitted to The Seattle Times that he coordinated with David Bunevacz to collect tickets. He said he could have earned $1 million from the botched deal.
Hammett told The Seattle Times he first met Joseph Bunevacz in August 2008 at the lobby of the Hong Fu Hotel in Urumqi, China. Hammett said he was looking for tickets to the Beijing 2008 Olympics, which was held from August 8 to 24.
The elder Bunevacz told Hammett he was "based in Budapest with Pegazus Sport Tours," the official ticket agency representing the Hungary and Spain NOCs. He added that he and his son were "powerful insiders who could easily get $3 million worth of tickets" from various NOCs.
According to Hammett, the Bunevaczes showed him boxes of Beijing Olympics tickets hidden in their office at the hotel.
"There was a big operation, multiple people working," Hammett said. "There was more than I've ever seen in my life. They had boxes and boxes of tickets."
ADVERTISEMENT - CONTINUE READING BELOW
He then bought "a couple thousand tickets" from Joseph Bunevacz "for $200,000."
Fresh from a successful deal in Beijing, Hammett said he immediately began coordinating with Bunevacz so he could buy tickets for the 2010 Winter Olympics.
Hammett said he negotiated the deal through "18 months of calls, negotiations, meetings, e-mails and wire transfers of hundreds of thousands of dollars." Some of the files were uploaded in The Seattle Times website, and the oldest exchange between the e-mail addresses dbonevaz@yahoo.com and gene@eventmarketplace.com was dated September 8, 2008.
At one point, "Bunevacz had warned him that a problem with his Hong Kong financiers was threatening the deal," wrote The Seattle Times.
But this time, Hammett said his tickets, which cost him $2.9 million in total, never arrived.
He said he got the money from brokers and fans that paid him early in reservation for the tickets. For example, ShowTime Tickets CEO Mario Livich paid Hammett a "substantial" amount of money as a deposit for "a deal with him for about $1 million in tickets." Livich is considering to file a suit against Hammett.
Online ticket agency eSeats.com, on the other hand, had already sued Hammett. Company owner Bob Bernstein told The Seattle Times they had paid Hammett "more than $400,000 for about 1,200 tickets."
DAVID BUNEVACZ'S STORY. His story is quite different from Hammett's.
In an interview with The Seattle Times, Bunevacz said "no one was defrauded in the ticket deal," and that the tickets were not delivered because "Hammett hadn't paid in full."
"The deal went sour... No one is running off with money," he said, adding that any money Hammett had sent went straight to "owners and suppliers."
ADVERTISEMENT - CONTINUE READING BELOW
In an interview, Bunevacz told The Seattle Times he had "a lot more than 17,000 tickets" that were sold to fans. He added that he is also "willing to repay Hammett, but they haven't settled on how much."
PEP had asked the Bunevacz camp to provide its own statement since March 1, but it was only on March 4 that they were able to send a copy of a legal complaint, which indicated: "...the ticket provider and in turn the Plaintiff declined to deliver the package of Winter Olympics tickets to Defendants without being paid in full."
The legal complaint also stated that Hammett portrayed himself "as a victim" and created "an attractive scapegoat" when he allowed himself to be interviewed by The Seattle Times. The complaint said the interview disguised that the problems were "his own doing."
It said Hammett was in fact the person who "breached their contract" by selling tickets he "never actually bought or had in hand," and by "failing to make the final required payment for the tickets."
The complaint continued, "To save face among his disgruntled customers, some of whom have already filed suits against him, Hammett engaged in a media campaign against Plaintiff David Bunevacz to destroy his professional and personal reputation."
Under the subheading Factual Background on page 4, the document confirmed that Bunevacz and Hammett worked together in the Beijing Olympics. It said Bunevacz "worked with his father Joseph Bunevacz to sell released blocks of tickets to the 2008 Summer Olympics in Beijing."
(This contradicts Joseph Bunevacz's previous interview with the The Seattle Times that "he did meet Hammett in Beijing, but denies selling any tickets there.")
ADVERTISEMENT - CONTINUE READING BELOW
The complaint said that on January 21, 2009, Bunevacz and Hammett "entered into an agreement for the purchase of tickets to the 2010 Winter Olympics in Vancouver." The agreement was for Hammett to "purchase $1,650,415 of tickets" from the Plaintiff, and pay him "a 20% commission of $330,083." The total payment amounted to $1,980,498.
THE PURCHASE AGREEMENT. According to the actual Purchase Agreement that PEP downloaded from The Seattle Times, Hammett was allowed to pay in four installments—before November 15, 2008, before January 15, 2009, before March 1, 2009, and three days before the tickets were to be delivered.
In Bunevacz's 25-page complaint, it was mentioned that to help Hammett pay the fee, he supposedly enlisted the help of a lending company. "In reliance on buyer's representations and in an effort to assist BUYER in fulfilling its obligation to pay for the Tickets, SUPPLIER has executed a Promissory Note dated January 14, 2009 with the Lender MOCRA LIMITED in the amount of $250,000."
The Purchase Agreement stated further that if Hammett fails to pay the aforementioned fees, Bunevacz has the right to render his obligations "null and void."
"Mocra Limited" also has a right to take tickets equivalent to the money they have lent Bunevacz.
If we were to believe the statements indicated in Bunevacz's complaint, the Olympic tickets were supposedly turned over to the lending company, where Bunevacz also "borrowed significant sums under separate promissory notes, to finance the purchase of tickets for Defendants."
The complaint's item # 30 stated: "As a direct and proximate result of Defendants' default and their representation regarding their inability to pay the oustanding monies owed under the amended Purchase Agreement, Mocra notified Plaintiff that Mocra was exercising its rights under the Promissory Note and claiming the Winter Olympics tickets."
ADVERTISEMENT - CONTINUE READING BELOW
(In an attempt to find more details about Mocra Limited, PEP sent an e-mail to David's camp early this morning. We're still waiting for the lawyer's reply. Google search led us to the "unofficial site" of a certain Christopher Grivakes, who had allegedly done transactions with Bunevacz and Mocra Ltd. in the past.)

Going back to the story, if Bunevacz fails to meet the exact quantity of the tickets that were ordered, he will have to refund Hammett the tickets that he "fails to deliver."
The Purchase Agreement is protected by a Confidentiality Agreement "governed by the laws of the State of California."
MONEY PROBLEMS. In previous e-mails to Bunevacz, copies of which can be downloaded from The Seattle Times, Hammett had hinted that he may have a problem coughing up the needed $1.98 million.
In one e-mail dated November 28, 2008, Hammett told Bunevacz, "This deal is everything to me and my family. I have every penny we have already into the deal and I know this deal will pay off for both of us. You know this, but I am in serious trouble if we can't get this deal done."
In his replies, Bunevacz was eager to help Hammett. In one e-mail dated on November 28, 2008, he said, "I will work with you bud as much as I can bend and will even advance payments for you like I have before."