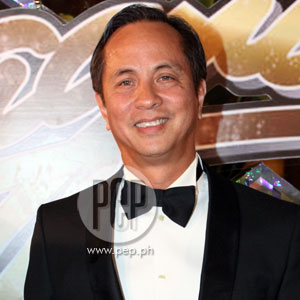 ---
ABS-CBN chairman and CEO Eugenio "Gabby" Lopez III was the last to give a speech at the 22nd Philippine Ad Congress program held last November 17, Thursday, at the Camarines Sur Watersports Complex.
The Kapamilya chief joined his industry colleagues-cum-competitors Manuel "Manny" Pangilinan of TV5 and Atty. Felipe Gozon of GMA-7 to talk about the future of Philippine television.
(CLICK HERE to read Manuel V. Pangilinan's Ad Congress speech)
(CLICK HERE to read Atty. Felipe L. Gozon's Ad Congress speech)
The morning was then followed by a star-studded party hosted by the Kapamilya network and graced by some of their biggest stars.
Controversial couple Piolo Pascual and KC Concepcion performed in separate numbers during the show.
Piolo was in a joint number with fellow actors John Lloyd Cruz and Sam Milby.
Meanwhile, KC performed solo and sang "Almost Over You" and "Tell Me," two songs about heartbreak.
The two remained mum about the current state of their relationship.
However, many speculated that KC's choice of songs may have meant to say something about the status of her heart.
Other performers included the finalists of Pilipinas Got Talent 3 and Happy Yipee Yehey! hosts Randy Santiago, John Estrada, Rico J. Puno, Pokwang, and Toni Gonzaga.
Fun games were hosted by Miss Universe runners-up Venus Raj and Shamcey Supsup.
LOPEZ'S SPEECH. It was almost lunchtime when Gabby Lopez took the stage for his speech that day.
By then, almost everything had been tackled by the two speakers before him.
He quipped, "I agree with everything they said. We can now proceed with the Q&A."
Instead of elaborating on the upcoming trends in digital technology, the Kapamilya chief executive focused on ABS-CBN's goal to improve the quality of its programs.
He says that no matter how much technology evolves in the coming years, "technology only follows where the human spirit wants to go. "
ADVERTISEMENT - CONTINUE READING BELOW
Here is the full transcription of Mr. Lopez's speech:
"Thank you for giving me this opportunity to tell you what we think about the future of media.
"The easiest prediction would be this: in the next Ad Congress, two years from now, we will be talking about media revolutions caused by technologies that are not even viable today.
"Even if many may think that the future of media is unknown, we still know where ABS-CBN will go.
"That is because we have a guiding light, 'In the service of the Filipino.'
"It was first articulated in 1959.
"My father Eugenio Lopez Jr. said the definition of a good mission statement is that it should stand the test of time.
"And so it hasn't changed, except for the addition of worldwide, which we put as soon as we gained the ability to reach our overseas brothers and sisters.
"Next year, Philippine television will be celebrating its 60th year.
"It is important to us because television was introduced to the Philippines by a small company that later on became ABS-CBN.
"Over many years, we were able to maintain a meaningful relationship with the Filipino audience; being the media company that connects our countrymen all over the globe through all kinds of media platforms.
"This gave us the privilege to know so much more about their nature and their aspirations.
"And that is why we can make this statement: the future of media will be shaped by the people's needs, which at its core, is emotional.
"ABS-CBN now allows people to consume media content at a time, place, and through a medium that they choose.
"Soon we will have more digital offerings that are multi-touch hubs of information, experiences, services, and conveniences.
"At ABS-CBN, we believe that technology will change everything except the human nature to crave for recognition, for affirmation, for connection, and the inspiration to be the best they can be for self-fulfillment, for family, and for community.
ADVERTISEMENT - CONTINUE READING BELOW
"And that is what is really important to us.
"ABS-CBN's teleseryes can now reach every Filipino in the world with the help of cable, satellite, and IPTV or Internet Protocol Television.
"With iWanTV, they can watch or even catch up on missed episodes.
"But we were only compelled to make these access technologies available because we know we have the content that truly lifts spirits—that reflect our people's joys, pains, their values, their passions, their dreams.
"We all have relatives abroad. Maybe many of them have told you how Filipino dramas on TFC soothe away the pain of hard work and isolation in strange lands.
"The first edition of 'Pinoy Big Brother' was voted as 2005's most phenomenal TV show. It was the first local show to have 26 cameras rolling 24/7, live streaming on cable television, a variant edition on UHF, and massive text voting.
"The investment in technology was huge. But we were sure even bigger was the emotional cache of ordinary people in a journey of transformation through extraordinary tests.
"The series 'Imortal' is no longer on television today, but the community of viewers continues to interact on the website which shows the country's first webisodes of a TV series.
"The site has over 15 million page views in 12 months and 12,000 user generated content submissions in three months.
"We have been heartened to put up more digital properties that any other company in the country because we recognize the Filipino's desire for self-expansion through knowledge and experiences, and to connect with others and express themselves.
"Having journeyed with the Filipino since the inception of television, we have confirmed that Filipino's love for country is special.
"'I-Boto Mo, I-Patrol Mo,' the country's first citizen's election vigilance campaign aided by the web and mobile phones, earned the gratitude of Comelec for the big turnout of voter registration.
ADVERTISEMENT - CONTINUE READING BELOW
"I'm happy to announce that the success of 'I-Boto Mo, I-Patrol Mo' has been recognized by many award-giving bodies here and internationally.
"ABS-CBN's News.com is now the number one Filipino news website globally; while its iOS app became the most downloaded app when it was launched.
"During PNoy's visit to North America in September 2010, TFC held the first Global Town Hall sa TFC shown simultaneously in TFC areas all around the world.
"Viewers were able to ask questions real time, both through the internet or via satellite.
"YouTube and Google also partnered with ABS-CBN News.com and ANC to bring Asia's first YouTube World View.
"It gave citizens all over the world the chance to ask and listen to our leaders' views on where the Philippines is headed.
"It engaged 40,000 netizens and over 3,000 of them sent questions. These technologies would not have succeeded if the Filipino nation was not burning with patriotism and not yearning for redemption.
"Still fueling the flame of Filipino pride, we launched the website Choose Philippines.
"As of today, it has received over 1 million page views. Its Facebook community has more than 250,000 members that have generated over 130 million interactions since it launched eight months ago from people who root for the beauty of the Philippines and the businesses that tourism can spur.
"We are currently in test broadcast for Digital Terrestrial Television or DTT.
"The service will give clear digital signals and additional channels to people who cannot afford pay television. We know this will be welcomed by those who dream of more enriching and life-transforming experiences.
"Like the world's most progressive media companies, we will invest in enabling technologies.
"But more than obsessing about connecting gadgets to gadgets, we will continue leveraging our ability to connect to the heart.
ADVERTISEMENT - CONTINUE READING BELOW
"In Apple's tribute to Steve jobs, Al Gore referred to a study that showed the portion of the brain that was most stimulated when people interact with their Apple products.
"It was the same region where the emotion love comes from.
"That is exactly the relationship ABS-CBN wants with its viewers.
"And one key indication that defines this relationship is the opt out box that consumers in America can check when they don't want a company calling them at any hour.
"Overwhelmingly, Filipinos in America choose to receive calls from us, kasi po Kapamilya kami.
"We don't want to intrude. We want to be part of your family as you journey through life's ups and downs.
"So even in this age of gadgets, we believe that the right buttons to press are those in the hearts of people.
"The true connections of longings and passion would be the best edge in the age of clutter and thousands of choices.
"Going into the future, we are encouraged by our strong heritage in content that affirm, that inspire.
"We are competent because we believe that technology only follows where the human spirit wants to go.
"I'd like to end on a personal note; you know I've been in this business over 25 years. But it's all I ever wanted to do and it's all I'm ever going to do.
"My father felt the same way. It was a company that was closest to his heart.
"I feel like that NBA player that marvels at getting fame for something he would do for free.
"I believe it is an honor and a privilege to work for a company that puts public service at the center, as its reason for being.
"So for me, and for the people at our network, working at ABS-CBN is not a job, it is a calling."
ADVERTISEMENT - CONTINUE READING BELOW