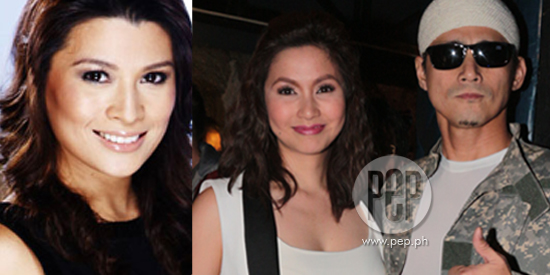 ---
Amid the public outrage against the controversial pork barrel scam, celebrities have also expressed their support to the scheduled mass protest at the Quirino Grandstand in front of Luneta Park on August 26, Monday.
On her Instagram post earlier today, August 23, Mariel Padilla urged her followers to join the "Isang Milyong Martsa Sa Luneta," which condemns the grave misuse of Priority Development Assistance Fund (PDAF), also known as pork barrel.
The 27-year-old TV host further cited the injustice being done to the country with the prevalence of corruption, as seen in the Commission on Audit's exposé about some lawmakers' alleged involvement in the allocation of pork barrel funds amongst supposedly fake non-government organizations.
Mariel said, "To all my fellow taxpayers!!! See you on Monday at Luneta!!! What is happening is just too much!!! Sobra na!!! our taxes are supposed to go to better education, better roads, low cost housing, rescue service, airport, better transportation and a cleanerPhilippinesbut instead our taxes are divided amongst themselves. Remember Napoles is not alone. They are using our money. The money we worked so hard for, big or small they have stolen what is for the Filipino people."
ADVERTISEMENT - CONTINUE READING BELOW
Actress Mylene Dizon also expressed her willingness to join the rally in Luneta.
"I am Mylene Dizon, Pinoy ako. I pay my taxes, on time and in full. You, my government, owe me an explanation. #OnePinoy #MillionPeopleMarch #ProtestaNgBayan," she said.
Character actor Pen Medina added in a similar post that all guilty parties should be prosecuted aside from scrapping the pork barrel.
Even actress-singer Agot Isidro wanted to join the mass protest, as she stated on her Twitter account, "Work permitting, I hope I can go to the rally on Monday. Who's going? Raise your hands."
VIGILANCE IS A MUST. Jim Paredes, who has been very vocal about "bringing the guilty to justice," observed that it is good that Filipinos are making an effort to make this happen.
"We are learning to speak as a people and government is listening. This is good. Let's keep the dialogue going."
ADVERTISEMENT - CONTINUE READING BELOW
Proof of which is President Noynoy Aquino's announcement earlier today that it is time to abolish PDAF and to put up a new mechanism that will ensure stricter budget allocation for specific projects only.
(Read: President Noynoy Aquino: "Panahon na upang i-abolish ang PDAF.")
Other celebrities like Robin Padilla, Ogie Diaz, and Dingdong Dantes commended the President for his bold decision.
Soon after PNoy's announcement, Robin posted the following statement on his Instagram account: "God is great!!! My president moves to abolish the pork barrel. Sweet victory for the patriots against the political gangsters. You have won the war and killed the pork barrel now the real revolution against the unforgiving system of government begins."
Ogie was equally proud of PNoy based on his post on Twitter: "Mahal ko na si Pres @noynoyaquino, dahil pabor siyang matanggal ang pork barrel system. Ikaw na, Mahal na Pangulo!"
Then he jokingly added, "Tingnan natin sa 2016 kung me tatakbo pang Senador at Congressman. Ay, meron pa pala. Yung gustong maglingkod nang tapat."
ADVERTISEMENT - CONTINUE READING BELOW
Others, like Ping Medina, refused to cheer just yet. "PNoy says pork barrel should be abolished then replaced by a new system. It's like slicing liempo thinly then calling it bacon," Ping stated on his Instagram post.
While some are not as vocal as the celebrities mentioned above, they nevertheless help raise awareness about this subject by retweeting news and other reports about the ongoing investigation of the pork barrel scam.
These are Bianca Gonzalez, Ogie Alcasid, Dingdong Dantes, among others.