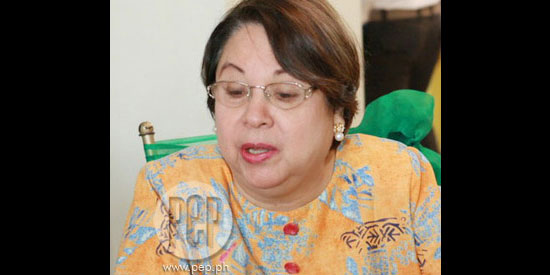 ---
"Grabe na talaga!!!" says Mrs. Estrella Barretto about her daughter Gretchen Barretto's most recent allegations against her.
An agitated Mrs. Barretto rang up PEP.ph (Philippine Entertainment Portal), last night, October 26, at around 6 p.m.
This was immediately after receiving our text message asking for her side on the Instagram posts that Gretchen, her fifth child with husband Miguel Barretto, addressed to a certain @bullygretchen.
These Instagram posts, dated four days ago, did not name who @bullygretchen was exactly, but their content clearly pointed to Mrs. Barretto as the Instagram user.
Gretchen's posts said, in part: "…and if you don't stop I will finally speak about the molestation. I am no longer the Gretchen that you can hurt nor can you silence me. I will go all out."
"And I am blessed to have a narsisstic mother who is abusive in every way & an alcoholic father who made his 2 daughters work for the family."
"…remember miladay jewelry store? When you were hanging out a lot there & pretending you would help sell the jewelry? An expensive piece got lost do you remember where you kept that missing piece?"
"It was a big issue where that missing jewelry went. Miladay even got a manghuhula to try & find out where that piece went. I guess it's time the dayrits find out."
"I have reached a point wherein it's time to protect myself. It has been 43years of abuse from you. I will not take it. Respect is earned, you have not seemed to earn it from anyone of your children."
ADVERTISEMENT - CONTINUE READING BELOW
"…I don't hide my identity, I can own up to what I say or do. You are afraid of the truth."
"And oh I'm not out to humiliate you (You have done an awesome job in doing it to yourselves."
"@bullygretchen I don't need to seek attention, I have more than enough of it. I don't conduct press conferences you do I have loads to do, I'm very busy human being…I'm productive. You are idle & bored & mentally ill. Go see your Dr. Mequita Tan."
READ Gretchen Barretto threatens to reveal "molestation" if her Instagram basher does not stop
THE MILADAY JEWELRY INCIDENT. The 76-year-old Barretto matriarch, who is known—like her showbiz daughters Gretchen, Marjorie, and Claudine—to be articulate and combative, says of the Miladay incident:
"My god, that happened when she was eight years old!"
As for the "molestation" that the Instagram post threatened to reveal, she retorts, "What is she talking about?"
Speaking to PEP managing editor Karen Pagsolingan, Mrs. Barretto goes on to make rapid mention of her other thoughts about the posts of the famous daughter she has been in active hostility with for years.
But, possibly because she is upset, Mrs. Barretto neither completes these thoughts nor makes them clear. It falls on Karen to draw up their context, but before Karen can ask for clarification, Mrs. Barretto cuts herself short to say:
"No, I shall stop. You may be quoting this. No, I will give you my formal statement. Give me time to come up with my answer."
ADVERTISEMENT - CONTINUE READING BELOW
This is when the mother of seven begins a text exchange with Karen, in which she would alternate between wanting to answer right away and wanting to defer her answer for the next day or even the day after.
In between trying to decide which among Gretchen's points to answer first, she also forwards a text message to Karen which, she says, was "sent by my son who is in Tagaytay...as he does every night." It read, "Love you mom."
She then sends a long text message, which she says should serve as her statement. But before PEP can use it, she asks that we hold it until she makes her final corrections.
Karen suggests that Mrs. Barretto may want to write her final statement on paper in place of a corrected long text message, if this should prove more comfortable for her. Mrs. Barretto agrees.
After five hours, Mrs. Barretto says she is done. She also says that she is alone at the time in the condominium—the unit, in Bonifacio Global City, is owned by her youngest daughter, Claudine—and would not know how to send her handwritten letter.
Karen says she happens to be in the area, and offers to pick it up. Mrs. Barretto agrees, and leaves her letter with the concierge.
Asking very particularly that PEP does not change anything in her letter, we comply, adjusting only the paragraphing for easier reading on the web. Here is Mrs. Barretto's handwritten letter in full, as is.
ADVERTISEMENT - CONTINUE READING BELOW
STATEMENT OF ESTRELLA "INDAY" BARRETTO
Hahaha- This one had always been stupid even in her evil ways!
I owned the "missing piece" of jewelry! Part of the number of pieces I had made to order from Miladay!

A piece got lost in front of our eyes before they could endorse it to me formally!

The husband and wife designer of Miladay asked the help of their spiritista friend named Bobby De Leon, who said, "Nandiyan lang yan! Look out for someone who will start throwing up with a terrible headache—she will return the item!

The next day Miladay store called to say the item has been found!

It was returned to me!
In fact Bobby De Leon became our healer for many years after!
This teleserye lie of this frustrated EVIL happened when she was only 8 or 10 years old!

Bobby then helped us heal a helper who was possessed supposed to be by a devil!
Sigue lang—manchahan mo pa! That had always been her forte! Smear campaign and character assassination!
Many who had been victimized by this creature do not believe her stories.
Everyone thinks she should be left to your outrage as a form of "self destruction."
At least people gets a confirmation of what kind of a person she is—destroying many lives by pitting people one against each other, including her partner's world of family and friends—
You now turn on your own flesh and blood—her parents whom people admire and respect that she is trying to destroy now!

ADVERTISEMENT - CONTINUE READING BELOW
Miss Buli (BULI) as in ass in Ilongo, two siblings do not constitute "all of my children" nor are you my world!

I have a world bigger than yours where love and respect thrives!

Who do you have? You don't have us! You don't have your partner's world—Showbiz world looks at you with trepidation!

They say you give the air that make people feel they are less than you are; better than anyone—
On the same breath you put down, malign and belittle as nothing compared to what you have now—your beginnings!
So who do you think you really are? Princess of the Nile?

"Nakapatong lang sa kalabaw—akala mo malaki pa sa kalabaw."

To think the Cojuangcos, they say, are humble and well-mannered!
They do not even swat a fly—they just shoo them away—the way they did the one on top of a kalabaw!
ANSWERING GRETCHEN'S OTHER POSTS. After completing her statement, Inday Barretto sends this text message to Karen Pagsolingan: "Buena mano pa lang yan..."
She says she intends to answer all of Gretchen's allegations against her in the next days.