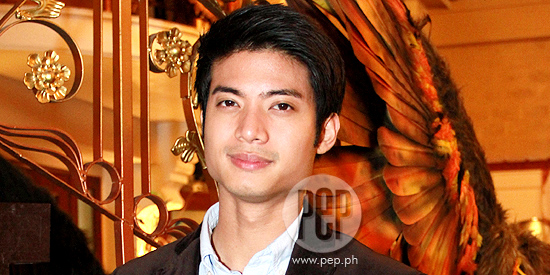 ---
Mikael Daez returned from his five-day trip to London last Saturday, November 9, with stories to tell.
He raved about his adventure in the city, describing it to PEP.ph (Philippine Entertainment Portal) and two members of the press as "an amazing, amazing experience!"


The model turned actor also hosts "Midnight Snack," the five-minute food and travel segment of the late-night news program Saksi.
In London, he taped episodes for the segment, wherein, he related, he functioned as a one-man crew.
"I was a camera man, light man, audio man, and PA [production assistant] to myself.
"I had a 30-pound backpack everywhere I went.
"I went all over London. I did a tour, but I also separated from the group.
"[I had a] camera one hand, [a] tripod on the other, [and] audio at the back."
The 25-year-old actor was part of the group that was invited by Philippine Airlines for its inaugural flight to London. It was then that his home network, GMA-7, proposed to Mikael to shoot some scenes in the city for "Midnight Snack."
And it was all that Mikael could rave about—the gastronomic delights and must-see places in London—on Wednesday night, November 13, at the press launch of Adarna.
Top on his list is the famous Borough Market, one of the largest and oldest food markets in Central London.
And while there, he said he could not have enough of the English staple, fish and chips; best taken with beer, of course.
In taping the London episodes, Mikael said he inserted his observation on the English culture.
ADVERTISEMENT - CONTINUE READING BELOW
"Inihambing ko siya sa Philippine culture para maka-relate naman tayong lahat—ano ba yung kaibahan, what do you appreciate about London, what do you appreciate about the Philippines.
"So, off the top of my head, I absolutely hate the traffic of London!
"Pipiliin ko ang traffic dito sa Pilipinas!"
Asked how it felt to be doing it all alone, Mikael admitted it was difficult.
"Ako? Cowboy na cowboy. I was totally up to the challenge.
"I will admit it, napakahirap niya. It was difficult…
"I didn't know it could be done. I'm happy.
"I came home, the footages were edited. I'm so proud of it and sana ma-enjoy ng lahat!"
But Mikael said his London special in "Midnight Snack" will be aired at a later date in deference to the tragedy that struck the Visayas region over the weekend.
MEETING WITH MEGAN. In this interview with Mikael, the press in his table finally got to ask what they most wanted to know: Did he see Megan Young in London?
This was the part when the actor went from gabby to clammy.
The rumor that Mikael is Megan Young's boyfriend has been circulating since before the Filipina-American actress was crowned Miss World 2013.
Megan is now based in London to fulfill her year-long duties as Miss World.
With reservation, Mikael granted he saw Megan: "I said, 'Hi' lang. It was quick lang."
Prodded for details about their rendezvous, Mikael let on that they saw each other "for an hour or two" at the west end of London.
ADVERTISEMENT - CONTINUE READING BELOW
"It was in passing. I was on my way to work."
The actor refused to elaborate, pointing out that he had been much too "busy" in London for anything else: "Shooting for episodes as a one-man crew is no joke."
Told that their fans had anticipated their meeting in London, the actor was quick to respond, "Yeah, well, that's okay. That's part of my work.
"People always say things or you know, come up with different stories or assumptions but it's okay."
Both Mikael and Megan claim that they are no more than just friends.
Read: Mikael Daez refuses to talk about rumored girlfriend Megan Young
PROUD OF MEGAN. But Mikael also admitted during the interview that he and Megan have been keeping in touch. And does he miss Megan?
The Kapuso hunk replied, "I don't really think about it. Truth be told, I'm very much in love with my work."
Mikael reasoned that being preoccupied with three shows—"Midnight Snack," Bubble Gang, and Adarna—leaves him no time to be sentimental.
"For a guy to have three shows right now at the same time, you have to love your work, if not you're probably gonna [have a] mental breakdown.
"So, I'm really actually just enjoying my work."
It goes without saying that Mikael is proud of Megan for clinching the Philippines's first Miss World title.
He avers: "I'm very proud... just as proud as any other Filipino out there."
But as a friend of Megan, how proud is he?
ADVERTISEMENT - CONTINUE READING BELOW
"I'm very, very, very proud of her."