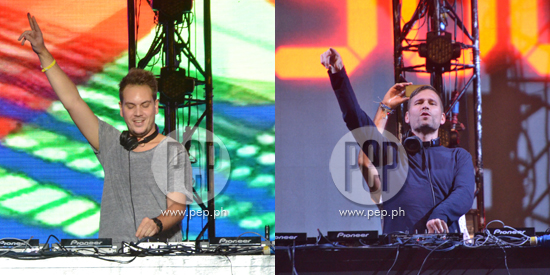 ---
The most-anticipated—and very controversial—7107 International Music Festival successfully conluded its first day.
Performers of the February 22 set were in full attendance and played for the thousands of music lovers and concert-goers who came to witness this two-day event held at the Global Gateway Logistics City, Clark Field, Pampanga.
Dubbed as the biggest music festival to hit the country, producers of this two-day event were earlier subjected to rumors and reports questioning their "financial capability" to hold such a concert headlined by some of international music's biggest names.
American rock band Red Hot Chili Peppers, Australian electronic music duo Empire of the Sun, American hip hop artist Kendrick Lamar, and EDM (electronic dance music) DJs, DJ Alvaro, Reid Stefan, and Kaskade were among the music heavyweights advertised to play at the music fest.
The producers answered the rumors and referred to the negative reports about them as "lies."
READ: 7107 International Music Festival organizer: "Rappler writers still insist on creating lies..."
Yesterday, February 22, it was announced that members of the Red Hot Chili Peppers have finally arrived in Manila and is set to play today, February 23.
FIRST-DAY HIGH. Excited concert-goers started lining up at 11 am to enter the venue.
Most female attendees were seen wearing hipster-inspired outfits—which are dominantly neon or Aztec cropped tops—high-waste shorts, and floral head dresses to complete their "music fest" look, while a lot of male concert-goers comfortably stroll the grounds in their shorts and muscle tees.
Two stages were mounted on the left and right side of the venue. The main stage is on the left.
ADVERTISEMENT - CONTINUE READING BELOW
Most of the performers on the the main stage were DJs, while local bands and artists take the right stage.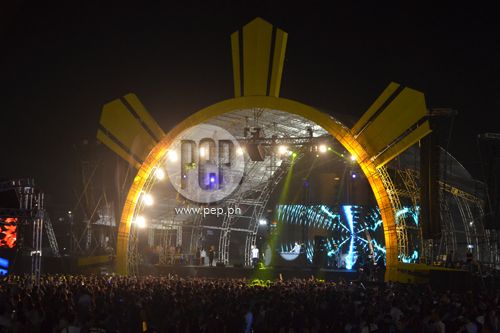 GETTING STARTED. One of the earlier foreign acts on the first day to really rock the crowd was British indie pop rock band the Natives.
They were followed by Danish acid jazz / indie pop band Asteroids and Galaxy Tour.
The Danish band's lead vocalist Mette Lindberg had a chance to talk to some members of the press after her band's performance.
Also during that meet and greet with the local press, the 30-year-old vocalist taught a Danish word to express how she feels about the Filipinos.
"Do you want to learn something in Danish?" Mette asked the press. "What do you want to learn?
"Tak! Thank you is tak in Danish… Salamat."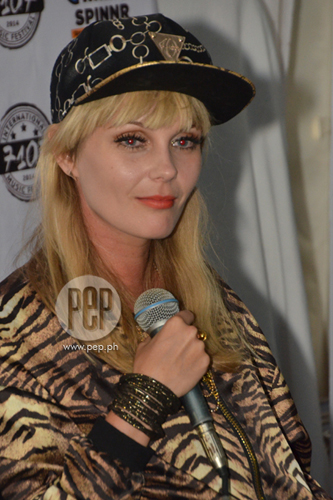 ADVERTISEMENT - CONTINUE READING BELOW
LOCAL ACTS. Concert-goers also appreciated and enjoyed singing and humming along with the relaxing vibe offered by local chill out acts.
But it was back to rocking out when Kjwan, headed by Marc Abaya, took the stage.
EDM KIND OF NIGHT. Everyone started throwing their hands in the air when the mood was all set for some Saturday night party.
Apart from their original mixes the four electronic dance music or EDM DJs—DJ Riddler, Reid Stefan, Alvaro, and Kaskade—spinned to some Avicii, Alesso, Zedd, Tiesto, Calvin Harris, Sebastian Ingrosso, Krewella, and Martin Garrix's mixes which turned the whole venue into a huge fist-pumping party.
Alvaro and Kaskade did not disappoint, turning the concert-crowd wild with their music.
Alvaro, seeing the reaction of the crowd, was in awe.
"It was really a pleasure playing for you guys. I've got so much love for you, Philippines," he told the crowd.
ADVERTISEMENT - CONTINUE READING BELOW
Kaskade capped the night with his 90-minute performance.
He showcased both his old and new mixes from the early 2000s and gave his take on some of today's new songs like Lana Del Rey's "Young and Beautiful," Martin Garrix's "Wizard," and his 2013 mix, "Atmosphere."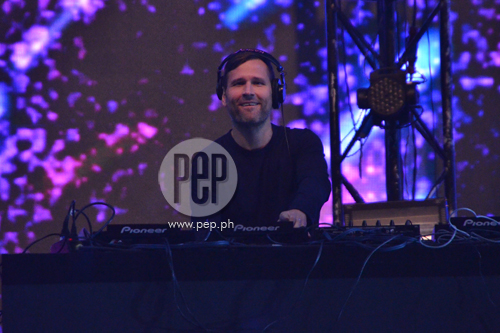 PEPSPOTTED. Many celebrities were also spotted having a great time at the music festival.
Like, De La Salle University UAAP basketball players Arnold Van Opstal, Jeron Teng, and Thomas Torres; Rhian Ramos and ex-boyfriend KC Montero; Aubrey Miles and husband Troy Montero; Billy Crawford; and Geoff Eigenmann.
View photos: Rhian Ramos, KC Montero, Geoff Eigenmann, and more partying at the 7107 International Music Festival Day 1
For updates on the festival's second day follow us on Instagram and Twitter: @pepalerts