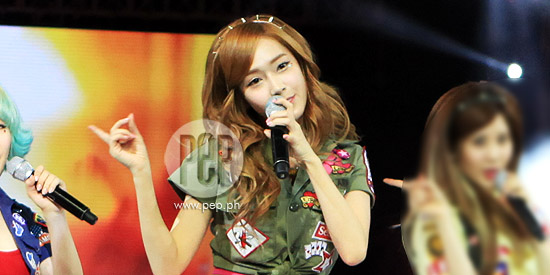 ---
Jessica Jung of the South Korean girl group Girls' Generation has officially released her statement after news broke out regarding her expulsion from her group yesterday, September 30.
Read: K-POP NEWS. Jessica Jung pulled out from Girls' Generation
The 25-year-old singer clarified through a letter she sent to Sports DongA via Naver News why she was kicked out of the group by her talent agency, SM Entertainment.
Jessica launched her fashion label 'BLANC' last August.
It was speculated that this was the reason she was dismissed from the Girls' Generation as the fashion label has become her topmost priority over her group.
The SM Entertainment talent said she had requested permission from her talent agency to launch her fashion label, and it was approved.
The singer noted that the members of her group "suddenly changed positions" a month after she launched her fashion line.
Her letter reads, as translated in English, (posted by Koreaboo):
"Hello, this is Jessica.
"I was given a notice of departure from Girls' Generation by my agency on September 29th, and I cannot hide my shocked and upset heart about this, so I'm here to reveal my feelings.
"I have always put the activities of Girls' Generation's before my business and personal life as a member of Girls' Generation. However, despite my efforts for the team, the agency asked me to leave [the team].
"As I was planning on creating the business I have shown a lot of interest in before, I sufficiently consulted SM as well as the members regarding my preparations many times, asking for their understanding.
"Up until the beginning of August when I was launching 'BLANC,' I made agreements and received permission from SM, and even congratulations from the members.
"However, in early September, only a month following the launching, the members suddenly changed positions and held a meeting, telling me to either quit my business or leave Girls' Generation without any justifiable reason.
ADVERTISEMENT - CONTINUE READING BELOW
"I explained that I had already received permission from the agency, that I had never neglected Girls' Generation's activities, and I could not suddenly stop my business due to my contract with my business partner after only a month.
"Ultimately, I pleaded that it was unfair to make me choose [between the group and her business]. Becoming a Girls' Generation member was the best thing in my life, and I've never thought about quitting.
"Shocked, I met with the agency's CEO on September 16th about my position, and again, confirmed their permission for me to continue my business.
"However, on September 29th, I was given a one-sided notice asking me to leave Girls' Generation. Because of this, I was unable to attend the fan meeting in China on September 30th, and I have been excluded from following Girls' Generation scheduled activities.
"I have received great pain and cannot hide my sadness when I was asked by the agency and my fellow members, whom I've spent 15 years with, putting in all my passion and efforts, to leave Girls' Generation just because I am starting my own business.
"I also want to apologize for causing concern to all the fans.
"Understand that this is not the situation I imagined.
"I have always treasured Girls' Generation and will continue to do so.
"Thank you for always supporting and loving me."
MARRIAGE RUMORS. Apart from priority issues, Jessica's rumored marriage to Tyler Kwon is also being cited as the reason she was dropped from the group.
Tyler is a businessman and has helped Jessica launch her own fashion label.
But according to Sports DongA, industry insiders are saying Jessica will wed rumored boyfriend Tyler Kwon in May yet, next year in Hong Kong.
The news agency also said Jessica and Tyler's relationship has been an open secret.
ADVERTISEMENT - CONTINUE READING BELOW
Koreaboo, however, reported that the businessman had clarified the rumors.
The businessman also denied the rumors in his Weibo account: "Sigh, I guess we'll have to try this yet again: I have no plans of marriage anytime soon, whether it be this year...next year... If that wasn't clear enough, let me know. I'll just keep trying...

"
However , Tyler sent Jessica a message of support via Weibo before she released her statement regarding her expulsion from Girls' Generation.
Tyler's message to Jessica states: "Hey, hang in there~! The truth about what really happened will be known - we all got your back!"