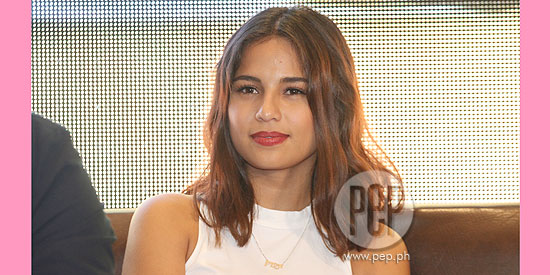 ---
Jasmine Curtis-Smith, 21, refused to confirm or deny the snubbing incident between her and ex-boyfriend Sam Concepcion, 22.
As previously reported on PEP.ph (Philippine Entertainment Portal), Jasmine allegedly cried following a brief encounter with Sam at a restaurant in Bonifacio Global City, in Taguig City, last April 28.
Read: Did Sam Concepcion snub ex-girlfriend Jasmine Curtis-Smith?
But when PEP asked if it's true that she cried after meeting Sam that night, Jasmine evaded the subject and insisted that she'd rather keep the details between her and her ex-boyfriend.
"I don't think there needs to be a reaction.
"It's in the past.
"We're at Happy Truck Ng Bayan. Happy tayo.
"We all talk about happy things," she told PEP in an interview after the presscon of TV5's Happy Truck Ng Bayan, held at Max's Restaurant in Quezon City, Wednesday night, May 27.
Jasmine also refused to answer whether or not she still has communication with the Kapamilya singer-actor.
ADVERTISEMENT - CONTINUE READING BELOW
"I don't wanna… The longer we talk about things like this, the longer people would think there's a grudge or there's a prolonging of things that should not be prolonged.
"Also, I think it's better now to just restrict information regarding this to myself and to the other person since it's such a personal interaction," she said.
SISTERS. It can be recalled that the couple broke up last January, apparently because of Sam's lack of effort to cultivate a better relationship with Jasmine's elder sister Anne Curtis.
But Jasmine previously squashed such speculations, saying that Anne has "nothing to do" with her love troubles.
Read: Jasmine Curtis-Smith says breakup with Sam Concepcion has nothing to do with sister Anne
Incidentally, the two sisters have noticeably grown closer as seen in their constant getaways together in the past few months.
To which Jasmine replied, "Yeah, of course people would say that.
ADVERTISEMENT - CONTINUE READING BELOW
"We've always been close. We've always been in communication.
"It's just that now we have more time because of our schedules.
"Like I said, last year she had Dyesebel and The Gifted.
"I had Jasmine and I was filming [for] Regal Films. There was no time of course.
"But now, I have more time, I just finished [Mara].
"I'm not filming for a movie yet, this [Happy Truck Ng Bayan] hasn't started yet, so you know, [there was] just more time."
As it is, there had been speculations that Anne's supposed disapproval of Sam led to the breakup of Jasmine's relationship with the singer-actor.
Previous reports claimed that Anne and Sam weren't on good terms, especially during the height of their controversial confrontation at Vice Ganda's birthday party last year.
Read: PEP SCOOP. Anne Curtis reportedly tells Sam Concepcion at Vice Ganda's party: "You're not even classy enough to be here!"
ADVERTISEMENT - CONTINUE READING BELOW
But truth be told, Jasmine clarified that she dealt with her breakup with Sam without any meddling from her family or friends for that matter.
"Nothing really, I never asked anyone for advice.
"No one told me to do a certain thing or directed me—none of my friends and family members.
"They just let me cheer myself up," she simply stated
NO REGRETS. Whatever opinion Anne has towards Sam, Jasmine stressed that it doesn't mean she regrets her own decisions in handling her lovelife.
"I never said she was wrong. So, why would I have to say that sometimes she's right?
"People will have their own opinions. I never misjudged her for her opinion.
"I could be wrong. I could be right.
"She could be wrong, she could be right.
"I've never said she's wrong."
Asked if she and Sam had formal closure to their romantic relationship, Jasmine was careful not to divulge details about the whole breakup issue.
ADVERTISEMENT - CONTINUE READING BELOW
She merely answered, "Well, I never said there was no closure.
"I also never said there was a bad ending.
"I don't know where's that question is coming from."
Jasmine has always been the type who never backs out from any intrigues thrown her way.
But the Kapatid actress maintained that there are things in her life that she'd rather keep to herself.
"Oh yeah, of course, I think there's no reason to keep anything.
"You just have to know how much you share and how much you keep to yourself," she reasoned.
Despite her failed relationship with Sam, Jasmine said that she enjoys her "single" status.
She also said that she's not dating anyone at the moment.
"Wala [akong dine-date]. Single po.
"I guess, now I just have a lot of downtime. A lot of time with my dog!
"Now I just spend a lot of my time reading, watching movies [and] hanging out with friends," she beamed.
ADVERTISEMENT - CONTINUE READING BELOW