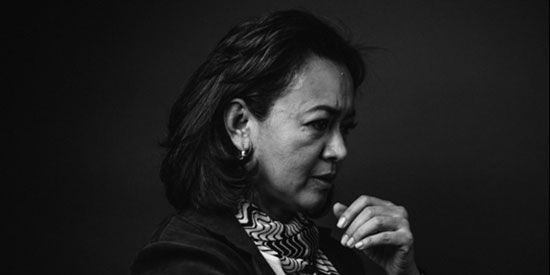 ---
For the first time since her daughter Julia Buencamino passed away, veteran actress Shamaine Buencamino faced theatergoers as well as the entertainment media at the premiere of her play 33 Variations.
Without giving too much details, Shamaine admitted that it was definitely a challenge for her to focus on the play given the "reality" that she's still grieving over the loss of her daughter recently.
Julia Buencamino, Shamaine's youngest child with husband Nonie Buencamino, passed away after commiting suicide last July 7.
The 15-year-old actress was part of ABS-CBN daytime teleserye Oh My G!, which stars Janella Salvador.
Read: 15-year-old daughter of Nonie and Shamaine Buencamino commits suicide
"Yes, this is my first performance in front of an audience.
"I have had to sometimes control myself because flashes of reality can come even when I'm on stage.
"So, I have to be very careful to really focus on the play," Shamaine stated in an interview with selected TV reporters and writers after the play, which was held at White Space events place in Makati City, Thursday night, July 23.
CLOSE TO HOME. In 33 Variations, Shamaine delivered a remarkable potrayal of Katherine Brandt, a career-oriented mother whose stubborn dedication to her craft threatened to destroy her relationship with her daughter Clara (played by Ina Fabregas).
The similarity of her character's struggles to her real-life experiences was not lost on Shamaine.
She even alluded to the fact that 33 Variations hits a bit close to home with its lessons about the importance of valuing what really matters in life.
"I think more than ALS, it introduces classical music and a lot of beauty is always nice to experience.
"And then, also, I really love the message of the play which is life is so fast, and relationships, like between mothers and daughters, we go through that, we don't realize it's important.
ADVERTISEMENT - CONTINUE READING BELOW
"And the play tells us about that—to really see what is in front of you and to value it because there's little time on this earth."
When asked about how her husband came to watch the play with their son in tow, Shamaine maintained that her family has always been supportive of each other.
"Of course, yeah, ganun naman talaga kami sa isa't isa. Ganun naman talaga ang pamilya," she simply stated.
QUITTING MY MOTHER'S SECRET. Meanwhile, Shamaine revealed that she decided to quit the Kapuso soap My Mother's Secret because it's a reminder of what her family is currently going through.
"Hindi na ako bumalik [after my recent leave of absence] kasi it was the last week's script and it involved a character dying.
"So, there would be a lot of crying scenes and funeral and all that.
"And they gave me a choice if I wanted to go back or not, so I decided to just concentrate on the play since I was absent for a long time."
At the end of the interview, Shamaine announced that 33 Variations will be her last play for the year before she starts working on a new teleserye with ABS-CBN under Dreamscape's business unit.