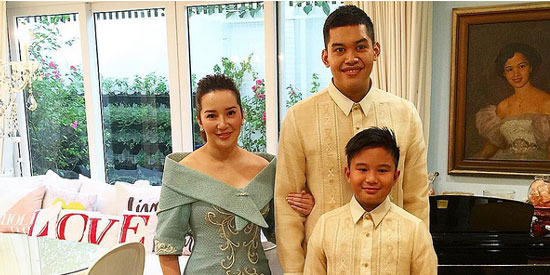 ---
"To clarify, we don't communicate & he has no active role in Kuya Josh's life."
This is what Kris Aquino frankly stated amidst queries why she never mentions ex-flame Phillip Salvador, the father of her eldest son Josh, in her social media posts.
This stemmed from Kris's Instagram post last July 24, where she shared a photo of Josh who excitedly got his hands on his smartphone after being grounded for two days from using it.
PHILLIP SALVADOR "OUT OF THE PICTURE?" In the comments section, several fans of the Queen of All Media asked if Phillip is "out of the picture" since she never mentions him in terms of raising their son Josh.
Kris, for her part, said that she was fortunate enough to be able to afford her eldest son's financial needs without asking any form of support from his father.
The Queen of All Media further explained: "Together w/ my siblings, and w/ much gratitude to my Mom, we all took on the responsibility of raising Kuya, and I have always been open about his having special needs...
ADVERTISEMENT - CONTINUE READING BELOW
"I have been solely financially responsible for Kuya's upbringing for most of his life, let me EMPHASIZE I'm not calling anybody out—God truly blessed me w/ the financial capacity to care for my panganay."
With that, Kris reiterated that there's no point mentioning Phillip, alluding to the fact that he has long since chosen not to be involved in their son's life.
"This is my account, and this chronicles my life, and my family.
"Why will I mention someone who isn't part of our lives?
"Parenting requires effort. And it's a choice on how involved you'll choose to be."
On a lighter note, Kris said that she has been blessed with a loving family who actively helps her in showing love and support towards her children.
"That being said, I have been extremely blessed to have siblings, Josh's pretty ninang @boss1020, when they were alive Lola Cory & Lola P, his Lolo Esting & all my dear friends who surround him w/ LOVE, UNDERSTANDING & UNWAVERING PRESENCE & SUPPORT...
ADVERTISEMENT - CONTINUE READING BELOW
"I hope that puts this issue to rest.
"We are peaceful & that's what is important.
"SINAGOT KO KAYO because I recognize it is because of your patronage of my shows, movies, website, and endorsements that I'm able to provide a comfortable life for my sons, so in a way you are stakeholders in our lives."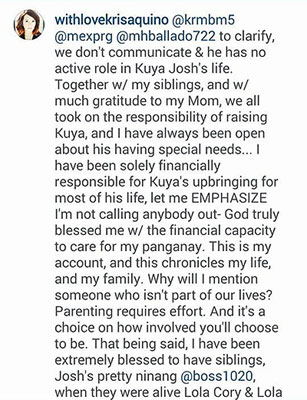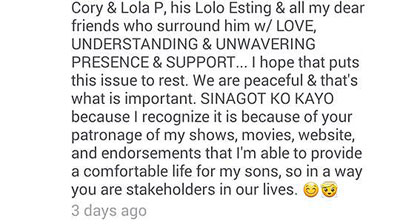 NO FINANCIAL SUPPORT FROM JAMES YAP. In a separate comment, Kris also answered another fan's statement that she's lucky that her younger son Bimby gets "financial and emotional" support from his dad James Yap.
It will be recalled that Kris and her ex-husband James reached a long-term agreement about the latter's visitation rights in March 2014.
The ex-couple have been friends since then for the sake of their son Bimby.
READ: Kris Aquino shares cozy moment with ex-husband James Yap and son Bimby
But in her brief response towards a fan's comment on her Instagram, Kris clarified that she's also not getting any financial support from the Star cager.
ADVERTISEMENT - CONTINUE READING BELOW
Kris simply stated: "@jovelynpf sorry to disillusion you, but we also don't receive financial support from Bimb's dad."