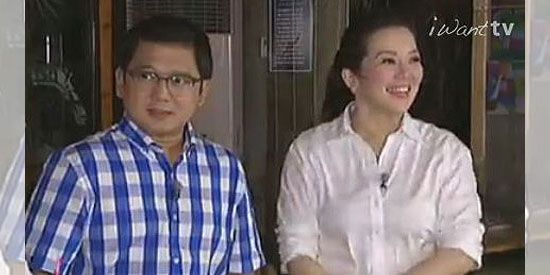 ---
Contrary to Quezon City Mayor Herbert Bautista's recent statement, Kris Aquino denied that she asked him to seek reelection in the 2016 elections.
In an Instagram post this Saturday, October 10, Kris reacted to news reports about Mayor Bautista's claim that she was one of the people with whom he consulted for his political plans.
"I NEVER ASKED HIM TO SEEK A 3RD TERM AS QUEZON CITY MAYOR.
"I have no influence on him & he has never given value to my feelings nor my thoughts," read Kris's Instagram post.
For the record, the Kapamilya Queen of All Media revealed that it was Mayor Bautista who asked her brother President Benigno "Noynoy" Aquino III to be included in the Liberal Party senatorial slate last December.
She said, "To directly quote PNoy: 'He isn't turning down the offer. He asked to be included in the slate.' Obviously he had a change of heart."
WHY KRIS BACKED OUT OF MMFF MOVIE WITH HERBERT. Incidentally, Kris also revealed that her "tumultuous relations" with Mayor Bautista is the real reason why she suddenly backed out from Star Cinema's 2015 Metro Manila Film Fest entry, All You Need Is Pag-ibig.
"It is because of our TUMULTUOUS RELATIONS that I was stupid enough to bite the hand that feeds me...
"I was so apprehensive about shooting MMFF w/ him that I posted my misguided feelings of hurt & directed them towards Star Cinema," said Kris, owning up to her mistakes.
The Kapamilya Queen of All Media further revealed the trouble of letting her personal feelings affect her work:
ADVERTISEMENT - CONTINUE READING BELOW
"And because of my impulsive move I put in jeopardy what has been almost 20 years of a solid working relationship with ABS CBN.
"My sisters & brother in law were ready to accompany me Thursday night to mend fences w/ Star Cinema, but late afternoon I was told the meeting was cancelled & there was no longer any need to talk.
"My family understood that it was unresolved personal issues w/ the chosen leading man that made me so indecisive & we as a family were ready to apologize, talk & hopefully work things out- sadly the door was closed."
Last October 7, Kris took to Instagram to issue a public apology to Star Cinema's top executive/production heads for her decision to drop out of the MMFF movie, barely two months before the film fest.
Read: Kris Aquino apologizes for dropping out of MMFF with Mayor Herbert Bautista
In an earlier post, however, Kris claimed that she said no to the movie after learning that her preferred cinematographer is out of the project.
Read: Is Kris Aquino backing out of MMFF movie with Mayor Herbert Bautista?
At the end of her latest Instagram post, Kris lamented, "This is a very painful lesson for me, and I don't ask for pity- I am just explaining because a man I was so briefly involved with caused conflict by his statement between my brother, my brother's team, and me."
BROKEN-HEARTED KRIS? Kris, 44, and Herbert, 47, had a brief romance in early 2014.
Since then, the ex-couple became estranged for quite some time, before they supposedly decided to remain friends again.
ADVERTISEMENT - CONTINUE READING BELOW
Kris and Mayor Herbert even threshed out some of their differences when the latter appeared in several episodes of Kris TV last July.
But in a separate Instagram post today, Kris hinted at her troubled love life, saying that she still needs "time to heal" whatever she's going through at the moment.
"I don't want this feed to be a depressing one & I already said what I needed to...
"Ayoko rin maging plastic sa inyo & post happy pics & upbeat comments when there's a lot of pain In me that will need time to heal...
"You all deserved my honesty & I needed to publicly stand stand w/ my brother who has always given me & my sons unconditional love & unwavering understanding.
"I'll be back on IG soon- I'll just focus on putting the broken pieces of me back together again."