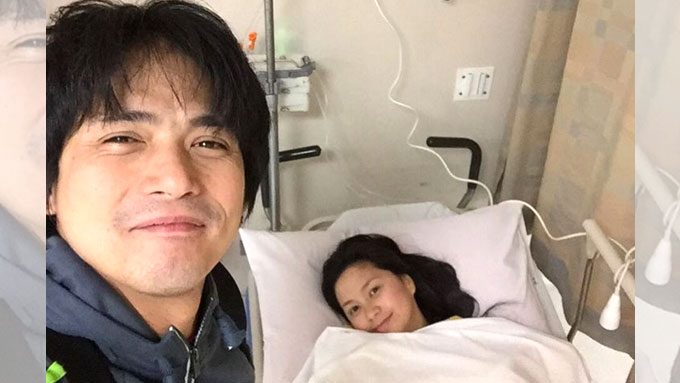 ---
Mariel Rodriguez revealed she finally went through a D&C (dilation and curettage) procedure 13 weeks after she had a miscarriage.
Earlier today, November 14, on Instagram, Mariel posted a photo with her husband Robin Padilla. She was lying in a hospital bed at Asian Hospital and Medical Center.
The 31-year-old TV host-actress related that she had been confined in the hospital for five days due to her condition.
Mariel also mentioned she was supposed to be "19 weeks" pregnant now.
But due to undisclosed circumstances, she lost her triplets to miscarriage.
Mariel's full caption read, "Going home today after 5days!
"We finally let them go after 19 weeks of praying for a miracle.
"God has bigger plans for us 🙏🏽
"I love you @robinhoodpadilla you are all i need. thank you for taking care of me... taking care of us. #acceptance #byebabies"
D&C FOR MARIEL'S MISCARRIAGE LAST AUGUST. After posting her "hospital" photo, Mariel's fans asked why she was confined.
In the comments portion of the same post, Mariel explained that she went through "D&C" procedure just now because she wanted her babies to "go naturally."

ADVERTISEMENT - CONTINUE READING BELOW
It can be recalled that Mariel had her first miscarriage last March.
READ: Mariel Rodriguez confirms miscarriage: "A small part of me has died."
Sometime in August, Mariel confirmed that she's pregnant with triplets following her vacation in Spain with husband Robin.
But unfortunately, Mariel suffered a second miscarriage last August 12.
READ: Mariel Rodriguez suffers miscarriage for the second time
NOT DISCOURAGED. But instead of dwelling on negativity, the TV host-actress chose to focus on God's blessings.
She assured her fans that she and her husband remain optimistic that she will get pregnant again, "We are not discouraged."
Mariel further told her Instagram followers, "Thank you so much for all your prayers and well wishes! God has blessed us with so much.
"God will never give us anything we can not handle."
On the other hand, Mariel denied speculations that there's something wrong with her uterus, which supposedly makes it difficult for her to get pregnant.

ADVERTISEMENT - CONTINUE READING BELOW
When one of her Instagram followers asked if she has "APAS [Antiphospholipid Antibody Syndrome]," Mariel replied, "No."
APAS, according to www.nhlbi.nih.gov, is an auto-immune disorder which "occurs if the body's immune system makes antibodies that attack and damage tissues or cells."