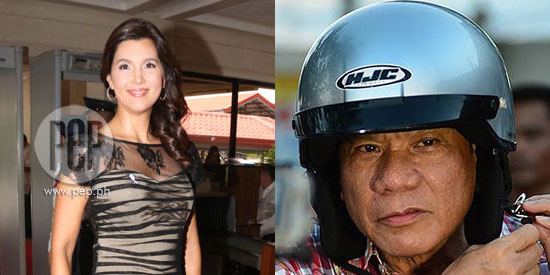 ---
Senator Pia Cayetano maintained that her decision to affirm Senator Grace Poe's natural-born-Filipino status has nothing to do with her presidential bid in the 2016 elections.
Pia said, "In connection with queries on my position regarding the petition filed against Senator Grace Poe before the SET, my decision is based on my appreciation of the case.
"It is not to be equated with who I am supporting for the presidency."
Senator Pia is reportedly the deal breaker among the five out of nine members who junked the disqualification complaint filed against Senator Poe at the Senate Electoral Tribunal (SET).
But in her official statement yesterday, November 23, Senator Pia clarified that her presidential bet has always been Mayor Rodrigo Duterte.
"Mayor Rody Duterte has been, and always will be, my candidate for president.
"And now that he has declared his intention, I am beyond happy."
Although Mayor Duterte has yet to file his candidacy as substitute president for PDP-Laban, he announced his decision to join the presidential race in an interview with the press last Saturday, November 21.
Mayor Duterte, who previously turned down calls for him to run as president, claimed that he changed his mind following SET's ruling on Senator Poe's citizenship.
Read: Mayor Rodrigo Duterte announces presidential bid
In the same event, Mayor Duterte also spoke about his "loose alliance" with vice presidential aspirant Senator Alan Peter Cayetano, Senator Pia's brother.
Senator Pia, for her part, reiterated that she will definitely support the tandem of Mayor Duterte and her brother in the 2016 elections.
ADVERTISEMENT - CONTINUE READING BELOW
"We may have different opinions on the SET issue but I have the utmost respect for him and my brother Senator Alan Cayetano.
"I believe they can do great things for this country and I will passionately campaign for them for president and vice president."