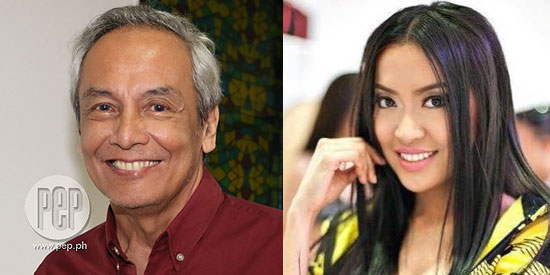 ---
Jim Paredes slammed singer-dancer Mocha Uson for calling him a hypocrite, "plastic," and an "Anti-Duterte na akala mo inosente."
The 64-year-old musician/journalist, best remembered as one of the members of the APO Hiking Society, also called out the Mocha Girls leader/frontliner for accusing him of hitting on her back in 2012.
On December 4, Jim wrote in his blog, jimparedes.com: "I think its pretty darn cheap of you to twist things just because you hate my politics.
"Labo nun.
"I treated [you] with great respect. I did no harm to you.
"I will post the article if you wish. Let me find it."
Jim was reacting to Mocha's blind item where she expressed outrage over an unnamed "well-known OPM artist" who's "bashing" presidential aspirant and Davao City Mayor Rodrigo Duterte.
Mocha, a self-confessed Duterte supporter, said in her Facebook post on December 4: "But when I saw his tweet/post on his verified social media account that he was bashing Duterte's character, I was enraged.
ADVERTISEMENT - CONTINUE READING BELOW
"This really bothered me.
"SIR BOSS HONORABLE, napaka-plastic mo po. Mahiya ka naman po sa sinasabi mo.
"Ako kinikilabutan sa mga sinasabi mo po.
"Before you start pointing fingers make sure your hands are clean.
"Duterte is not a good role model to the youth but HE is a GOOD LEADER.
"Hindi puro salita na tulad mo."
Mocha further revealed an incident where Jim supposedly conducted a lurid interview with her at the time she got caught in a controversy about her sexuality.
Mocha added that she felt the unnamed OPM artist's questions were not related at all to her group and career.
"Literally, this very respected OPM artist was hitting on Mae [dela Cerna, a member of the group] and me.
"The questions continued but it was all about SEX.
"I was really shocked because this OPM Artist has an image of being a PATRIOTIC FAMILY MAN. I was disappointed and left in disbelief.
ADVERTISEMENT - CONTINUE READING BELOW
"I never told anyone about this.
"I just kept it to myself thinking maybe he was just carried away by his own lust."
JIM ON MOCHA'S "TWISTED COMMENTS." Although Mocha didn't name names, Jim said he was the unidentified OPM artist the singer-dancer was referring to in her Facebook post.
But contrary to her claims, Jim stressed that Mocha knew that part of his 2012 interview with her was to flesh out her "sexual persona," among others.
He recounts in his blog, "I interviewed you extensively sometime ago to write an article for my column but editor said it was not for Sunday reading.
"Yes, my interview with you was largely about your sexual persona and you knew it was about that prior to the interview.
"You volunteered a lot of lurid info even without my asking.
"You like sex and you are proud to be an advocate of free sex.
ADVERTISEMENT - CONTINUE READING BELOW
"Nothing wrong with that."
Jim maintained that he couldn't recall his exact questions to Mocha in the said interview.
But he volunteered to show the unpublished article he wrote based on the interview in his blog.
Jim, referring to Mocha's claim about his "shocking" questions to her, remarked, "Did I ask those things you said I did?
"I honestly can't remember. I can look for the audio.
"You were very candid, almost bragging pa nga which from an interviewers point of view is great.
"From what you told me I don't think anything can shock you.
"I think you are exaggerating your reaction.
"You are certainly not a blushing flower."
STAND ON MAYOR DUTERTE. Jim added that it's unfair of Mocha to make "twisted comments" about his interview with her four years ago, just because he's not a fan of the presidential candidate she is supporting in the 2016 elections.
ADVERTISEMENT - CONTINUE READING BELOW
"Lo and behold! From out of the blue, she recently lambasted me on her site because I am not for Duterte.
"She made twisted comments about me which I suppose is for the purpose of discrediting me."
Jim also pointed out, "Mocha naman. We are all entitled to our own opinion. My beef with Duterte is human rights."
In his previous Twitter posts, Jim didn't exactly say that he's "anti-Duterte."
But he was among the netizens who called out Duterte for cursing Pope Francis in his speech at a PDP-Laban gathering last November 30.
Can anyone fact check how many times 'Putang Ina' was mentioned in duterte rally today & was1addressed to Pope? Totoo ba to?

— Jim (@Jimparedes) November 30, 2015
I pity those defending him on twiitter. Lame excuses. Nagpacute daw. Kinabahan daw. He is funny daw. There is a serious flaw in this man.

— Jim (@Jimparedes) November 30, 2015
Jim is one of the staunch supporters of presidential candidate Mar Roxas and his vice presidential bet, Leni Robredo in the 2016 elections.
READ: Jim Paredes to support Mar Roxas and Leni Robredo in 2016 elections