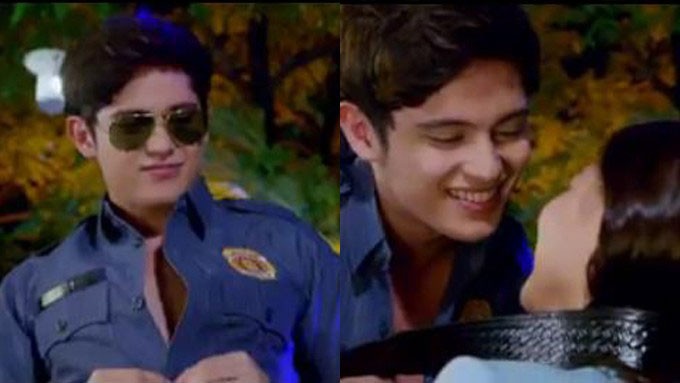 ---
The Movie and Television Review and Classification Board (MTRCB) has summoned ABS-CBN top executives to discuss James Reid's striptease scene in the January 11 episode of the primetime series On The Wings of Love.
This is in relation to the Philippine National Police (PNP)'s complaint about the improper use of the police uniform in television and movies for that matter.
In a letter dated January 18, MTRCB Chairperson Atty. Toto Villareal explained the need for ABS-CBN executives to come up with proper measures to address PNP's concern.
Published on MTRCB's official website, Atty. Villareal's complete statement read:
"We refer to the above-captioned episode of the subject program, currently showing over Channel 2, ABS-CBN.
"The said episode portrayed actor James Reid doing a strip tease while wearing a PNP General Office uniform, allegedly with a police badge and showing the rank of SPO4.
"According to a statement by PNP Spokesperson CSupt Wilben Mayor on or about 14 January 2016, '[t]he PNP uniform is sacred to policemen and police women' and the strip tease scene of [Mr.] Reid xxx did not properly reflect a policeman's duty to enforce the law and assist citizens.
"We gather that the network concerned recently issued an 'apology.'
"However, the purported apology was in general terms, and did not specify what concrete and measurable steps that the program as well as the nenvork will take to prevent any repeat of the incident.
"For this reason, our Agency is impelled to call the parties concerned to a dialogue, c/o the Office of the Chairperson, on 25 January 2016, 9:30 a.m., MTRCB Ground Floor Conference Room.
"Considering the public interest involved, the said is intrasferrable."
The "apology" Atty. Villareal was referring to was ABS-CBN's official statement last January 14, stating that the creators of On The Wings of Love had "no intention to disrespect the sanctity of the Philippine National Police uniform."
ADVERTISEMENT - CONTINUE READING BELOW
Read: On the Wings of Love apologizes to PNP for James Reid's police uniform in bridal-shower scene
MTRCB's January 18 letter is addressed to ABS-CBN business unit heads Kylie Manalo-Balagtas and Julie Ann Benitez, On The Wings of Love director Antoinette Jadaone, executive producer Arnel Nacario and head writer Benedict Mique.
PNP Spokesperson Wilben Mayor is also invited to the attend the meeting on January 25.