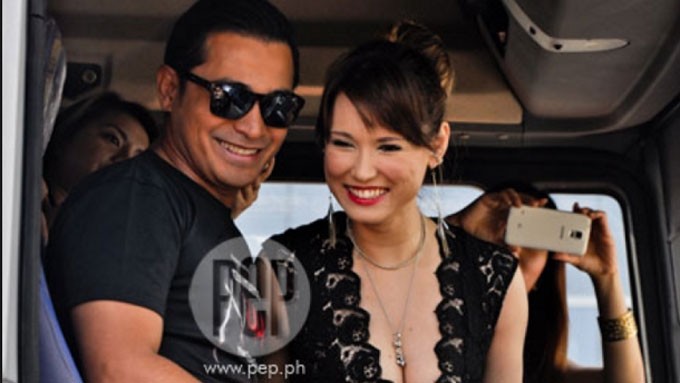 ---
Maria Ozawa took to Twitter to clarify what she previously said about having one-night stand with Cesar Montano, her former co-star in Nilalang.
I saw the news earlier but it was a joke and was just having fun w/ the whole topic and broke my heart that they are saying such things....

— ?澤???? (@ozawamaria0108) March 3, 2016
In the March 1 episode of Good Times With Mo, Maria was asked if she ever had sex with Cesar.
The 29-year-old Japanese actress just laughed, and didn't answer the question.

But when asked about the number of times she had sex with Cesar, Maria answered with hesitation, "Once maybe. Well, twice."
Then she quickly changed her reply, "No, one."
Maria said the "saying-hello sex" with Cesar happened even before they started filming their 2015 Metro Manila Film Festival movie.
She also made it clear that she has no intention of dating the local actor.
Read: Maria Ozawa admits one-night stand with Cesar Montano
MARIA GOT DUMPED BY A PINOY? In the same episode of GTWM, Maria also mentioned that she previously had sex with a Filipino.
DJ Mo Twister asked Maria, "Aren't you dating a Filipino guy?"
Maria initially answered, "No, no."
But when co-host Gene Padilla mentioned that she's looking for a Filipino boyfriend, Maria threw in, "Yes. We ended this thing... Well, I got dumped."
DJ mo then told Maria, "You know what, he possibly might be related to our guest tonight."
Maria stopped DJ Mo, "Oh, please, don't say the name. Please."
Gene seconded, "Not related, but sounds familiar."
DJ Mo added, "He's not related but he might be like kinda sorta in a sense."
Maria reacted, "Oh, really? Hay, naku!"
DJ Mo further described, "He's the same last name as Gene's brother's ex-wife, if you know what I mean."
"Okay, stop the conversation now," pleaded Maria.