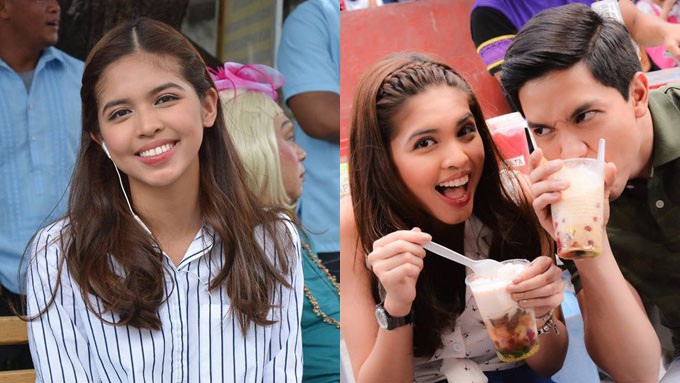 ---
How much does Maine Mendoza earn compared with Alden Richards?
U.S. news website Morning News USA took notice of the popular love team's growing number of endorsements in an article titled "Aldub's Maine Mendoza Or 'Yaya Dub,' Hunger Games' Jennifer Lawrence Have Something In Common—Unfortunately!"
Written by Annie D., it explained the common denominator between Maine and J Law.
To date, AlDub has already earned $4.5 million or 200 million pesos from their 41 product endorsements, according to Philippine Daily Inquirer.
Maine's rate, however, is reportedly not even half of Alden's rate.
According to the broadsheet's source, "Mga P5 million si Alden, P1.5 million si Maine."
The source added that these rates have become the standard after the deal for AlDub's series of ads for a fast food chain was sealed.
Now how does J Law enter the picture?
Morning News USA wrote, "This is why we said she and Jennifer Lawrence have something big in common—the industry they belonged to just could not recognize gender equality when it comes to wages."
It can be recalled that in December 2014, Sony Pictures' emails were hacked.
That was how J Law learned that she received considerably less than the talent fees of Bradley Cooper and Christian Bale in the movie American Hustle.
The Academy winner subsequently wrote an essay about the wage gap in Hollywood, and had it put out on Lena Dunham's Lenny Letter newsletter.
Here's an excerpt: "When the Sony hack happened and I found out how much less I was being paid than the lucky people with dicks, I didn't get mad at Sony.
ADVERTISEMENT - CONTINUE READING BELOW
"I got mad at myself.
"I failed as a negotiator because I gave up early.
"I didn't want to keep fighting over millions of dollars that, frankly, due to two franchises, I don't need."
In the end, she decided not to fight for higher fee because she didn't want to be tagged as "difficult" and "spoiled."
J Law resumed, "Could there still be a lingering habit of trying to express our opinions in a certain way that doesn't 'offend' or 'scare' men?"
However, she realized, "At the time, that seemed like a fine idea, until I saw the payroll on the Internet and realized every man I was working with definitely didn't worry about being 'difficult' or 'spoiled.'"
Back to Maine, the Morning News USA asked, "Will Maine Mendoza speak up soon for herself and the rest of female Filipino artists in the same plight too?"
It added: Should Alden help in lobbying an increase for his partner?
Though Maine is relatively a newbie compared with J Law, the article noted that the Philippine audience is "enamored by her mere presence."
In October 2015, the US news website compared Alden and Maine to Ryan Gosling and Emma Stone, stars of the Hollywood film Crazy Stupid Love.
Read: Alden Richards and Maine Mendoza compared by US news website to Ryan Gosling and Emma Stone